When No Really Means Yes
Welcome to the Overflow!  Whether you're an old friend or a new one, I'm glad you're here. This is a place where faith is spilled and souls are filled. I hope you'll pull up a chair and stay awhile.
I'm over at Proverbs 31 today talking about a birthday girl, a surprise party, and  how sometimes God's no today is simply protecting His yes for tomorrow. If you haven't had a chance to read it, you can find it here. But before you go, I'd love to tell you about a crazy little holiday we used to celebrate when we needed a break from our ordinary life, and how learning to "talk backwards" taught me a surprisingly sweet lesson about God…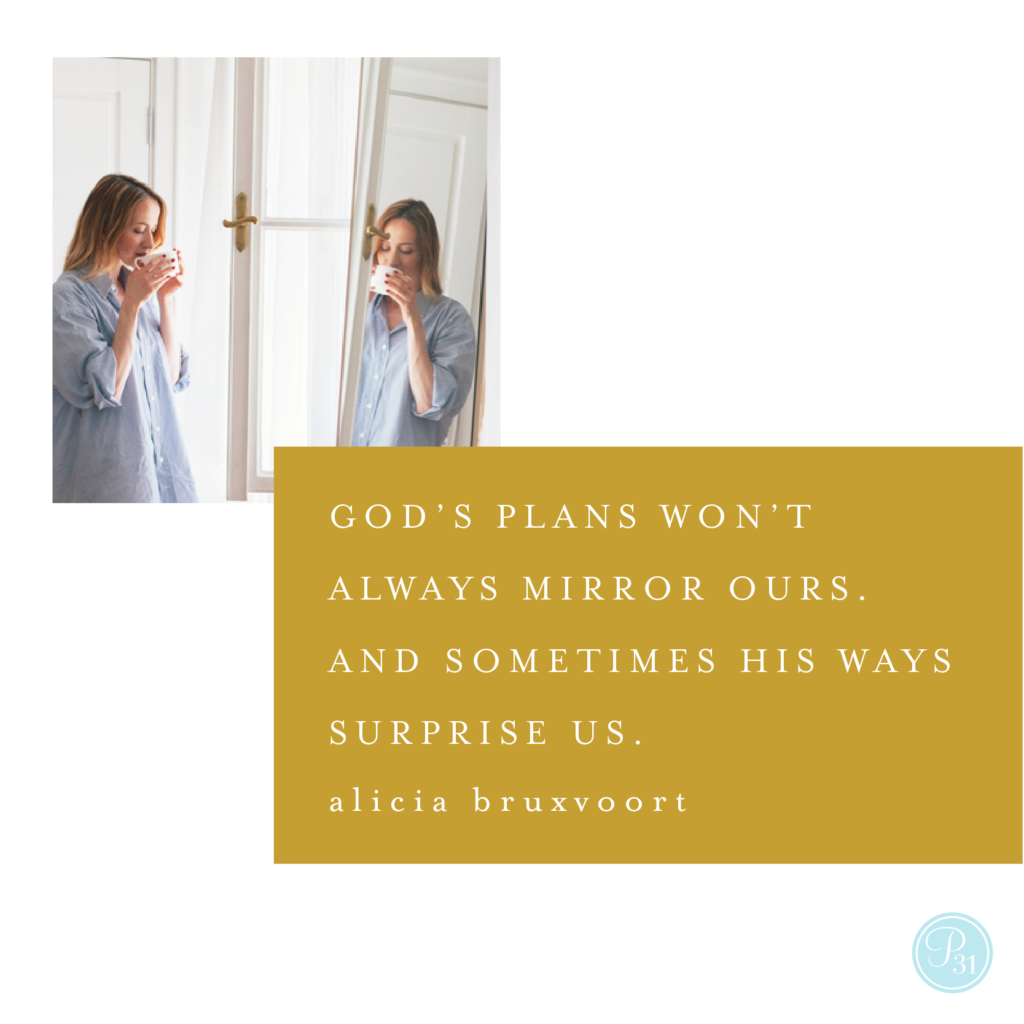 They knew what day it was when they woke up to cereal in the bathroom sink, silverware in the toothpaste drawer and pajamas  dangling from the coat hooks in the entryway. They knew when they heard Christmas music in July and found Easter Eggs in their underwear drawer that they'd be eating under the kitchen table instead of on top of it and greeting the sunrise with a noisy "Good Night" instead of a grateful "Good Morning."
They knew they'd be wearing pajamas when they went out to play and slipping into play clothes when they climbed into bed. They knew that they'd be allowed to wash their hands in mud puddles, to savor dessert before dinner and to eat candy corn instead of asparagus.
And though my kids may not have known how every moment of the day to come would unfold, they knew for certain that the minutes would be long on laughter and short on structure. They knew that absurdity would reign and boredom would flee.
'Cause that's just how life worked on Backwards Day!
Honestly, I'm not sure when the crazy tradition began or exactly when it ended, but for several years while my children were young, we tossed "normal" on it's head and created our own in-house holiday.
On Backwards Day, we did all things backwards and upside down. We outlawed the humdrum and predictable, the common place and conventional, and we embraced twenty-four hours of pure goofy gala.
Of course, learning to talk "backwards" was confounding at times. Because for one day out of the year, our yes's meant no and no's meant yes…
"Mom, may I have another popsicle?" my preschooler asked as he sat cross-legged in the steamy sunshine, his pink lips framed with a bright purple ring.
"No, I think one's enough," I said as I dabbed his face with a washcloth.
"Okay, thanks!" he answered with a green-eyed grin, his voice unusually cheery for a kid whose mom just shot down his plan for another round of shameless snacking. He gave me a one-armed hug and hopped off the deck. But instead of running to play in the yard with his siblings, he made a beeline through the garage for the freezer.
Next thing I knew, my four-year-old was back on the deck slurping another frozen treat.
"Honey," I said as I watched a dribble of melting blue ice zig zag down his chin. "I told you no more popsicles."
"I know, Mommy," he responded as he swiped at the sticky drizzle with the back of his hand.  "I heard you. And that's why I got another one. 'Cause it's Backwards Day. So whenever you say no, it means yes, right?"
I laughed out loud at my son's inverted logic, yet I couldn't argue with my cunning kid.
It took me hours to get the hang of it, but eventually I learned how to dialogue in reverse. I turned affirmatives into stop signs and negatives into bold green lights. I said no to whimsy and yes to endless work. I said sure to downers and no way to delight. And just when it seemed I'd finally mastered the art of  Backwards Day discourse, our self-construed holiday ended, and I had to shift back to colloquial conversation.
Sadly, as the kids have grown, our annual Backwards Day has slipped quietly off our calendars. It's been several years since we've spooned cereal from the sink or dined on dessert beneath the table. We haven't said yes to crabbiness and no to craziness for a while, either.  But not long ago I was flipping through my prayer journal, and I realized that God doesn't need a Backwards Day to practice the art of "reverse dialogue," too.
Because God often tucks a sacred yes in the folds of his sagacious no.
When I look back on my journey with the Lord, I see how He has used disappointing no's  to steer me toward unexpected yes's…
When I was a twenty-six-year-old mom, I asked God to open the doors to a wonderful teaching job I wanted. It seemed like it would be the perfect fit for our little family. So, I prayed and applied. I interviewed and tried, but God said no. And tucked into that sagacious no was a sacred yes to staying at home with my children and pursuing my secret dream of becoming a writer and a speaker.
When my marriage was flailing and my pride was swelling, I asked God to change my husband. I gave Him suggestions and advice, timelines and tips.  But God said, no. And tucked into that sagacious no was God's sacred yes to changing me into a humble and teachable wife first (and opening my eyes to the amazing gift of the man I'd married, just as he was).
When motherhood exposed my weaknesses and the daily mundane magnified my flaws, I asked God to "fix" my holes and solve my shortcomings. But God said no. And tucked into that sagacious no was God's sacred yes to my learning to rest in Him as He shines His glory through my gaps.
I could tell you of the times He's said no to changing my zip code so He could say yes to changing my heart. I could speak of the moments He's said no to my persistent pleas for healing so He could say yes to my desperate reach for hope. And I could recount the times He's said no to smoothing my path so He could say yes to carrying me over the bumps that block our way.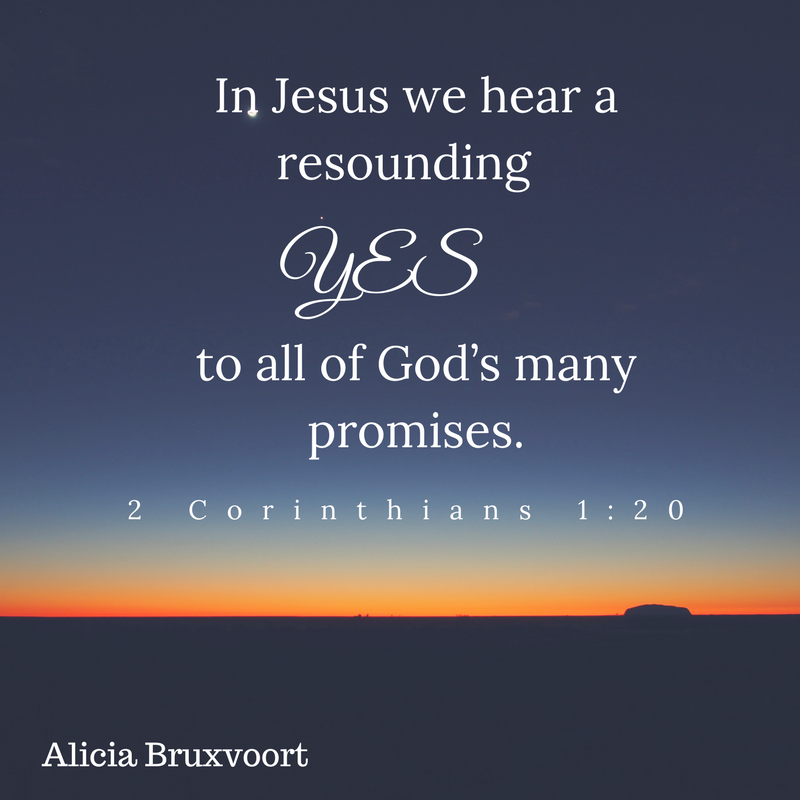 Of course, I would never suggest that it's easy. Or that I always understand God's ways. Sometimes the no's don't make sense and the yes's are hidden from sight. Sometimes the no's even seem to contradict who God is and what He promises. Sometimes we can't look back and see how He redeemed our disappointment or ransomed our pain. But even then, in those aching places of discouragement and despair, we can choose to believe the truth of Romans 8:31– If God is for us, who can ever be against us?
And as we wait for God to work all things for good in His time and His way (Romans 8:28), we can remember that we've already been given the most undeserved yes tucked in a bold and radical no. For through the cross where Jesus died, God declared a no that will echo through all of eternity. NO! I won't let my children be separated from my love. Yes! I will wrap myself in flesh and die so they can forever enjoy my peace and my presence. 
Think about it, friends– The cross is the ultimate Backwards Day.  Our Salvation is free, yet it cost Jesus everything. The perfect Lamb died a criminal's death. The King of Heaven suffered so we could celebrate. The Son of God endured the shame of man.
There's no way to explain Christ's radical gift of grace. It's upside down and backwards in all of the very best ways. And when we really pause to consider the audacity of it all, we are reminded of this– Even when we don't fully understand God's methods, we can completely trust His heart.
So with gratitude and grit, we say yes to the One who said no to the death we deserve. And day by day, we  find courage to take hold of His nail-scared hand and follow where He leads.
And as we walk with our Savior through the ups and downs of our lives, we discover something even sweeter than a pack of purple popsicles… We find His YES of love in every step we take.
In Jesus we hear a resounding "yes" to all of God's many promises." 2 Corinthians 1:20.
**********************************************************************************************************************
If you like what you've found here at the Overflow, I hope you'll subscribe to my blog and I'll send a splash of encouragement to your inbox now and then.  (You'll find a subscription box on the top right sidebar on my home page.) Or, if you'd rather, we can stay connected on Facebook or Twitter.
Of course, my favorite way to connect is the old fashioned way—face to face so I can see your smile.  I'm scheduling speaking engagements for the 2017/2018 school year, and I'd be delighted to bring a message of encouragement to a ministry event near you! (Contact me at overflow@aliciabruxvoort.net if you'd like to know more).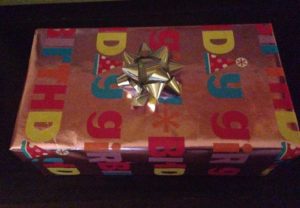 And finally, today, I'm giving away a "surprise party in a box." It's a box filled with party decorations, and of course, some sweet treats… just a fun little gift to remind you that sometimes God's yes's are wrapped in surprising no's.
If you'd like to enter to win, just leave a comment telling us about a time in your life when God's "no" really meant "yes."
Or simply let us know how we can pray for you as you trust God with His no's and yes's.  Have a great weekend, friends!