No Such Thing As Ordinary: A Guest Post by Suzie Eller (And a giveaway!)
The first time I curled up with a hot mug of coffee and Suzie Eller 's  devotional: "Come with Me: A Yearlong Adventure in Following Jesus," I felt my heart flip-flop with a longing that's hard to explain.  And those-tears– they just spilled from my eyes onto the crisp new pages in my hand. Because there's nothing I want more than to follow Jesus with reckless abandon. And Suzie's beautiful book is an invitation to do exactly that! These daily devotions remind me that the greatest adventure begins with a small yes. Yes to the One who can do immeasurably more than we ask or imagine. Yes to His unusual ways. Yes to His unchanging Word. Yes to His unrelenting love.
Of course, what I love most about Suzie is that she doesn't just write about following Jesus. She lives it. Suzie knows what it means to say Yes to Jesus with a beautiful mix of trembling and expectation, fear and faith. Suzie knows deep joy because she's walked with deep faith. She knows beauty in pain, laughter in loss, and hope in hardship. And this sweet sister of mine knows that there's no such thing as an ordinary life when Jesus is spurring our steps. It's my great honor to welcome Suzie to the Overflow today….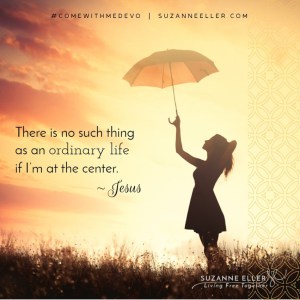 "There is no such thing as an ordinary life if I'm at the center. ~Jesus"
For a long time, I believed I was ordinary.
And I still do, except for the fact that Jesus lives in me. Which means that His presence spills out over every part of my life. Everything that I am. Everything that I do.
Really, Suzie?
I know. Faith has been diminished – even by believers – to something we do, or don't do. We've forgotten that faith is life changing. That we have been given power from on high, for the purpose of loving a broken world.
When I look in the mirror, I see a middle-aged woman (if I live to 114) with a smattering of freckles and hazel eyes. I see a mom. A wife. A wrinkle that has crept under my nose, just like my mom's.
Jesus sees a warrior. Anointed. Called. Equipped.
There's no such thing as an ordinary life if Jesus is at the center.
In Luke 9, Jesus calls together a group of ordinary men. He speaks over them, telling them that they'll walk in power and authority as they follow Him.
But Suzie, that's the disciples. That's not me.
I don't know about you, but I'm a disciple too. As the early disciples walked with Jesus, their circle grew. They shared the Gospel. They mentored. They believed. They lived their faith. Other ordinary men and women joined in – all of them disciples.
Just like me. Just like you.
We are modern-day disciples and there's an invitation as we follow Jesus. Every single day. We are invited to move beyond loving our faith – all the good things that come with it – to live our faith.
What happens when we listen for His invitation in the everyday, ordinary aspects of our life?
We overcome hard things, with His help. We forgive our enemies, even when everything within us wants to punish them for a life time (or at least for a day or two). We acknowledge when we are the difficult ones, and seek His forgiveness. We believe in the face of the impossible. We reach for Heaven's wisdom, when ours is in short supply. We fill ourselves with the power of His word and presence, instead of all the other things that don't come close to that gift.
We dare to believe that we are anointed, simply because Jesus offers it.
We aren't perfect.
We don't have all the answers.
We won't fix the world, though Jesus will help us influence a portion of it.
We still look in the mirror, and see those same old features staring back at us. I'll still be holding on to my middle-aged status, even though it means I'll have to live to 114.
Yet what is on the inside becomes just as visible.
We live as disciples, following Jesus in our ordinary lives, making a dent in a broken world with His love. Becoming more like Him as we walk with Him. And that's an extraordinary life, because He's at the center of it all.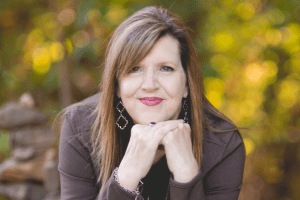 Suzanne Eller (Suzie) has served Proverbs 31 Ministries for 10 years. She's an author, international speaker and Bible teacher, top 100 Christian women's blogger, and popular media guest. She loves nothing more than watching God work in the heart of a woman.
Suzie has a free gift for you: "13 Prayers for Come With Me", a free PDF to encourage you to accept the invitation to follow Jesus wherever He goes. Click here to subscribe and receive the PDF in your inbox.
And speaking of free gifts, we're giving away one copy of Suzie's new devotional today. So, if you'd like to enter for a chance to win "Come with Me: A Yearlong Adventure in Following Jesus," let us know in the comments one way you are choosing to follow Jesus right now.