The Mom Initiative: For the Mom Whose Life Feels Small
Laundry frames the end of my day, stacks of clean underwear and yet-to-be-folded t-shirts, drifts of unmatched socks and mountains of wrinkled jeans.
Upturned baskets are scattered across the living room like tiny tables awaiting a tea party.
But I'm not in the mood for a midnight soiree, I'm drinking from my own deep reservoirs of self-pity.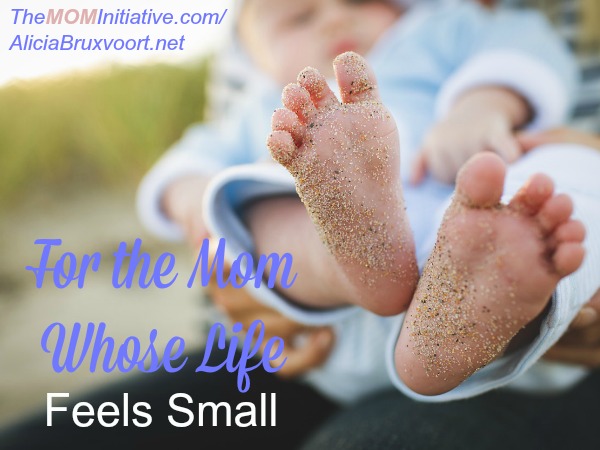 I'm exhausted and the voices of discouragement in my head are clanking above what my heart knows to be true.
What did you do all day?
Why don't you ever get anything done?
You're never going to have time to do something that really matters.
Dishes and dirt, tantrums and time-outs—a mother's life can feel so small.
I rub the palm of my hand over those crumpled jeans, trying to press out the unwanted creases that sprouted in the dark of the unattended dryer. If only I could smooth the ragged edges of my soul in a similar fashion.
"Sometimes I just want to do something bigger than all of this…" I tell my husband as he joins me on the floor and begins stacking the folded laundry into piles.
I imagine you've felt the same at one time or another.
You don't need to be a mother to feel discouraged by the daily grind. Whether you're running errands or running a business, planning a meal or planning a merger, the everyday mundane can seem trifling and insignificant.
My man sits beside me in silence, weighing his words. Finally, he murmurs, "Just because what you're doing feels small, doesn't mean that it is."
Maybe I'm the only one who's ever felt this way, but some days the hardest part of this BIG job of motherhood is just remembering that the small things matter to my Maker. 
I'm over at The Mom Initiative preaching to my own heart today. And I don't mind a bit if you listen in.
Maybe my tale of  a broken scooter, an ornery little brother, and an unexpected word of truth will encourage you, too.