How to Speak Hope When We're Short on Words
"Mommy?"
She was sitting in the hot sand next to me, making a sandcastle with her little orange shovel.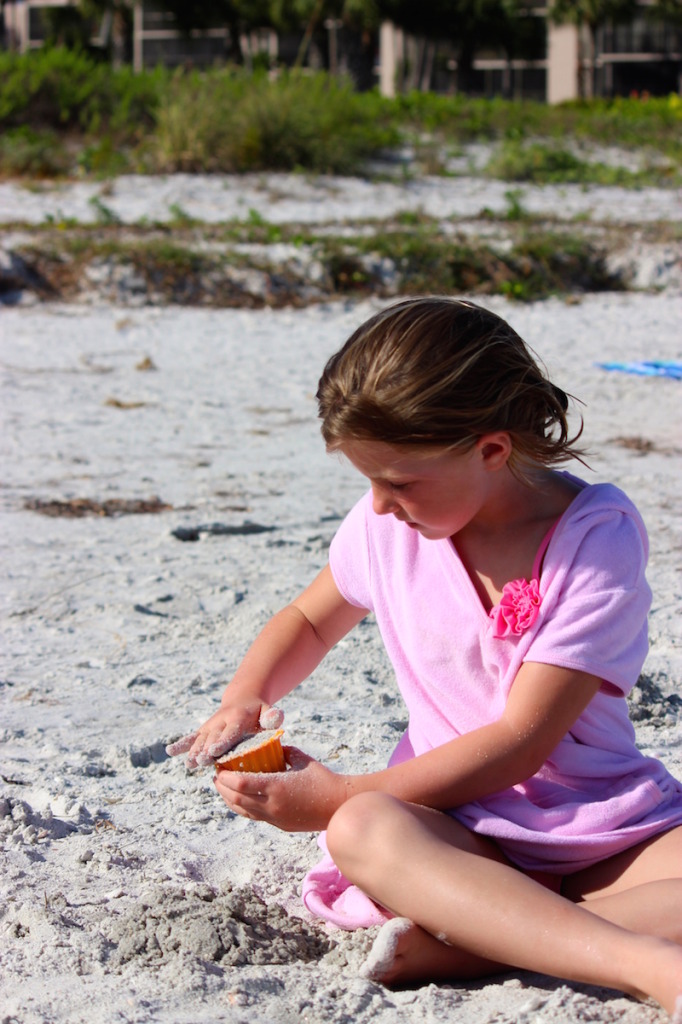 "What, Honey?"
I turned my head to hear my six year old's voice above the roar of the incoming tide.
She shifted her body and stared at me like we'd just met.
"Oh, nothing…." she said, acting surprised that I was beside her.
I raised my eyebrows and waited for my little girl to explain herself.
Suddenly, her lips curled into a smile and she began to giggle.
"I thought you disappeared," she exclaimed with a breathy guffaw and an unladylike snort.
I patted her knee with my sand-caked hand and stared into her baby blues. "I've been sitting here all afternoon."
"I know," she said with an impish shrug, "But usually you're talking, and that's how I know you're here…"
I laughed right along with my daughter, not sure whether to be offended or entertained by her honesty.
Then I swallowed my giggles and replied in the most serious tone I could muster, "I know it's hard to believe, but sometimes I don't have anything to say."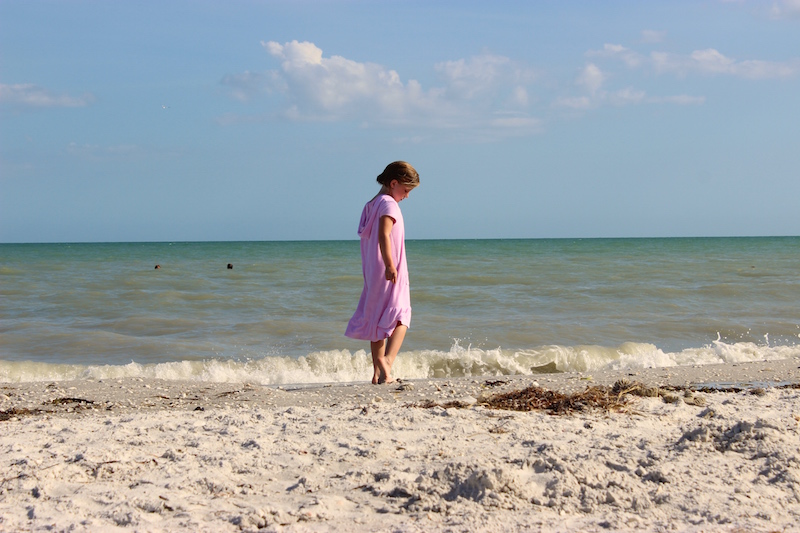 My bone-a-fide chatterbox cast me a wary look and waggled her head in disbelief. Then she turned her attention back to the sandcastle between us and retorted, "Well, it'd  be better if you'd just say something so I don't feel like I'm all alone here."
I smiled at her logic and scooted across the hot sand, my movement narrowing the gap between our sunburnt legs.
"I'm not sure what to say," I told her as I added a shiny shell to her castle's leaning tower. "But I'll sit right here beside you so you don't get lonely."
Maggie flashed me a satisfied smile and wrapped her sweaty fingers around mine. The waves thundered and the seagulls squawked.
And we sat there side by side in the noisy quiet, just the two of us in the middle of the speckled sand.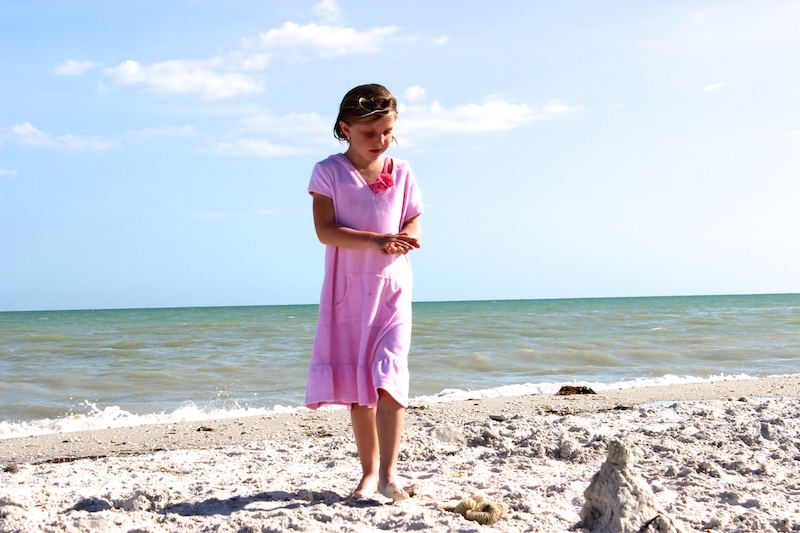 And as I lingered with my girl, I thought of you…
Each one of you who stopped by the Overflow last week and bravely shared your stories of being stuck in the middle. Each road-worn woman who invited me to pray her through the long dark night.
I've read and re-read your tales, sifted slowly through your comments and emails.
And I've found myself strangely speechless in the wake of your words.
It's not normal, as my daughter would tell you.
I usually have to tame my tongue. Slow my speech. Lasso my lips.
But the middle has a way of stealing our breath and muffling our prattle.
The middle places you shared about last week are hard and hurtful.  They feel unfair and unending.
And though I believe with all my heart that this middle is not where your story will end,  a wise first-grader once reminded me, "Even if you know the ending, the middle can still hurt."  
So, I prayed for you that day as I sat with my daughter along the ocean's edge.
And I've prayed for you every day since.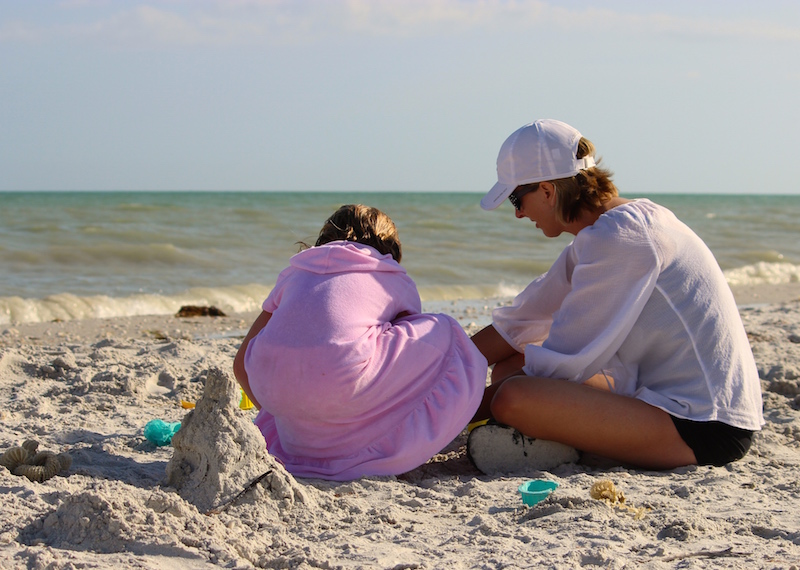 I've tried to organize my thoughts into words; to pen pieces of my prayers in this place where we gather.
But, in the end, I've just sat staring at a blank screen, because sometimes words just fall short.
I wish I could reach a hand through these pixels and print, just step through this screen and sit with you in your noisy quiet.
'Cause when we feel lonely, we just need to know that we're not really alone. 
And, maybe, when we're stuck in the middle, what we need more than a fix is a friend.
Sometimes, when we're waiting on a word from Heaven, we just need a hand to hold on earth.
I think that's how we speak hope when we don't know to say.
Lately, I've been wondering what would happen if we who call ourselves daughters of the Most High would refuse to leave a sister stranded in the middle?
What if we we'd stop worrying about extending the right words and we'd simply extend an unfurled hand?
What if we'd take a seat rather than offering a solution?
What if we'd pray instead of preach?
Wanna know what I think?
I think we might change the world.
I think we might invite Heaven to invade earth one quiet moment at a time.
Call me crazy, but I'm beginning to believe that the greatest thing we can do each day is to offer someone the perfect present of our imperfect presence.
No flowery words, no fool-proof plans, just the love of Jesus with skin on it. The extraordinary hand of God reaching out through ordinary women like you and me.
Maybe, then, the dark before dawn would be less frightening; the noisy quiet would morph into a holy hush.
I don't know, dear friends, but I wonder…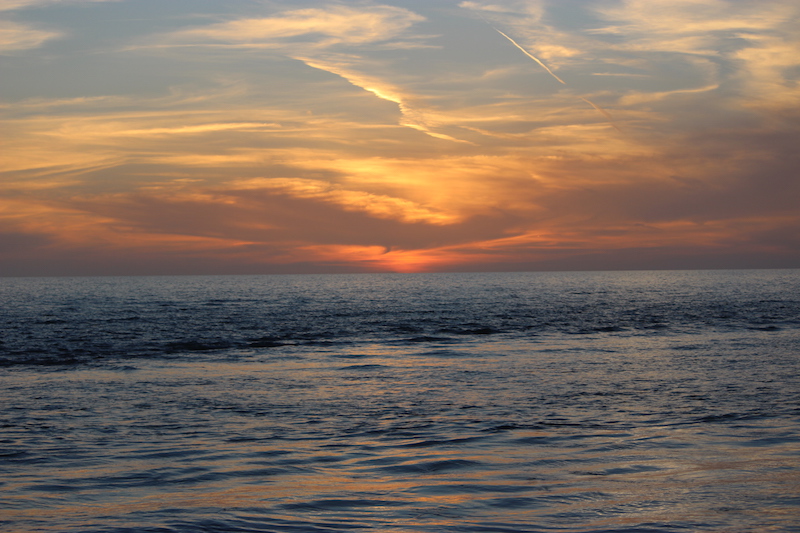 The evening sky was melting from orange to gray, and Maggie leaned her head against my shoulder, her warm cheek resting soft against my neck.
Then as the day blazed a glorious goodbye, she sighed long and murmured in my ear.
"Mommy, I changed my mind. I guess your really don't need to say anything, I just like having you here beside me."
And before night wrapped the world in velvet darkness, we sat silently together in the middle of the sand, our hands entwined and our hearts at rest.