When Your Faith Falls Short on a Long Silent Night
Welcome to the Overflow!  Whether you're an old friend or a new one, I'm glad you're here.  This is a place where faith is spilled and souls are filled. I hope you'll pull up a chair and stay awhile.
I'm over at Proverbs 31 today talking about how to survive those long nights of the soul. If you haven't had a chance to read it, you can find it here. But before you go, I'd love to tell you what the Christmas story has been teaching me about holding on to hope when my faith falls short on a long silent night…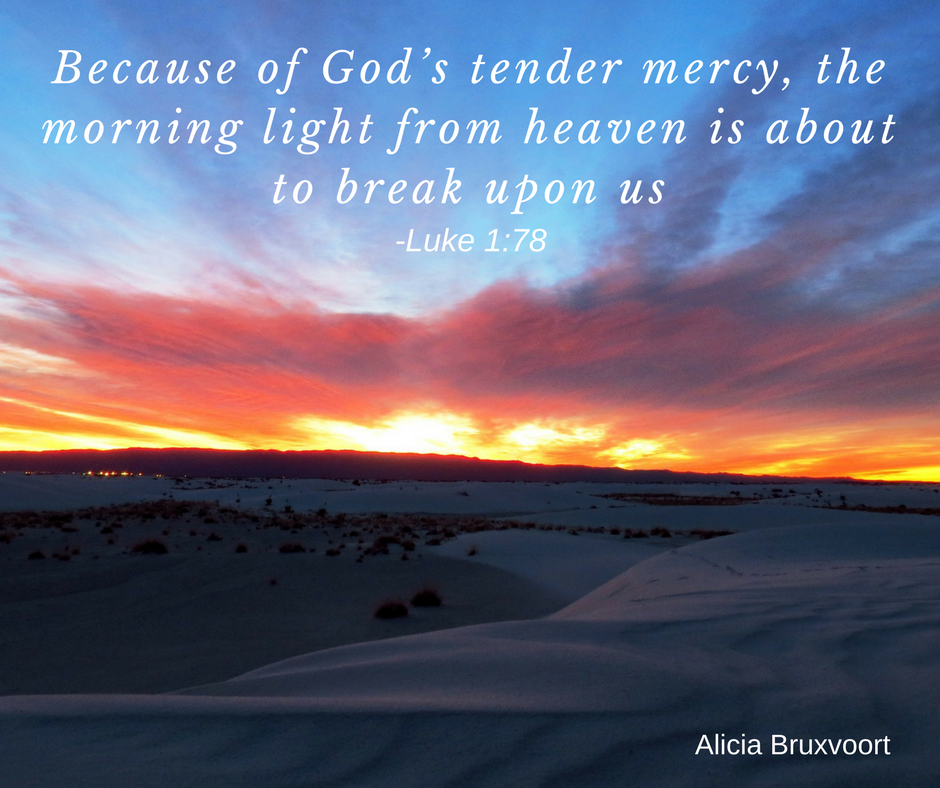 I sit alone at the end of a long day, my weary frame wrapped in a wordless sigh and a plush red blanket.
The woods beyond the window are wrapped in velvet darkness; bare branches strung with shimmers of starlight and swaddles of snow.
And though I can't see the moon from where I sit, I know it hovers high in the midnight sky because moonbeams mingle with the twinkling lights of our Christmas tree in the corner.
I want to sink into the peace of this silent night. But my heart refuses to take its cues from the hallowed hush.
For years–when wee ones wailed and the midnight hours dangled long – I dreamed of quiet like this.
But what I didn't know when I rocked babies in the starlight and held toddlers in the dark; when I walked the hallways with sleepless sons and soothed the tears of anxious daughters; is that children aren't the only ones who fill the night with noise.
Sometimes the quiet quakes noisy, too.
Questions that are drowned out by the roar of the day can resurrect with a ruckus in the lull of night.
Doubts can clamor loud when the hours grow hush.
Maybe you know this clank and clamor.
Maybe you know just how long a silent night can feel.
There is a prayer that spills from my lips in these midnight hours, an impossible and beautiful plea that only Jesus can answer. My prayer is steeped in His promises and rooted in His faithfulness.
And on most days, I can honestly say that I trust He is answering my cry even though I can't see what He is doing.On most days, I will tell you that I believe in a Savior who does the impossible; a Father who makes a way where the road appears impassible.
But sometimes my reckless hope grows wary.
It's in the long dark hours between God's promises today and His new mercies tomorrow that our trust can tremor and our doubts can swell.
So, I'm learning to fight for faith in the darkness.
I open the Word and soak my wavering soul in the story of that very first Christmas.
I read slowly, prayerfully, asking the Spirit of God to show me something new in this old treasured tale…
"That night there were shepherds staying in the fields nearby, guarding their flocks of sheep.  Suddenly, an angel of the Lord appeared among them, and the radiance of the Lord's glory surrounded them. They were terrified,  but the angel reassured them. "Don't be afraid!" he said. "I bring you good news that will bring great joy to all people.  The Savior—yes, the Messiah, the Lord—has been born today in Bethlehem, the city of David!  And you will recognize him by this sign: You will find a baby wrapped snugly in strips of cloth, lying in a manger."
Suddenly, my heart stirs and two little words leap off the page of God's holy writ.
That night….
It was in the darkness of night that God delivered good news.
It was in the darkness of night that ordinary shepherds encountered God's extraordinary glory.
It was in the darkness of night that joy swelled and fear was quelled.
It was in the darkness of night that Heaven's Hope landed surefooted on earth.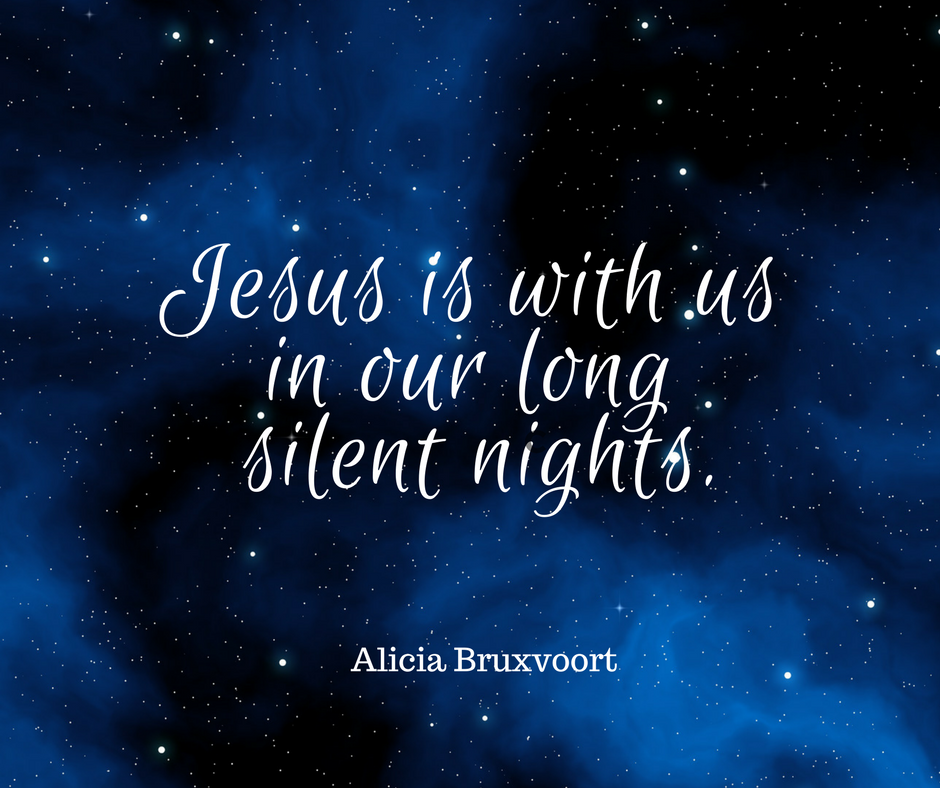 And as that beautiful truth sinks in, I feel my hope rising like the sun, my confidence hinging on the Son.
"Because of God's tender mercy, the morning light from heaven is about to break upon us,
 to give light to those who sit in darkness and in the shadow of death, and to guide us to the path of peace." (Luke 1:78-79)
The night doesn't seem quite as dark as I shift my eyes to Jesus.
And above the roar of the quiet, I hear the promise that a bright shining star in Bethlehem once proclaimed: "You are no longer alone. Jesus is here!"
Slowly, my heart surrenders to peace.
Because Christmas reminds me that we don't just have a God who breaks through our darkness.
We also have a Savior who lingers with us in our long silent nights.
"Look! The virgin will conceive a child! She will give birth to a son, and they will call him Immanuel, which means 'God is with us.'" (Matthew 1:23)
******************************************************************************************************************************************************
If you like what you've found here at the Overflow, I hope you'll subscribe to my blog so we can stay in touch.  (You'll find a subscription box on the top right sidebar on my home page.) Once you sign up, I'll send a splash of encouragement to your inbox now and then. Or, if you'd rather, we can stay connected on Facebook or Twitter.
Of course, my favorite way to connect is the old fashioned way—face to face so I can see your smile.  I'm scheduling speaking engagements for 2018, and I'd be delighted to bring a message of encouragement to a ministry event near you! (Contact me at overflow@aliciabruxvoort.net if you'd like to know more).
And, finally, I'm so thankful for a Savior who gave up Heaven's glory so we'd never linger alone here on earth. But I know that sometimes it's tough to hold on to hope in the darkness. So, I've made a gift for you: a free printable packed with God's truth to help you fight for faith and buoy your confidence. Consider it an early Christmas gift without the wrapping paper. You can find that little present here.
And, as always, we'd love to pray for you. Just leave a comment letting us know how we can lift you up in prayer.
Merry Christmas, dear friends!