When You Need Faith to Believe You're Beautiful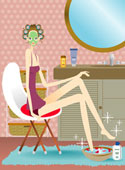 In that season when seeing myself as beautiful was a giant leap of faith, I begged Jesus to give me an image to replace the reflection I saw in the mirror each day.
"I just want to see what you see," I pleaded one morning as I stumbled from bed and stared at the tired mama in the glass above the bathroom sink.
"Let me peek through your eyes," I implored as I opened my Bible and searched for a glimpse of the me I was made to be in the pages of that ancient writ. 
And there, tucked in the scriptures, I found it over and over again, the image that hushed the Enemy's taunting and beckoned me to believe, a picture of me as a beautiful bride. 
Not just any old bride; but the bride of Christ. 
I scribbled those words in my journal, right beside the verse that had began my quest.
*Your new name will be …"The Bride of God," for the Lord delights in you and will claim you as his bride…—Isaiah 62:4
 *Then God will rejoice over you as a bridegroom rejoices over his bride.—Isaiah 62:5
*I am overwhelmed with joy in the Lord my God! For he has dressed me with the clothing of salvation and draped me in a robe of righteousness. I am like…a bride with her jewels.—Isaiah 61:10
*You are my private garden, my treasure, my bride, a secluded spring, a hidden fountain.—Song of Songs 4:12
Day after day, I invited the whispers of my Heavenly Groom to quiet the din of my own disbelief.
Week after week,  I let the Word of God erase the graffiti of doubt that threatened to desecrate my new-found beauty.
Then, one afternoon when I felt particularly unlovely, I scribbled this poem in the margin of my Beth Moore Bible study and vowed to make it my daily prayer. 
A decade later, this plea still echos the cry of my heart.
Maybe it captures your heart's cry, too?
The Bride's Prayer
Lord, I know your word is true.
It says I'm beautiful to you.
You see me as your perfect bride,
A woman you behold with pride.
Just once, I wish your eyes were mine,
My vision holy and divine.
Then I could glimpse at what you see
When you gaze, dear Christ, at me.
Clothed in garments of glorious white,
Prized and precious in your sight;
This is the woman you cherish and know.
She's flushed with a beauty that makes her glow.
Radiant with purity, free from insecurity;
Abandoned to your love and free,
She is the woman I long to be.
I want to grow in beauty and grace
And prepare to meet you face to face.
So until my life on earth is done,
May I live as the bride 
Of the King's only Son.
    —Alicia Bruxvoort, December 2002

Sharing with Emily and an amazing team of imperfect but BEAUTIFUL writers today.