When You Lose Your Little Boy And Decide to Not Go Looking for Him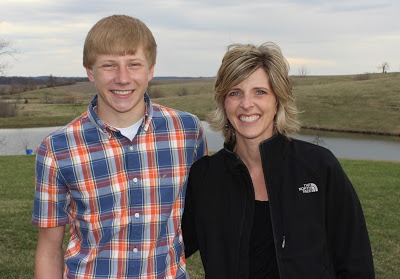 I lost my little boy for the first time when he was two-years old.
He'd been bent over the wooden train table at the library when the baby had begun to fuss.
 I'd shifted my gaze from my tow-headed toddler to the infant carrier at my feet, and by the time I'd fished the pacifier out of the diaper bag, my firstborn was gone.
I wasn't worried at first.
 After all, how far can a little guy bound by bookshelves really go?
I'd grabbed my grousing baby and meandered through a dozen rows of picture books.
I'd scanned the area around the chunky blue table stacked high with wooden-pegged puzzles and had searched the reading corner with the rainbow beanbags.
I'd peeked in every chair lined up by the big computers equipped with children's games and ear-muff-like headphones. And I'd paused at the check-out counter where the children's librarian sat smiling.
When I'd circled back to the train table, I'd half-expected to find my boy right where we'd started, his slender fingers pushing Thomas-the-Train around the track while he sang out a high-pitched chooo choooo.
But the train table sat empty, my son's favorite  blue engine tossed carelessly on the floor beneath it.
After combing every inch of the children's department, my stomach had begun to grow queasy.
I'd glanced out the window at the bustling downtown traffic and had studied every pedestrian with nauseous suspicion.
How do little boys just disappear? 
Thirty minutes later, after a twelve-person search crew had been rallied and the entire library had been locked down, we found my missing child.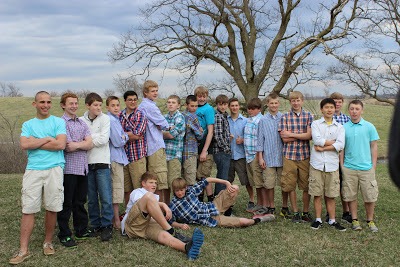 The grey-haired librarian who had paused at the drinking fountain had thought she'd heard singing coming from behind the nearby elevator portal.
And, sure enough, when those silver doors slid open, there was my two-year-old standing inside of the mysterious moving machine, happily pushing all of the glowing buttons within his reach.
When I'd tossed my arms around him and kissed the top of his tender head, my little boy hadn't even shed a tear. 
Though I'd stood there with knees wobbling and teardrops zig-zagging to my chin, he'd just clapped his hands together and announced with undisguised pride, "I push the buttons all by myself, Mommy!"
Exhausted and relieved, I'd gathered up my little ones and gone home without a single library book.
That was the first time I lost my little boy, but not the last.
When I'd pulled into the driveway of our tiny white rental house after our adventure in the library, I'd vowed to never leave home again. At least not with a toddler in tow.
I had no idea that a little boy could got lost in his own home.
But in the years to come it happened again and again. 
It seemed that every time I turned my head my little boy would disappear.
One moment he was curled up in my lap reading board books, and the next moment he was gone, his gangly legs dangling from the backyard hammock while he lounged with a fat chapter book in his hands.
One moment he was chasing butterflies across the back yard, and the next moment he was chasing baseballs and blue ribbons.
I just turned my head to rock four more babies and mop a thousand spills.
I shifted my gaze from my fast-footed firstborn to my fast-growing laundry piles, and before I knew it, my little boy went missing.
And I didn't even call for help.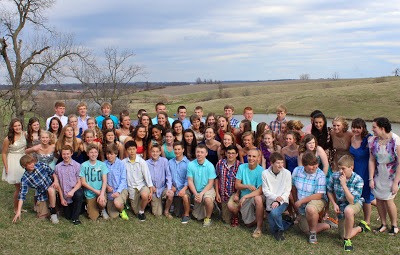 I hadn't realized he was gone for good until I stood in the midst of clicking cameras and smiling teens last weekend and stared through my lens at a handsome young man in an orange plaid shirt.
And, suddenly, I knew I'd lost him.
The little boy who had picked dandelions for his mommy and searched for dinosaur bones in the neighbor's yard; the one who had adored Thomas the Train and had fished with his little blue pole in Grandma's plastic swimming pool—that little boy was nowhere to be seen.
For just a moment as teenagers posed all around me and dashed about the yard with giddy excitement before their eighth-grade party, I felt that sick sinking feeling that I'd had in the library all those years ago.
I wanted to rally a search party and turn back time. 
I wanted to pull my little boy onto my lap and hold him just a bit tighter.
But then I remembered what that wise mama had told me over a steamy mug of coffee long ago as my toddlers played at our feet.
"Motherhood is an exercise in letting go.…"
And when he flashed me that shy smile, his countenance alight with joy, I felt a strange wave of peace wash over my soul.
Because, no matter how much my heart aches, the truth is this: Real love doesn't cling tighter. It loosens its grip.
If I don't have the courage to let go, then my boy will have no need to grab hold of the arms that he'll never outgrow.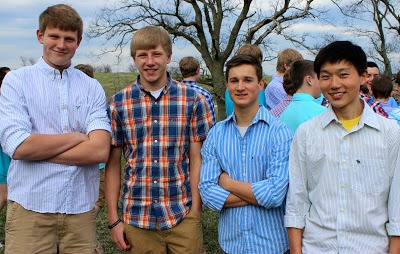 Sometimes a mother's loss is Christ's gain.
That prayer I've prayed since the day my firstborn was placed in my arms echoed through my mind above the high-pitched giggles of the shiny-dressed girls and the low-roar banter of the squeaky clean boys…
Oh, Jesus, let him seek you and find you.
And as shutters clicked and the breeze whispered through the trees, I pictured my not-so-little son hunched over his Bible that morning.
I remembered the shimmer in his baby blues after a soul-shifting week at church camp and recalled the aching prayers he'd uttered after his week loving on children in Honduras.
And, suddenly, I realized that I didn't need to rally a search party after all.
My little boy isn't lost , he's simply run into the arms of His Savior.
And if this mama's prayers are answered, that's where he'll finally be found.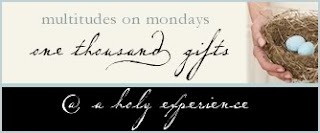 Still Counting…
1917. The way he smiles when his little sister hugs his neck and says, "I love you Wukas."
1918. A dinner with my eighth-grade party date (twenty six years later)
1919. My handsome firstborn ready for a night of celebration with his class
1920. Lizzy, reading her faith testimony to me as we drive into town on Saturday morning.
1921. Emily, who takes time to walk with my daughter and sharpens her faith.
1922. Josh working out his skateboard moves on the driveway, inspired by the XTREME team who shared their faith story and their cool gifts in the high school gym.
1923. A cookie date at Smokey Row with Hannah alone.
1924. The phone call from Kelly filled with possibilities…God on the move?
1925. An invitation to co-host the morning show on the radio as a voice of hope for moms. Crazy adventures while loving Jesus.
1926. Emerald green beyond my window. SPRING is FINALLY HERE.
Happily linking with Ann for multitude mondays, laura for playdates with God, Jen for soli deo gloria,  and  Jen at Rich Faith Rising, and Beth for Wedded Wednesday and Jennifer for Tell His Story