When You Just Want a Glimpse of the Best You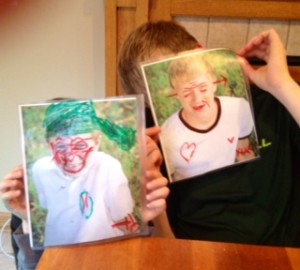 Laughter rises above the dirty dishes that have been shoved to the center of our dinner table.
Cold spaghetti noodles dangle down the side of the big red pasta bowl like snakes slithering from their nest. A blue-flowered napkin covers the puddle of chocolate milk that was spilled when a certain five-year-old reached for the last piece of garlic bread, and an untouched bowl of lettuce offers proof that someone didn't eat his greens.
But for a moment, we've cast aside our lectures on healthy eating and quieted the clank of porcelain dishes, and we're lingering long in the middle of the mess.All seven of us are home for the evening, no track meets or baseball practices, no band concerts or church events; so we're seizing the moment and giving Jesus room to roam between the splats of spaghetti sauce and pools of spilled milk. We're opening the Word and inviting the Word made Flesh to make Himself comfortable in our clutter.
I've handed every child a self-portrait covered in clear contact paper, a dry-erase marker, and the artistic license to decorate their photo as they wish.
The boys are hunched side by side in a conspiratorial huddle. Luke's head is tilted toward Joshua's, my firstborn's cheekbone aligned with the top of  his little brother's tousled crown. Joshua's shoulders are quivering with a steady stream of giggles, squeaks and spittle slipping from his pink pursed lips like air exiting a balloon with a slow leak.  I can't see the artwork  beneath the shield of their shoulders and the tower of dinner plates that block my view, but I'm certain that, in the end, my boys' pictures will be garnished with a masculine mixture of hilarious and gross.
Lizzy sets down her marker and raises her eyebrows at her chortling brothers. However, just beneath her wrinkled brow is an unadulterated look of adoration. I breathe a short prayer of thanks for teenagers who still indulge their mother's crazy antics, and I try to ignore the stomach-lurching twist that reminds me that our time around this table as a family of seven is growing short.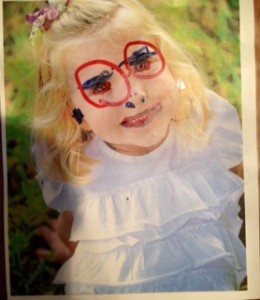 The youngest girls are lost in creativity, their heads bowed low over their squiggly creations. Hannah hums as she draws. Maggie scribbles. Erases. Scribbles. Erases. She knocks over a bottle of ranch dressing as she reaches for a blue marker and looks up just long enough to give me an apologetic shrug. 
Rob pushes his chair back from the dirty table and stretches his legs straight out in front of him. He clasps his hands behind his head and waits patiently for our unconventional Bible lesson to unfold. Fifteen years of parenting with his right-brained wife have grown my husband accustomed to quirky mealtime moments such as these.
Finally, our artists are finished, and with much gala, their embellished portraits are revealed.  
We holler and point, comment and cackle.
Maggie tries to add earrings to her brother's photo, and he retaliates by drawing a baseball hat atop of her golden curls. Maggie begins to cry and Josh spews a quick defense over his little sister's drama.  As usual, my great idea spirals into utter chaos. 
Eventually, the theatrics dwindle, and I try to steer the conversation toward the truth that has been simmering in my mind since I opened my Bible at daybreak.
"It was fun to alter your own image," I say as I sweep my hand across the silly photos lined up on the table. "But what if these photos represented the way other people actually see you?"
I pause as the kids instinctively glance down at the pictures. 
"What if all those crazy squiggles weren't just silly smudges, but they were the words people use to define you?"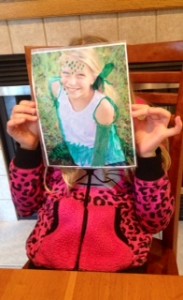 I trace the red lines on Luke's crazy photo, run my fingers along Hannah's bright green marks. "What if someone describes you in ways that make you feel as ridiculous as this? What if somebody else's words about you are ugly or hurtful or untrue?"

My teens are pensive, perhaps all too aware of the painful power of waggling tongues.
Josh's forehead is wrinkled in thought. "You mean, like if someone at recess says I'm weird because I'm pretending to be a Jedi?"
I nod at my Star-Wars loving son, and grab a wrinkled napkin to cover my lips so my littlest boy doesn't see me swallowing a laugh. 
Maggie jumps in with a few random thoughts. "Or what if somebody says I'm too shiny.  Or too funny? Or too princessy? Or…"
My littlest girl gazes into space as if another adjective might be dangling in thin air.  And Luke completes her sentence with a smirk."Or too much!" He jabs her side playfully with his elbow and she harrumphs him with a smug smile.
"Has someone else's words ever altered the way you see yourself?" It's the question at the heart of this crazy mealtime activity.
 Eventually, we give examples from our own lives of times when careless words have obstructed our vision and left smudges on our soul— The time when our new neighbor laughed at my bird legs.  The time when a third-grader told Josh he was too little to play soccer at recess.  The time when a classmate made fun of Hannah on the monkey bars. The time when a teacher told Lizzy she was lazy.

The clock is pushing eight and those dishes aren't going to sprout legs and skip to the kitchen sink on their own, so I give the kids a tissue and ask them to erase their crazy doodles. Then as they wipe their portraits clean, I open my Bible and read these familiar words from 1 Samuel 16:7- The Lord does not look at the things people look at. People look at the outward appearance, but the Lord looks at the heart.
I reach for Maggie's freshly-cleaned page and begin to write around the edges of her picture.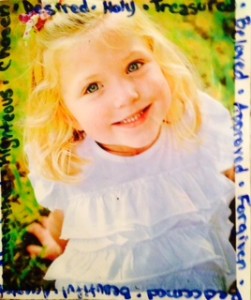 Beloved.  Righteous. Cherished. Redeemed. Friend. Forgiven. Free. Beautiful. Holy. Treasured. Valued. Accepted.
I look at my children, hold their eyes with my gaze and say what I am learning deep in my gut to be true. "The only way to see yourself as Jesus does is to frame your life with His Word."
I point to the words I've scrawled in a blue square around Maggie's photo.  "This is who Jesus says you are. No matter what anybody else says, this is the real you."
I wish I'd known that when I was an insecure teenager. And a young struggling wife. And a discouraged new mom.
I wish I'd known then what I know now- that if we let anybody but Jesus define us, we will never be enough.
I feel a lump rising in my throat, a desperate petition swelling in my soul, and I plead silently with the Creator of the sunrise and the Creator of the fourteen feet beneath our table—May my children live in the light of their true identity in Christ.
Rob is praying now, bringing our night to a close.
And even though my husband utters amen and rises to carry that big bowl of sticky noodles to the sink, I know that this mama's prayer won't end until I'm standing with my Savior in Glory. 
We don't yet see things clearly. We're squinting in a fog, peering through a mist. But it won't be long before the weather clears and the sun shines bright!
We'll see it all then, see it all as clearly as God sees us, knowing him directly just as he knows us! (I Corinthians 13:12)