The Secret Cupid Game: Putting Wings to Love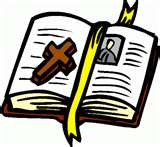 For the word of God is alive and powerful. It is sharper than the sharpest two-edged sword, cutting between soul and spirit, between joint marrow. It exposes our innermost thoughts and desires. -Hebrews 4:12
Welcome to Family Faith and Fun!

One of my favorite parts of motherhood is dreaming up ways to bring the Word to life and bring our family together.  As I spend time reading my Bible, I ask Jesus to show me creative ways to impress His truth on my children's hearts.  He's never run out of great ideas yet.  I hope you'll be inspired by our fun (And maybe even try it at your house, too!)
Secret Cupids: How to put Wings to Your Love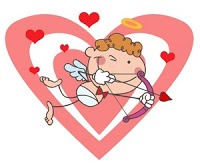 With fourteen days of love in full swing at our house, we've had plenty of opportunities to spread joy through the gift of words lately.  Crayoned love notes and silly puns  have filled the homemade mail boxes in our house.
But as I read
1 John 3:18
over and over again this week,
 I knew I wanted to teach my kids the value of putting hands and feet to our love, too.
Or, maybe, in the spirit of Valentine's Day, we could put WINGS to our words. 
So, I read the verse to my children–
Let us stop saying we love people; let us really love them, and show it by our actions–
 and then invited my kids to join me in a game called Secret Cupids. 
The premise is simple- show your siblings that you love them without getting caught. 
To make the game a bit more fun, I  created a stash of cards printed with a picture of Cupid and with the words from 1 John 3:18.  
I told the kids to leave the card as a "fingerprint of love" wherever they did their secret service. 
It's been fun to see where the fingerprints have shown up, and to watch the kids work so hard at loving each other without getting caught or claiming  credit. 
"Cupid" has been busy this week!
That sneaky little cherub has made beds, picked up toys,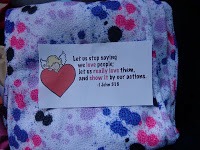 folded laundry, fed the pets, and organized bathroom drawers. 
And I hope that my children have learned the joy of putting wings to their words and serving one another in love!
Are you looking for a simple way to put the Word into practice? 
It's not too late to issue the Cupid Challenge at your house, too!
It may be the perfect launch into Valentine's Day this week.