When We're Stuck and We Can't See Our Next Step…
Welcome! I'm so glad you're here.  Whether you're an old friend or a new one, I hope you'll pull up a chair and stay a while.
If you like what you find, please sign up on the sidebar to receive my blog in your inbox now and then. Or find me on Facebook or Twitter and we'll keep chasing Jesus together day by day. Better yet, I'd love to connect with you in person. I'm now scheduling speaking commitments for 2017, and  I'd  be delighted to join you at a special ministry event in the year to come. 
Today, I'm over at Encouragement for Today telling a tale about stacking stones and finding treasure and remembering God's faithfulness in those moments when we're short on faith. But before you go, I'd love to tell you one more story about a splattering of stones and a path that always leads us home.
******************************************************************************************************************************************************************************
Green was giving way to gold on the day we decided to hike the lakeside trail. And if beauty were a song, we were trekking through peals of  praise, the branches of those old oaks swaying to the rhythmic crunch of the leaves beneath our feet.
The sky was swinging from blue to gray, the sun playing peekaboo with the canopy of color above our heads. And the water just beyond the trees winked with winsome ripples as I ambled slow and allowed myself be captivated by the loveliness.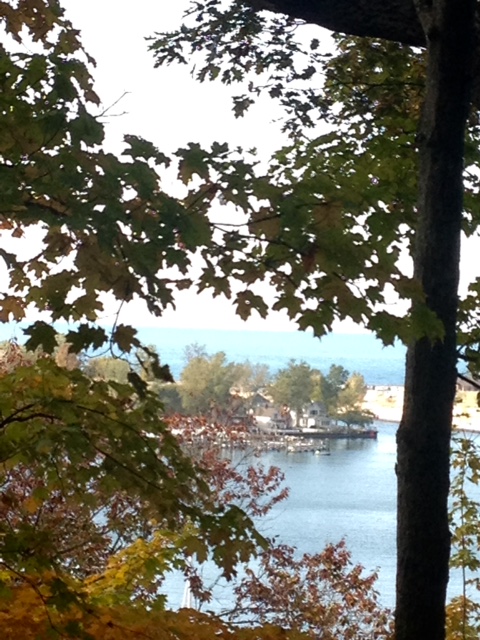 I paused and inhaled the fragrance of fall. 'Cause a Michigan gal knows that all too soon Autumn's glory will be swallowed by winter's grit.
Of course, the kids had no time for pause. They bounded ahead of me, feet fixed firmly in the now. There were branches to climb and acorns to collect; walking sticks in need of walkers and stones in need of tossers. They shimmied up tree trunks and balanced on bald branches, ducked under bending boughs and leaped over muddy puddles.
"Mommy, look at me!"
"Mommy, get a picture of this!"
Their joy floated carefree like the leaves drizzling off the treetops and waltzing in the wind.
But then the winding trail led us to the banks of a murky creek. And we craned our necks to see the trail on the other side that would lead us back to the place where we'd begun.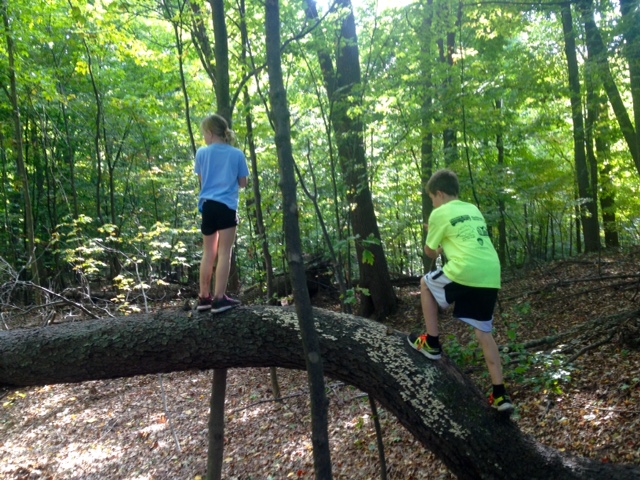 My daughter was the first to worry.  "How will we ever make it home?" she moaned with a touch of Disney drama.
But my son seemed to know the apparent impasse wasn't an impossibility. Carefully, he crawled down the muddy bank to get a closer look and he studied the splattering of sunken stones scattered wily-nily across the water.
"Don't worry, Maggie," he said with a shrug of his slender shoulders. "We just need to step on those rocks until we reach the other side."
Joshua forged the way, his bony legs stretching awkwardly from one wet rock to another. He waved his hands like an old fashioned windmill on a gusty day, slipping and wobbling, see-sawing and side-stepping. And finally he took a mighty leap and landed on his knees in the soft damp sand beyond the water.
Maggie clenched her fists and followed with a tentative stride. She wobbled from one stone to the next until suddenly all the rocks seemed to disappear beneath the mud. She studied the path her brother had taken, but her little legs couldn't stretch far enough to reach her next step.
She was stuck.
Her brow furrowed and her lips trembled. "I don't know what to do," Maggie wailed.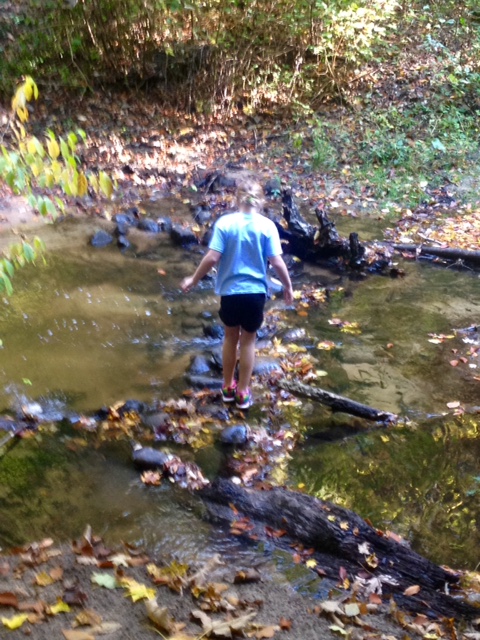 "Just wait right there…"Joshua urged his sister as he dropped to his knees and began to dig in the sandy earth beneath his feet.
Maggie wiggled nervously on top of the slippery stone. "I'm gonna fall," she bellowed. "I'm gonna fall!"
"Put your feet right in the middle of that rock and STAND STILL!" her brother commanded with nine-year-old authority.
And, surprisingly, my littlest girl grew quiet and slowed her sway. Then she planted her feet firmly on that grungy gray rock and stood on that stone without a waggle or a whimper…
I thought about that moment in the middle of the murky creek as I opened my prayer journal today and stared at the blank page in my hands.
Long ago, I'd told God I would go where He leads.
But I hadn't realized that sometimes obedience can land a woman in the middle of murky waters.
I hadn't realized that if God is going to stretch me, my next step may routinely feel out of reach.
There are seasons when we run free with God and seasons when we trudge through the mud one slippery step at a time.
And God is present in both.
I flipped back through the pages of my journal, read and re-read my own scribbles.
I saw answered prayers and unanswered prayers, praises and questions.
But on every page I saw a splattering of stones— God's Word inked in my own messy scrawl. Verses to which I'd clung when I could't find my way. Promises I'd claimed as mine. Cries for help. Pleas for break-throughs. Reminders for my own doubting heart.
It was there, scattered through my prayers, spilled out with my tears, timeless truths meeting me time and time again in my hour of need.
 To you, Lord, I call; you are my Rock (Psalm 48:1).
From the ends of the earth I call to you, I call as my heart grows faint; lead me to the rock that is higher than I (Psalm 61:2). 
Since you are my rock and my fortress, for the sake of your name lead and guide me (Psalm 31:3).
And suddenly I could see it clearly–
When we don't know what to do, we must simply stand on what is true.
When we don't know where to go, we must stand on what we know.
God is great.
God is good.
God is here.
When our world is rocked, we must cling to the Rock.
When we find ourselves stuck and uncertain, worried and wondering, we need only to plant our feet firmly on the Lord's promises and refuse to move.
Be still and know that I am God (Isaiah 46:10)
Hold on and wait.
Our confidence may be quaking; our hope may be shaking, but God's Word never fails. God's truth always prevails.
When we are following our Savior's lead, every impasse is merely an invitation to stand on His promises and wait in faith.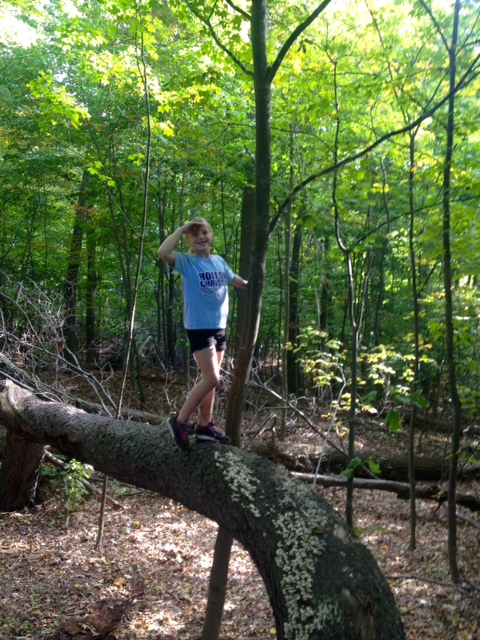 The kids will soon be waking up, so I grab a pen and write just one thing on that blank page in my lap–
Since ancient times no one has heard, no ear has perceived, no eye has seen any God besides you, who acts on behalf of thosewho wait for him (Isaiah 64:4).
It's the stone I'm standing on right now.
And as I speak God's word out loud, pray it with confidence and expectation, I feel strength rising.
'Cause there's this crazy thing that happens when we take hold of God's promises; it's then that God's promises begin to hold us, too.
I can feel it, the firm Rock of faith, right beneath my feet…
As Maggie stood on that slippery stone in the middle of that murky creek, her brother excavated a log from the dirt and lugged it to the edge of the water. With a knowing grin, he stretched it across the quiet ripples like a makeshift bridge. And in three nimble steps, he offered his sister a muddy hand.
Maggie shimmied across the log with a brave smile and wrapped a dirt-streaked arm around her brother's back.
"I'm glad I stood on that rock," she said in a whispered hush, "'Cause now, together, we can find our way home."
*******************************************************************************************************************************************************************************
Today, I'm th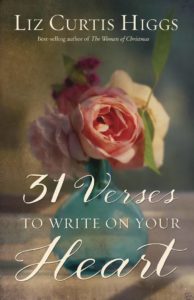 rilled to be giving away Liz Curtis Higgs' new book, "31 Verses to Write on Your Heart."
Part Bible Study, part encouraging friend, this beautiful book is the perfect tool for any woman who longs to stand upon the rock of God's word.
If you've lost your footing, or you just long to keep walking in confidence, Liz's wisdom and insight will grow your faith and fuel your faithfulness.
If you'd like to enter to win a free copy for yourself, just leave a comment telling us what Bible verse is your favorite right now and why.
Or, if you don't have time to chat, no worries–just write, "I'm standing on the Rock" and you'll be entered for the give-away, too.