Why Measuring Sticks Aren't Made for Jousting (And How to Stop Hurting Ourselves!)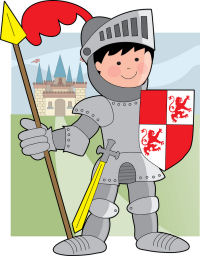 Welcome, friends! If you're stopping by from Encouragement for Today, I'm so glad you're here. Please make yourself at home and stay a while. I hope you'll find that this is a place where faith is spilled and souls are filled. And if you enjoy the encouragement you discover on these pages, let's connect on Facebook or Twitter. If you prefer to have The Overflow spill quietly into your in-box, don't hesitate to subscribe before you leave today. Whatever you do, know that I'm thankful you've taken time to meet with me here. 
 I heard the sound of the shrieks before I reached the battle scene.
I followed the bellows down the basement stairs and discovered my youngest son, Joshua, lying spread-eagle on the floor, his fallen body framed by suspicious shards of a large wooden yardstick. His playmate was huddled in the corner, gripping an elbow with a grimace.
Both boys sported homemade knight "helmets" that had been crudely crafted from aluminum foil and "breastplates" designed with wads of duct tape and old round cookie sheets. I had a hunch that I'd just stumbled upon a seven-year-old jousting match gone wrong. And I didn't know whether to gasp or giggle.
When he realized his one-woman audience had arrived, Joshua gripped his head and rolled back and forth with dramatic moans while his buddy stared contritely at the floor.
"What happened?" I asked, picking up a fragment of wood at my feet.
Joshua propped himself on his elbows and sighed. "Well…. ummm…. you see… we wanted to have a sword fight, 'cause we're the bravest knights in the kingdom…"
My son shot his buddy a smirk and his friend reciprocated with a curly-haired nod.
Josh flipped off his aluminum foil helmet, and then continued. "But we couldn't find the plastic swords in the costume box, so we decided to use those big rulers that were hanging on that hook in the coatroom…."
I stared at the splintered remains of those yardsticks and  and my son hung his head. "I guess my idea didn't work so well. We just both ended up getting hurt."
Measuring sticks aren't made for jousting.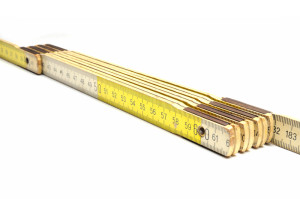 It took one friendly battle and a shattered yardstick to teach my seven-year-old that little lesson. But I'm ashamed to admit that it's taken his mama far longer to learn the same thing.
I may not carry a yardstick in my hand, but I've been guilty of adorning my mind with a collection of meaningless measures.
And I've learned that living with invisible rulers just punctures my soul and stunts my growth, so I'm on a journey to lay down those ridiculous rulers. (I'm talking about that today at Encouragement for  Today if you want to stop by and hear more of my story) 

But  I'm also learning that I'm not the only one who needs to be set free from my self-invented appraisals. The people around me do, too.
I may not show up at my friend's door with a giant ruler, but I've certainly been guilty of assessing her worth with my own flawed metric system. I've cast judgement based on what I can see with my eyes even though I know God wants me to look through His.
But let's be honest, identifying someone else's flaws doesn't make me feel better about mine.
Naming someone else's weaknesses doesn't improve my own strength.
In fact, when I cast my invisible rulers on others, I hurt myself the most.
Wielding measures instead of mercy alienates us from the very people God could use to encourage us along the way.
Because here's the truth–
An imperfect sojourner understands what it's like to walk… well… imperfectly. She understands what it's like to live with shortcomings, with holes, and with unmet expectation.
And more often than not, God extends His Perfect Grace through the feeble hands of His imperfect children.
After I'd swept up the pieces of my young knight's broken yardstick, I invited those cavalier seven-year-olds to join me in the kitchen for a snack. Joshua dismantled his foil armor and hobbled up the stairs, his friend following closely behind. Then, as they munched their chocolate chip cookies, the boys discussed a plan for the rest of their play date.
"Let's make up a new game," Joshua said, his eyebrows cocked crooked in thought.
His friend smiled wide and cast that cookie-sheet breastplate to the ground with a rattly clank. "Yeah," he chimed. "Let's play a game that doesn't even need a sword."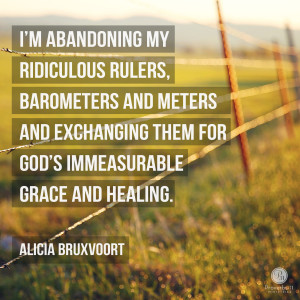 Joshua nodded his head in agreement and headed for the back door. Then, just before he stepped outside he turned to his friend and said, "This time, let's pretend we're on the same team. 'Cause then we won't  have to fight each other any more…."
I don't know about you, but I'm ready for a new game, too.
One without rulers or make-shift swords. One without shattered souls or punctured joy.
I'm ready to trade my measuring sticks for Christ's measureless love. 
Would you like to join me? We could be on the same team. 
In fact, I think we already are!
"Now you are the body of Christ, and each one of you is a part of it." -I Corinthians 12:27, NIV

photo credit: activity village and dreamstine.com
What ruler do you most need to abandon today? Leave me a comment and I'll pray for you as you begin your "new game" steeped in grace. 'Cause that's what teammates do!