Why Hanging Upside Down Might be the Secret to the Best Life (and a give-away!)
Monkey bars.
That's the image that lingered in my mind as I read my friend Amy Sullivan's book.
It seems a bit odd, I know.
After all, Amy's book may be jam-packed with wisdom and wit.
But it is not crammed with references to monkey bars.
Or monkeys, for that matter.
But Amy does mention an ice-throwing posse of boys in chapter 3. (And I  know of a few ornery boys who act like monkeys now and then.)
And if you keep reading  into chapter 4, you'll run right into Amy's sad-but-true confessions about her sixth-grade lip-syncing debut. (And the retired middle-school teacher in me still remembers the unique smell of tween dances. Let's be honest, hot gyms filled with sweaty sixth-graders can smell like a roomful of monkeys.)
All arguments aside, I guess God just knows that sometimes this word-weaving mama needs a simple picture to remember a powerful truth.
And, in the end, I guess that's why I can't stop thinking about monkey bars.
You see, on the day I cracked open Amy's book, I was sitting on a splintered wooden park bench on the edge of a treelined playground.
And Maggie was hanging from the monkey bars, her freshly-skinned knees curled tightly around the silver bar and stringy blonde hair hair blowing willy-nilly in the wind.
"What if we all lived like this, Mama?" she hollered as her face grew crimson from her upside-down dangle.
"Like what?" I asked, glimpsing up from my book.
"Like this," she repeated, her short torso vacillating above the damp mix of wood chips and mud that promised to both cushion and splinter her fall.
"Upside down. What if we all lived upside down?" she giggled.
She waved at her shadow casting a dark figure on the ground below and laughed even harder, entertained by her own musings.
Never short on words, Maggie continued her whimsical chatter.
"Mama! Mama! What if we walked on our heads and stuck our feet up in the sky and when we smiled our lips were curved like this…"
My girl flashed me a toothy, upside-down grin as she swung like a giant pink pendulum; then her smile faded and she wailed a high-pitched warning, "I'm gonna fall! I'm gonna fall!"
I raced to my daughter's side and unhooked her sweaty knees and flipped her feet back on the ground with a poof of dust.
Maggie tottered for a moment, and then cast me a a mischievous smirk and turned for the playground equipment.
She scooted up the slide, climbed through the bright yellow plastic tunnel and positioned herself within reach of the monkey bars once again.
I shook my head as my littlest girl resumed her inverted posture, and I stretched out on the bench with that book written for families who want to give their children more.
More than entitlement.
More than stuff.
More of the life Jesus came to give us.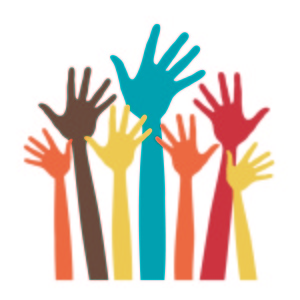 Page after page, I laughed and nodded at my dear friend's authentic account of her own family's quest to raise children with generous hearts, tender spirits and deep compassion for others.  I underlined honest admissions like—
"We decided our family would no longer strive for the next big thing.
Instead, we would strive for the Real Thing (translation: God), but how?"
I wrote notes to myself in the margins, and I stopped feeling like the only mom who ever wonders with what it means to love like Jesus.
I wondered if Amy had peeked in my journal before she scripted her own tale, because on the pages of her story were pieces of my story, threads and shreds of that wrestling match that haunts my soul when the carpooling ceases and the dinner table grows quiet.
How do I give my kids life that's really life? (John 10:10)
And, maybe even more than feeling relieved that I'm not the only mom who is struggling to figure this out, I was grateful that someone else understands my knee-jerk reaction.
How will this change MY life?
Sure, I want to raise Kingdom kids.
I want to launch servant-hearted Jesus-lovers into the world.
But adding one more thing to my to-do list feels burdensome.
Shedding a few of the tangles that consume our time feels impossible.
To be completely honest, sometimes the idea of living with more intention, more generosity, more compassion just feels like one more thing to do.
But what I love about this power-packed little book is that Amy doesn't condemn the hesitation in my heart.
In fact, her family's journey toward abundant life began with the same reservations.
She penned it right there in the introduction, before the tale of ice-throwing monkeys and stinky middle school dances–
"…we knew the Real Thing required our family to take the focus off ourselves and concentrate on the needs of others.
God wanted us to stop consuming and start serving.
The idea did not excite me."
I had just finished reading about Amy's unexpected road-side birth (Go ahead, just try to figure out if there are monkeys in that tale) when I looked up from chapter five and noticed a little boy standing nearly eye-to-eye next to my dangling diva.
I eavesdropped as the two engaged in a perfectly delightful five-year-old conversation.
Upside down Maggie: "Do you want to play with me?"
Little boy: "I can't. My shoe just fell off."
Upside down Maggie:  "Well, put it back on."
Little boy, attempting to shove his heel back into his faded tennis shoe, "I can't. I need someone to help me."
Upside down Maggie, craning her neck to scan the playground: "Where's your mommy?"
Little boy, pointing to a nearby picnic table where a young woman sat with a her eyes fixed on a phone screen. "She's over there, but her hands are busy. She can't help me right now. She told me to go play."
Maggie studied the little boy for a moment and then waved her fingers in front of his face with a happy flourish.
"Well, lucky for you, I'm hanging upside down. So, my hands are free!"
"Sit down right there and put your shoe on the best you can," my red-faced girl commanded.
The little boy immediately dropped to his bottom and shoved half of his blue-stockinged foot into his dusty shoe.
"Now give me your foot," Maggie bossed.
The half-shoed boy stretched his leg toward the sky and nearly kicked Maggie's face as she dangled above the wood chips, her free hands reaching for his foot.
She swayed and giggled and pushed the shoe until the boy's heel finally slipped into place.
"Yes!" the little boy cheered. "Now, let's play!"
In a wink, Maggie flipped herself a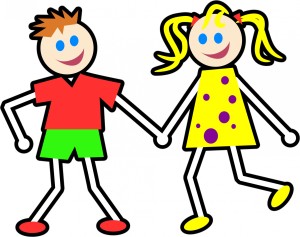 round and dropped to the ground for a rambunctious game of tag with her new  friend.
I laughed and thought about the words in the gospel of John that I'd read that morning before my dangling monkey had slipped out of bed.
Just before Jesus had allowed soldiers to nail his hands and feet to a criminal's cross, he'd gathered his dearest friends and shocked them with an upside down move.
Right in the middle of a their last meal together, he'd  dropped to his knees and washed his buddies'  dirty feet.
The Master of Heaven had scrubbed filthy toes like earth's lowliest servant.
And then, in one sentence He'd flipped everything around and left the truth dangling awkwardly between them.
 "Do you understand what I have done to you? You address me as 'Teacher' and 'Master,' and rightly so. That is what I am. So if I, the Master and Teacher, washed your feet,you must now wash each other's feet. I've laid down a pattern for you. What I've done, you do. I'm only pointing out the obvious. A servant is not ranked above his master; an employee doesn't give orders to the employer. If you understand what I'm telling you, act like it—and live a blessed life." John 13:12-17.
Jesus came to teach us about an upside-down kingdom.
The first shall be last.
The poor shall be rich.
The least of these shall be the greatest 
It doesn't make sense if we try to line it up with the American dream.
It doesn't make sense if we try to cram the gospel into our already jam-packed life.
And it doesn't make sense if we're constantly reaching for the next big thing.
But, if we really want to give our kids more than a status quo life. If we want our families to avoid the snare of entitlement and the pit of ingratitude, then the upside-down way doesn't seem so outrageous.
And, if you're a mom sitting on the edge of the playground with a small and mighty book in your hands titled, When More is not Enough:How to Stop Giving Your Kids What They Want and Give Them What They Need, you just might begin to realize that a generous life doesn't leave us with empty hands.
It simply leaves us with open hands.
Hands free to bless others.
Hands free to embrace the adventure of  life that is really life.
Maggie and that little boy were racing around the playground, the squeal of their laughter rising toward the treetops.
They skipped across the wood chips, and my littlest girl reached out to hold her playmate's  hand in a precious gesture of five-year-old friendship.
And that's when I realized the best part of choosing to live the blessed life Jesus demonstrated–
When our hands are free, we discover friends in the most unexpected places…
Like underneath the monkey bars.
Or wherever else love dangles.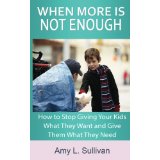 Hey friends, in celebration of this fabulous book's half birthday,  I'm giving away a copy of When More is not Enough:How to Stop Giving Your Kids What They Want and Give Them What They Need,
Just leave a comment telling me how you feel about monkey bars or why you'd like to win Amy's fun and inspiring book!
Wishing you an upside-down-blessed-life kind of week!