When Your Salsa Sprouts Eyes
Lately, I have the niggling feeling that I'm being watched. 
When I open the refrigerator or walk into the bathroom, when I reach for a baseball glove in the garage or grab a tissue in the kitchen, I'm greeted by a pair of eyes.
The googly kind, of course. 
 It's my own fault, really. 
This kind-of-funny, kind-of-freaky surveillance gig going on within the walls of my home was my idea from the start. 
After all, I'm the one who woke up one morning and excavated the glue gun from beneath those piles of fabric scraps and finger paint bottles.
I'm the one who snuck through the house while my children slept and attached those little plastic wobbly eyes to anything I could find. 
And it's not because I wanted to play a prank, or because I had a little too much time on my hands at 6 A.M.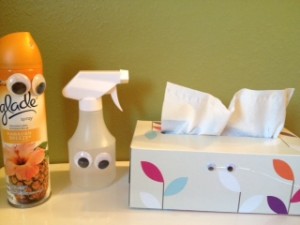 It's because I don't want to forget. 
I don't want to just read the Word in the morning and hurry through my day without the riches of God's wisdom in my pocket.
I don't want to claim I believe in God, but then fail to bank my life on His promises. I want to cling to the jewels of His truth and let the shimmer of His holy writ transform my pedestrian life.
So, when I excavated this amazing gem from the sixteenth chapter of 2 Chronicles, I knew I had to wear it. 
For the eyes of the Lord range throughout the earth to strengthen those whose hearts are fully committed to him.

I needed to drape those words over my naked soul and let them cover my holes. 
 I needed to pin that audacious promise to my heart and let its sheen shine hope in my weariness.
It really is audacious if you think about it—
An all-knowing, all-powerful Creator sees us.
An almighty, beyond-glorious King bends low to strengthen the frail and flawed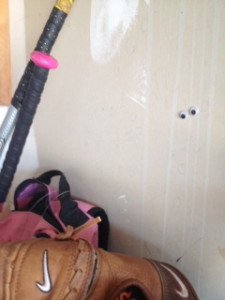 The gospel is radical and ridiculous in the most marvelous way, and I never want to forget that.
Even when I fail to fix my eyes on Him, God's eyes are fixed on me. 
If there's one little truth I want my kids to remember from the splash of these summer days, it's this: God sees.
So I unearthed those crafty eyes and got to work.
My family can't decide whether the googly gazers are creepy or cool. 
And, in truth, they were meant to be neither. 
 Those plastic peepers aren't for creeping or wowing, they're simply for reminding.
Those wiggly watchers on the salsa jar remind us that we're not alone.
Those sneaky peekies in the garage remind us that we have a Father who longs to give us strength.
(And sometimes, when I'm gearing up to pitch another hundred baseballs to my little slugger, I need that strength like a desert needs rain!) 
It's amazing to realize that God is watching.
It changes everything, really, the sudden comprehension that we live wrapped in the warmth of His gaze.
If God sees us, then we're not invisible.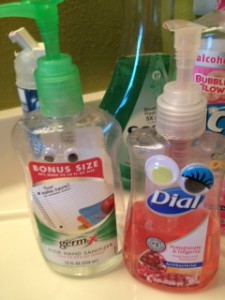 If God sees us, then we're not invaluable.
If God sees us, then we're not alone.
Those eyes aren't  looking to catch us doing something wrong.
Those eyes aren't waiting to see us stumble. 
Those eyes are scanning this swiveling globe because the Creator of the galaxies wants to create something new in you and me.
He wants to infuse our tired legs with vigor.
He wants to replace our whimpers with wonder.
He wants to trade our powerlessness for His pluck. 
The One who calls the stars by name is looking for you.
The One who stills the churning sea is looking for me.
I don't know about you, dear friend, but I need to remember that. 
Those plastic eyes in my fridge remind me that there's One who has strength to share when my kids are fighting and the bread is burning and my head aches from the spin of it all.
Those wobbly eyes in my pantry remind me that God sees me when my days feel like a futile exercise in wiping bottoms and noses and floors.
Those googly eyes in my bathroom remind me that God is watching when I yell at the kids I'm called to love or  use careless words to cut-down the man I'm asked to esteem.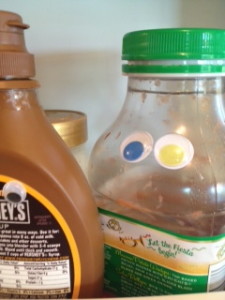 And when the eyes of my Father land on this flawed and floundering woman, He sees what I don't.
The eyes of my Father see a masterpiece when I see a mess.  
The eyes of my Father see an unfolding dream when I see discouragement.  
The eyes of my Father see beauty when I see brokenness.
 Call it creepy or creative, but these peculiar eyes remind me that if I sidle up close to the heart of my ever-looking Father, I just might begin to see myself in a whole new light. 
Or at least I'll view the inside of my refrigerator in a different way!
For God is always to be found at the back of the refrigerator behind the moldy tuna fish casserole,or sometimes He's found in the way the tailor at your corner lovingly stitches up the hem of your party dress, other times, in the way a child sings along with a toothpaste commercial. Do not (just) look for him in the heavens. He only keeps a small locker there, only goes there to change. -Cynthia Heimel
Writing in community with these lovely ladies today: Jen for soli deo gloria, Jennifer for Tell His Story,  and Beth for Wedded Wednesdays