When Your Buddy Bench Sits Empty (The Surprising Gift of Loneliness)
Welcome to the Overflow! Whether you're an old friend or a new one, I'm glad you're here.  This is a place where faith is spilled and souls are filled. I hope you'll pull up a chair and stay awhile.
Today I'm over at Proverbs 31 talking about a little wooden bench called the "buddy bench" that's helping to mend hurting hearts on my daughter's elementary school playground.  If you haven't had a chance to read it, you can find it here. But before you go, I'd love to tell you one more thing we've been learning from that little wooden bench…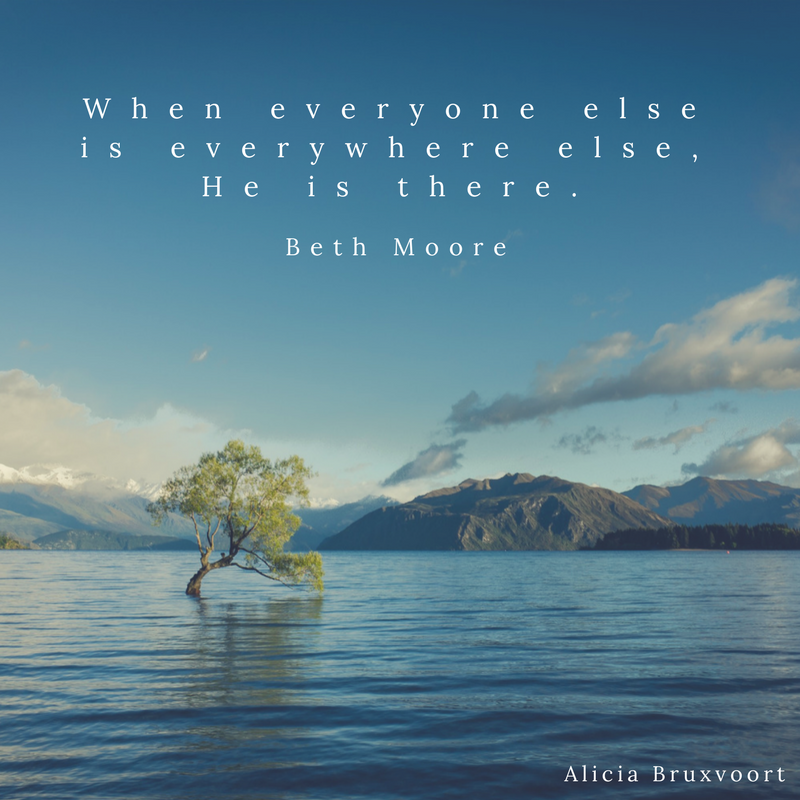 She's unusually quiet in the back seat as we drive home from school– no tales of recess adventures or girl friend giggles today. No laugh-laced echoes of lunchtime jokes or uproarious reports of rowdy boy pranks.
I glance in the rearview mirror and study her slouched shoulders, her downcast eyes. And I know there's a story tucked beneath the hush.
But  her big brother is giving a play-by-play of the football game he won with a hail Mary on the playground, and her big sister is telling me about the paper she's writing in lit class, and the road that winds home is slippery with fresh snow. So I fix my eyes on the road and listen to her siblings' chatter, and I pray that as the afternoon unfolds, God will help me hear what's NOT being said by the sullen eight-year-old in my mini-van.
When we get home, the silence gives way to surly quibbles. She argues with her brother, grumbles at her sister and yells at the dog. I give her space and grace and count down the hours til bedtime.
Then, finally, when the moon spills through her window, the sadness seeps from her sleepy eyes. As I pull the covers to her chin, she puts words to the churn inside. "It wasn't my very best day today."
I stroke her hair and wait.
"I felt sad at recess today…" she admits with a breathy groan.
"I couldn't find my friends by the purple slide where we usually meet and the monkey bars were busy and the swings were all full." Her lips quiver as she remembers. "And the boys were playing a really fast game of tag and I didn't want to be it so they said I couldn't play and my kindergarten friends were playing baby games and my thinking spot by the tree was muddy…"
Her eight-year-old playground woes dribble out between sniffles and whimpers. I listen with empathy, but when the ramblings cease, I gently remind my daughter that one imperfect recess need not ruin a perfectly good day.
"I know, Mom," she agrees. Then she names the real source of her sadness."But I sat on the buddy bench and nobody came…"
Her slender shoulders tremble beneath the blankets. "And that's when I felt sooooo lonely."
I feel her honest words in the pit of my stomach and pull her a little closer in the dark.
And I think about my own lonely seasons–
The year we lived abroad and the language barrier left me wading in shallow relationships and constant confusion.
The decade we changed addresses like stability was going out of style.
The days of being stuck home alone with wailing babies, demanding toddlers, and precocious preschoolers.
The times when my dearest friends moved away and their absence was as noisy as a thunderstorm on a sultry summer night.
Of course, my lonely seasons haven't always been devoid of relationship.  Some of my loneliest seasons have been spent aching in the presence of the ones who love me most.  Because as Beth Moore reminds us,"We don't have to be deserted to feel all alone. All it takes is being in a place no one else can fully enter…"
A girl doesn't need second-grade-playground drama to know the bite of loneliness.  We've all had seasons where our "buddy bench" sits empty and our hearts feel barren. Whether we're eight years old or eighty-years old, loneliness cuts deep.
But there's something else that loneliness can do, too. And my daughter reminds me of that as we linger in the bottom bunk.
"What did you do then?" I ask after she describes those long lonely minutes of sitting unnoticed on that little wooden bench on the edge of the playground.
"Well," she says with a jagged sigh, "At first I felt sad. And then I felt mad. I wanted someone to come talk to me.  But, finally, I remembered I wasn't really alone. And I just started talking to Jesus…"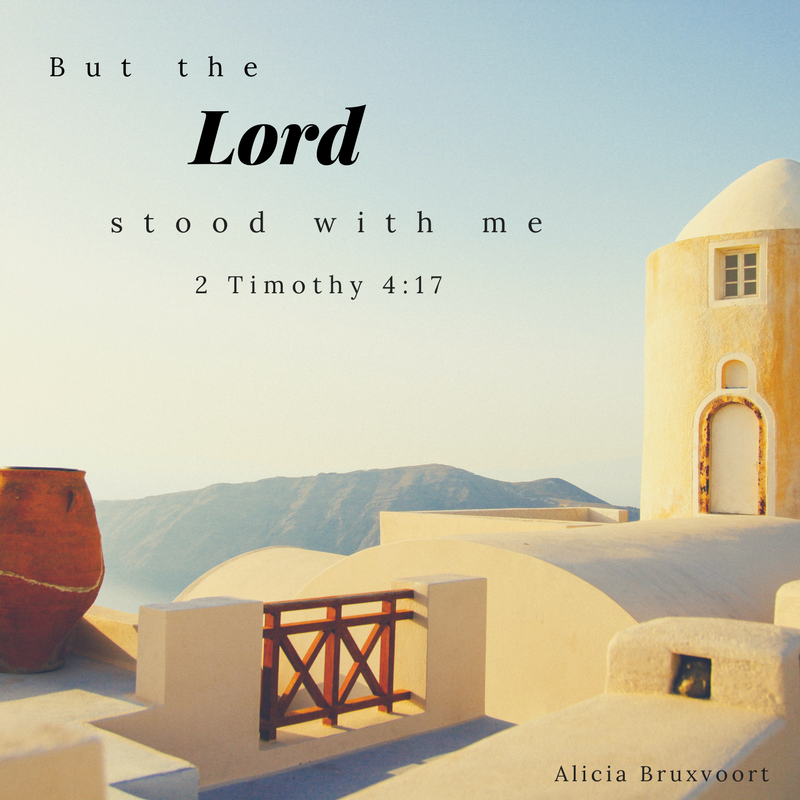 I nod my head in the dark, my eyes welling with a hot pool of tears.
Because my little girl had just named the upside down gift of loneliness.
Yes, loneliness can cut deep, but it can also be a short cut to Jesus.
Loneliness can feel like a dead end, but it can also lead us to the One whose love never ends.
Loneliness can make us feel unseen, but it can also open our eyes to the One who sees our need.
It's often in our loneliest hours that we realize we're not really alone.
And suddenly, that gap that no one can fill becomes a gift that no one can steal.
When the Apostle Paul scribbled his last letter from a desolate prison cell where he was awaiting his imminent death, he told of friends who had forsaken him and churches who had failed him.
Yet, in 2 Timothy 4:17, He pens this tender and powerful truth: "But the Lord stood with me…"
Each time I read those six simple words I feel a lump of tears rising in my throat.
But the Lord…
When there's nobody to sit beside us, the Lord stands with us.
We may feel forgotten and forsaken, lonely or lost, but God meets us where others miss the mark.
God steps in when everyone else steps out.
In Beth's beautiful words: "Then, just when you think the isolation will overtake you, there He is. You can't see Him with your eyes. You can't hear Him with your ears. But the Spirit of Christ within you bears such witness to the presence of Christ beside you that you know you're not alone. When everyone else is everywhere else, He is there." (Beth Moore, Entrusted)
My daughter's sniffling has begun to fade and her slender shoulders no longer quake. So, I wrap my arms around her in a snug warm hug, and I whisper a simple prayer in her ear. Words of faith for her heart and for mine…
Dear Jesus, Thanks for never leaving us alone. You're the best kind of buddy a girl could have. Amen
******************************************************************************************************************************************************
If you like what you've found here at the Overflow, I hope you'll subscribe to my blog so we can stay in touch.  (You'll find a subscription box on the top right sidebar on my home page.) Once you sign up, I'll send a splash of encouragement to your inbox now and then. Or, if you'd rather, we can stay connected on Facebook or Twitter.
Of course, my favorite way to connect is the old fashioned way—face to face so I can see your smile.  I'm scheduling speaking engagements for all of 2018, and I'd be delighted to bring a message of encouragement to a ministry event near you! (Contact me at overflow@aliciabruxvoort.net if you'd like to know more).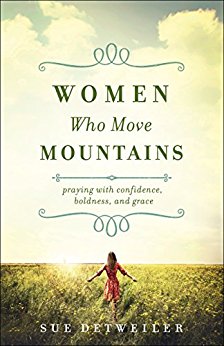 Also, as promised over at P31 today, I'm giving away Sue Detweiler's book, "Women Who Move Mountains: Praying with Confidence, Boldness, and Grace." This book will equip you to confidently sit down on the buddy bench with Jesus and share your heart. If you'd like to win a free copy for yourself or a friend, just leave us a comment and tell us what you're praying about most right now.