When You Wonder if You're Beautiful
Welcome, friends! I'm so glad you're here.
If you're stopping by from Encouragement for Today, I hope you'll stick around for a while and make yourself at home. I pray you'll discover this is a place where faith is spilled and souls are filled.
If you like what you find, feel free to subscribe to The Overflow so you won't miss a single post. You can sign up on the side bar under the heading "Newsletter" or connect with me on Facebook or Twitter. I'd love to get to know you more. Leave me a comment and introduce yourself. Let me know how I can pray for you. Life is just more fun when we do it together!
I'm also scheduling speaking engagements for the 2015-2016 school year, and I'd love to be a part of your next ministry event! Don't hesitate to contact me if you'd like to know more about my speaking ministry or if you have questions about the topics on my speaking page.
At Proverbs 31 today, I'm talking about daddies and daughters and the one thing that could set you free to dance. It's a story about refusing to settle for less than your Father's lavish love and grace.  I hope you'll take a moment to read it here.
But before you go, I'd love to tell you one more dancing tale.
Think of it as an invitation to become the woman God's always dreamed you to be…
************************************************************************************************************************************************************************************************************************
I noticed the change in her eyes the moment her Daddy handed her that red rose and told her she was beautiful.
I'd told her, too, of course, as I was helping her get ready for the Father-Daughter Dance. 
I'd told her when I'd zipped up her brand new dress and listened to her chatter about disco balls and dancing shoes and the lyrics to her favorite song.
I'd told her when I'd smiled at her gap-toothed reflection in the mirror and wound her fine blonde hair around the steamy silver curling wand.
You are the prettiest six-year-old I know.
I'd told her when I'd dotted her puckered lips with light pink gloss and dusted her wispy bangs with a poof of hairspray.
You look like a beautiful ballerina.
I'd told her when I'd watched her practice her groovy moves on the living room floor and when I'd snapped photos of her posing like a pop star on the back deck.
Your smile is going to light up the dance floor.
But it was her Daddy's words that made my girl cheeks glow with ruddy radiance; her Daddy's words that made her eyes sparkle with confident joy.
It was her Daddy's words that made my daughter stand a little taller, her Daddy's words that made her hold her head a little higher.
It was her Daddy's words that trickled truth into my daughter's heart and shined contentment through her  smile.
 A mother may instruct her daughter in beauty, but it's a father who calls it out.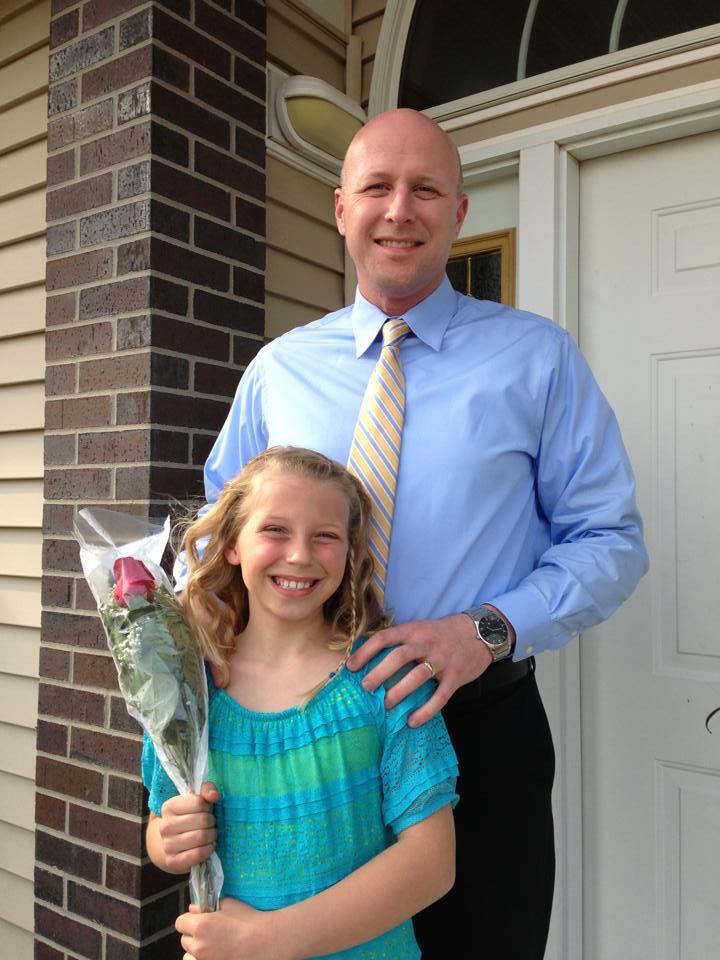 Hannah handed me that red rose before she grabbed her daddy's hand and skipped gleefully to his waiting truck.
"Put it in water, okay, Mommy?" she said as she waved one last time at me over her shoulder.
I nodded and watched my dancing duo pull out of the driveway and disappear down the hill for their special night.
And then I sat on the front step and remembered how I'd felt when I'd first heard those words, too…
You're beautiful.
I wasn't wearing a fancy dress, just old pajamas covered in spit- up.
I wasn't heading to a dance, I was just heading into another day with screaming children and dirty dishes.
But for some reason, on that day long ago, my Father's words had stirred something deep within me–

"You're beautiful from head to toe, my dear love, beautiful beyond compare…" (Song of Songs: 4:7, The Message)
I'd read His whispers on the wafer-thin pages of my Bible that morning while my baby snoozed in my arms and my saggy-diapered toddler stacked blocks at my feet.
I'd known my Father's voice since He'd captured my heart as a little girl.
I was familiar with His gentle kindness and His saving grace.
But these words… they were new to me.
They were like water for my parched heart.
"You're beautiful…"
The baby woke and the block-tower collapsed, and I scribbled that holy writ in my journal with a bright red pen before the day unfolded in sticky spills and angry wails.
And over and over again, I read them aloud–in between diaper changing and toddler chasing, face-wiping and baby burping–and slowly, my Daddy's declaration seeped deep into the jagged cracks of my aching soul.
"You're beautiful…"
Oh, how I wanted that to be true.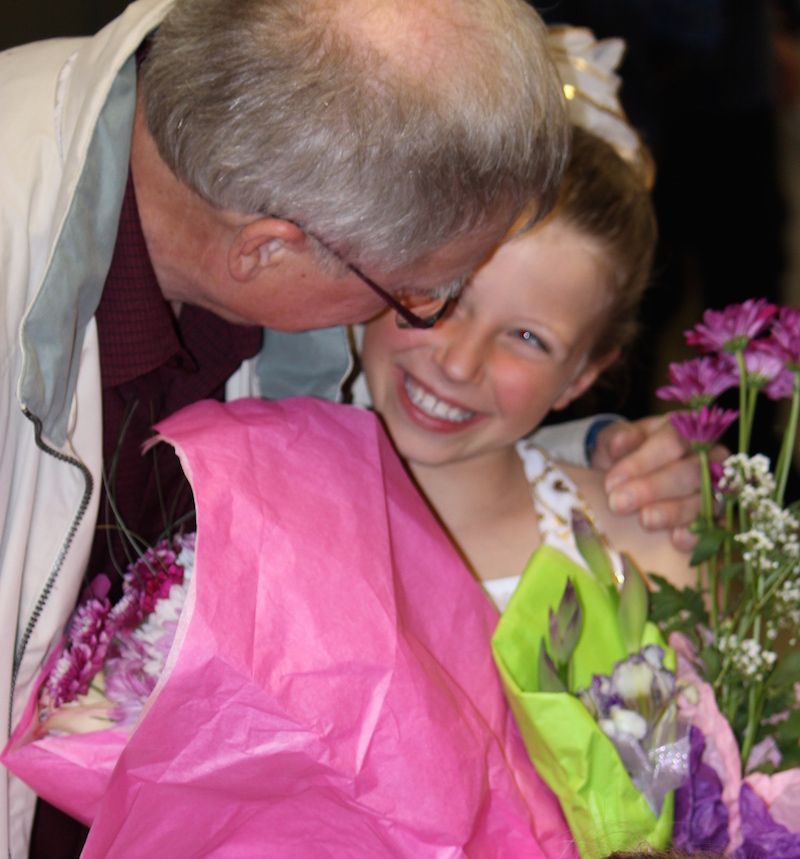 Later that week, I gathered for a Bible study with other moms like me, our babies crawling at our feet while we poured over the scriptures together. And I asked my friends what they thought about those crazy words that Beth Moore had scripted across the first page of our weekly lesson— 
 "Christ sees you as beautiful. I also believe this is how the enemy sees you. He just does not want you to know it. His job is to deceive us into believing we are so much less than we are. Why? Because he knows we'll act like who we think we are." 
We read that passage aloud over the din of baby babble and the clank of sippy cups. And we lingered long beneath the weight of those words.
Some mamas seeped tears.
Others oozed giggles.
But, together, we began to wonder if true beauty is a choice rather than a hair-style; an act of faith rather than a formula.
What if true beauty has less to do with the shape of our bodies and more to do with the shape of our souls?
What if the path to true beauty isn't a bulge-battling work out, but a doubt-defying calling out; an invitation to believe we are who are exactly who our Daddy says we are.
It was a wonderful and frightful thought.
The kids grew restless and hungry, and one by one, we packed up our diaper bags and headed for home.
But the musings of the morning haunted me as I drove across town in my dusty mini-van,.
A nameless yearning rose from the depths of my soul, and I realized that I was desperate to see myself through my Father's eyes, desperate to believe that what He says is true.
You're beautiful.
That red-inked verse ran through my head over and over again.
And on that ordinary day, with my babies wailing in the back seat and my gas tank looming on empty, I decided to take Him at His word.
There were no lightning bolts from Heaven, no angelic choruses sung in harmony through the clouds.
Just a subtle shift inside of me, a quiet commitment to choose truth over lies, acceptance over rejection.
And from that day on, the woman staring back at me in my mirror never looked quite the same.
Oh, she still had  stretch marks and extra skin. 
She still had hair that refused to grow silky long and legs that dangled skinny like a bird's.
But her Daddy says she's beautiful.
And for some crazy reason, she chooses to believe Him. 
It happen overnight–this transformation deep in my soul–but little by little, I began to let my Father call out the beauty He'd placed inside of me.
I began to trust His gentle whispers of truth more than I heeded the Enemy's noisy lies.
I began to seek His perfect face more than I worried about the blemishes on my own.
I began to live like a daughter who is loved.
Because I am.
And you are, too, my friend.
And just as I wanted desperately to believe that simple truth thirteen years ago, I want desperately for you to believe it, too.
Because beautiful women live beautiful lives.
And you were created to live life to the full.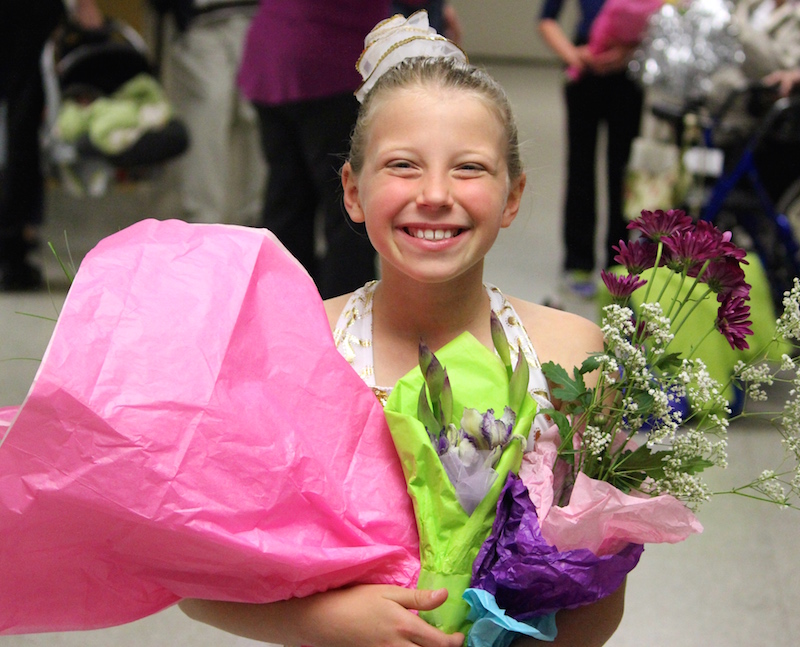 I don't care what the magazines say or what the television commercials tote, true beauty isn't activated by a product or a procedure.
True beauty blooms best in faith.
So, lean in close and listen to what your Father has to say.
"You're beautiful from head to toe, my dear love, beautiful beyond compare…" 
The sun had sunk silently into the silver night by the time my daughter came home from the Father-Daughter Dance on that cool spring night.
Her cheeks were flushed and her shoes were scuffed from a night of boogieing in her Daddy's arms.  She had pizza sauce on her dress and limp strands of sweaty bangs in her eyes. But her happy smile could have rivaled the wishing star that dangled in the velvet sky.
"Did you have fun?" I asked as I helped Hannah slip on her pajamas and climb into into bed.
"Yeah" she sighed. "It was great."
"What was your favorite part?" I asked, bending low on the bottom bunk to bid her good-night.
"Oh, I don't know," she replied as she nuzzled her rosy cheeks on her pillow.
"Probably just being with Daddy…."
Her voice tapered off in sleepy thought.
"He just makes me feel ..so… so…."
Her eyelids fluttered and she exhaled a contented sigh, "….beautiful."
**********************************************************************************************************************************************************************************************************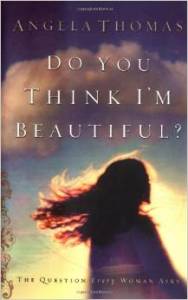 It's a Daddy-Daughter Give-Away!
Today, I'm excited to be giving away one copy of Angela Thomas's book, Do You Think I'm Beautiful?
If you've ever wanted to see yourself through your Heavenly Father's eyes, this book is a great place to start.
It's a perfect summer read to work through with a friend or just savor on your own as you sit in the sun.
I hope it will launch you into some honest conversation with your Daddy.
If you invite him to speak to you through the pages of this book, I have no doubt that He will.
If you'd like to be entered to win Angela's book, just leave me a comment and finish this sentence–
"I feel most beautiful when…"