When We Feel Alone in Our Darkness…
Welcome to the Overflow!  Whether you're an old friend or a new one, I hope you'll linger here where faith is spilled and souls are filled. If you like what you find and you'd welcome a trickle of inspiration in your inbox now and then, feel free to subscribe to my blog and I'll send you a splash of encouragement now and then. (You'll find a subscription box on the top right sidebar on my home page.) Or, if you'd rather, we can stay connected on Facebook or Twitter.  Of course, my favorite way to connect is the old fashioned way—face to face so I can see your smile.  I'm scheduling speaking engagements for the 2017/2018 school year, and I'd be delighted to bring a message of encouragement to a ministry event near you! (Contact me at overflow@aliciabruxvoort.net if you'd like to explore the possibility of partnering in ministry in the year to come.)
Speaking of encouragement, I'm over at Proverbs 31  today talking honest and real about those hard times when we don't understand what God is doing. If you haven't read my devotion, feel free to check it out here and bring a tissue, 'cause we may just need to sit down for a good cry together. Also, I hope you'll grab the free printable I've made for you called "Truth in Times of Tears." (You'll find it at the end of this post). It's like a hug from me to you, a little something to buoy your heart when life gets hard.
But before you go, I'd love to tell you what I've been learning about finding faith in the dark times…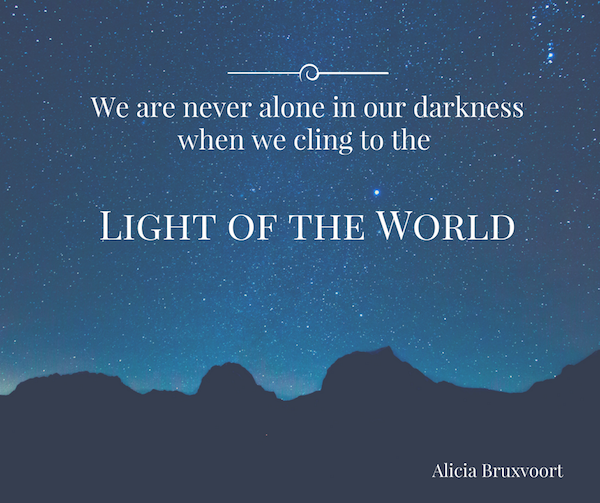 Her wails beckoned me to her bedside once again.
I'd lost count of the number of times I'd raced up those stairs in the moonlight. And this time, as I trudged to the second floor, I fought the urge to cry myself.
Nighttime was no longer a peaceful pause between dusk and dawn. It was a battlefield bloodied with tears and angst, anger and disappointment. Doubt screams loud when the noise of the day slumps still. And in that dark that settles slow after the sun sets, my youngest one grappled with great big questions.
Is God good?
Does He even care?
And if so, why won't He answer my  prayers?
Night after night, I felt the ache of her heart in mine, and I wished for answers to quell her seven-year-old angst. But words fall short when discouragement looms long. And even my forty-four-years-of faith couldn't make sense of the storyline God was scripting at that time.
Our family had put feet to our faith and nothing was turning out as we'd imagined.
We'd trusted and obeyed, listened and surrendered. We'd said yes to God's dreams and no to our comfortable plans. But our leap of faith had landed us right in the middle of the wilderness rather than on a wild wide of wonder.
And so we'd waited and prayed, inhaled his promises and exhaled hope.
We'd cried out like the desperate father in Mark 9– "I do believe! Help my unbelief!"
And we'd all wrestled with our own fledgeling faith in different ways.
The moonlight spilled quiet through my daughter's bed room windows, and I wiped her stringy hair away from her flushed face.
Her words were a rant and a whimper, seven-year-old sadness and skepticism all blurred into one.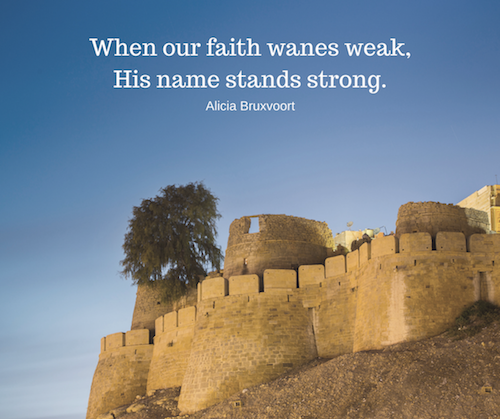 But this, I understood–
She wants to know how it will all turn out. She's weary of the waiting.
I had no words left–for me, for her. Just a heavy heart and eyes that burned tired. And so I wrapped my arms around her trembling frame and asked, "Honey, what do you want me to do?"
"I don't know," she said. "My head hurts." She placed her hands on her head as if she could squeeze out all the qualms that kept her awake.
"And my heart hurts, too," she murmured. Then she reached for my hand and tugged me closer. "But it hurts most when I'm alone."
Her words hung between us in that sliver of starlight slipping through the curtains, and I climbed onto the bottom bunk beside her as the night folded black around us.
I wrapped my arms around my little girl and placed my own hurting head on her pink pillow, damp with tears.
And as we lay there, I whispered the name of Jesus like a salve for my daughter's aching soul.
Because we're never really alone in our darkness when we cling to the Light of the World. (John 8:12)
And when there's nothing else to say, His name says it all.
Jesus. Immanuel. God with us. (Matthew 1:23)
When our hope runs dry; His name still reigns. (Philippians 2:9)
When our faith wanes weak, His name stands strong. (Psalm 124;8)
When our confidence is lost; His name calls us home. (Proverbs 18:10)
Jesus. 
There's no pain that can repel His presence.
No doubt that can repeal His faithfulness.
No anger that can douse His love.
And even when we can't define what He's doing, we can still depend on His name.
And so I sang it like a lullaby–one word to hush every worry and wondering, every doubt and disappointment.
Jesus. Jesus. Jesus.
Her sighs stilled. Her tears ceased.
And as the name above all name hovered over our hurting hearts, hope filled the gap between our faith and our fears.
And that little girl who was wrapped in the arms of her mom who was wrapped in the arms of her Savior finally surrendered to sleep.
"And be sure of this: I am with you always, even to the end of the age." (Matthew 28:20)
**********************************************************************************************************************
If you're looking for a little hope, I've created a free printable called "Truth in our Time of Tears".  These are the promises I cling to when life gets hard and my faith grows weak. Just click the link here and download one for you or for a friend today.
And before you go, don't hesitate to let us know how we can pray for you today. Leave a prayer request in the comments and we'll carry your cares to the ultimate Tear Catcher.