The Secret to Being Happy With the Life You Already Have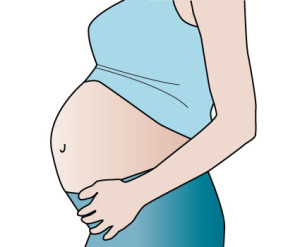 We'd argued on our drive to the hospital. 
I'd soon be lying belly-up on an exam table covered with a scratchy disposable sheet and trying not to squirm as the skin on my stretched-out belly was covered with clear cold goo. 
 We were just moments from our first glimpse of the baby tucked beneath my heart. But despite our anticipation, my husband and I couldn't agree on one thing: Should we find out the sex of our baby or not?
 My husband had voted yes. 
 I'd insisted no.
 Two years before, we'd chosen to go for the moment-of-arrival surprise with our firstborn, and I couldn't imagine why my man wanted to spoil the fun the second time around. We'd  loved the thrill of hearing the doctor say, "You have a boy!" after my son had slipped from womb to world in the pre-dawn hours of that momentous August day.  And since I was the one whose sweat and labored breathing would push baby number two from watery darkness to light, I figured I deserved a weighted vote.
 So when the silvery-haired ultrasound tech asked if we'd like to know the gender of the baby, I gave my husband the evil eye and put clear words to my preference.
No thanks. We want to be surprised!
My mate didn't dispute my final call, but he did leave the hospital with measurably less excitement than his victorious wife.
 In fact, from that point forward, my man seemed oddly detached from the miracle that was steadily morphing my belly into the shape of a giant basketball. Consumed with medical-school rotations and endless hours of hospital work, Rob moved through his days like a stupefied robot, rarely acknowledging the impending arrival of our second child. 
 Though his excitement had been palpable during my first pregnancy, my husband's emotions seemed frozen throughout the second. He didn't cuddle in close at night, his hands perched on my protruding stomach in hopes of feeling those little feet kicking happy beneath my skin. He didn't place wet lips to my bulge and whisper secret daddy messages to the tiny one inside. Or talk about the challenges and the fun of becoming a family of four. He didn't call our toddling two-year-old big brother or dream with me about the sibling season to come.
 It was as if my man couldn't see the gift growing right beneath his nose, the blessing burgeoning right beneath his wife's aching heart….
 I'm delighted to be sharing one of my favorite posts of all time over at Haven Help Us today.  I'd be thrilled if you'd join me there! (That's where you'll find the rest of this post. Come on over and meet my dear friends, Becky and Heidi, and read how a yellow post-it-note changed my husband's heart! )