The One List that Could Change Everything
Welcome, friends! I'm so glad you're here. If you've stopped by from Encouragement for Today, I hope you'll find a second serving of inspiration here at the Overflow. Don't hesitate to look around for awhile and make yourself at home here where faith is spilled and souls are filled. If you'd like a weekly splash of encouragement, please take a moment to  subscribe to The Overflow or follow along on Facebook or Twitter.  And, together, we'll keep seeking Jesus in the midst of our messy and beautiful days!
 Not long ago, I found my preschooler sitting small in the middle of a giant mess.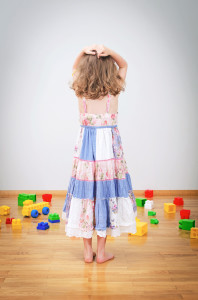 Her head was buried in her arms and her shoulders were quivering sad.
Blobs of bright blue Play Doh sat on the bookshelf, half-dressed baby dolls lay strewn across the carpet, and hundreds of  brightly colored  blocks covered the couch cushions that had been tossed haphazardly on the floor. The mantel above the fireplace was streaked with drizzles of drying finger paint, and the floor near the mahogany end table was dotted with suspect shards of shattered pink and white porcelain. 
My eyes roamed the room in utter shock.
"What have you been doing?" I asked my preschooler as I stepped over a naked baby doll and squatted by her side.
Maggie lifted her tear-streaked face and cast me a despondent gaze, her lips silent and pouty.
"You told me you were going to take care of your baby dolls while I did the dishes," I said, trying to keep my voice calm despite the frustration throbbing in my temples.
I plucked a paint brush off of the floor near the golden-haired doll. "But this doesn't look like a simple game of house," I observed. "What were you doing, Maggie?" The words slipping from my mouth sounded accusatory, and  tears pooled wordless in the corners of my daughter's big blue eyes.
But to tell the truth, I felt like crying, too.
My day was full, and I hadn't planned on spending my morning scrubbing finger paint off the mantel and digging for the basement floor beneath a rainbow of plastic blocks.
"I…I…I was just being a mommy," my little girl replied weakly. "I was dressing my babies and painting a new picture to hang above the fire place and making a birthday cake with my Play Doh, and building a new house out of blocks for the Polly Pockets and setting up a tea party so we could have a really special snack."
She looked over her shoulder at the broken pieces of her little pink cup, and her voice trailed off in a sing-song of dismay. "But I was carrying my baby, and I tripped on one of those blocks, and I dropped the cup on the table, and it bro-o-o-ke," Maggie's explanation was swallowed by a fresh round of whimpers. Then, with a dramatic sigh, she flopped her head back into her arms and began to snivel once more.
For a brief moment, I considered flopping on the floor beside the little mommy and adding my own soprano wail to her lament, but I was afraid that I'd end up sitting on a sharp hunk of that shattered teacup.
So, instead, I headed to the laundry room to arm myself with cleaning supplies. 
When I returned,  Maggie sat up and reached for her favorite doll. She hugged the baby close to her stomach and muttered, "I was trying to do everything, just like REAL mommies do…"
She kicked a block across the room and watched me sweep broken chunks of her pink-flowered teacup into the dust pan. "But I ended up doing nothing…" She scanned the scene with remorse. "… 'cept making a big mess." 
My stomach lurched at my little girl's declaration. With one innocent sentence, my five-year-old had summarized the try-hard reality that had enslaved me for years.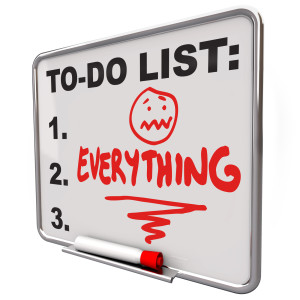 Trying to do everything can be a short-road to a big mess.
 Trying to do everything often leaves us with nothing… 
Nothing but a discouraged disposition and a bitter heart.
Nothing but a frazzled spirt and a splintered soul.  
Nothing but fractured joy and fruitless faith.
My little girl stood up in the middle of the disaster she'd created and reached into the dustpan for a jagged pink fragment of that broken tea cup.
She held the delicate shard in her upturned palm and muttered morosely, "I guess I'm not a very good mommy…"

For the third time that  morning, my little one began to cry. 
And right there, in the middle of the mess, I pulled my daughter into my arms and I told her a secret I've learned after fifteen years of motherhood.
"A good mommy isn't good at every thing. She's just really good at one thing:
A good mommy is good at being who God has created her to be."
Maggie's eyes lit with hope. And together, we started picking up the blocks scattered at our feet.
And as I filled my hands with a load of blocks, I thought about those words I'd scribbled at the top of my prayer journal a few years ago…
I don't need to do it all, because my Savior already has.
I'm talking about that today over at Proverbs 31's Encouragement for Today, but it bears repeating right here as well.
I wish we could curl up on this faded leather couch I'm perching on as I write, and we could share our hearts as we clutch a cup of coffee or savor a sip of tea.
Because I think we'd find that we both long for the same thing. I think we'd discover that we both long for life that is really life. 
If I could just reach through this screen for a moment, I'd take your hand and look you straight in the eye and tell you this–you don't have to do it all to experience life to the full.
In fact, I'm learning that I miss all sorts of sacred and significant moments when I live with a frantic insistence that I can do everything. 
When I'm striving to be good at all things, I miss the joy of the small things. 
The truth is: We weren't created to do it all. We were created to play one small role in a gigantic Kingdom tale. 
And if we exhaust ourselves trying to do everything, then we may miss that one thing we were put in this world to do.
God is less concerned with how we measure our accomplishments, and more concerned with how we measure our days.  
He doesn't need another Martha Stewart. He needs women who steward their time. And their gifts. And their passions.
One day I'll stand before the Lord and give an account of what I did with this life. And I hope that when I finally see Him face to face, I will be able to  say, "I did my best to count each moment as a gift.  And by Your grace, I completed the good work you created me to do." 
There are things that are only mine to do in this world. A script written just for me. 
Five children to raise, one husband to serve, the least of these to love, and a Savior to pursue in my own unique way.
There's a script written just for you, too. And our lines aren't the same.
So here's a little secret I learned from a wise woman who is learning to embrace her small part in God's timeless tale…
"Prayerfully figure out what you don't do.  Make a list. Post it where you see it. Stick to it and watch your life grow deep and rich." (Shauna Niequist, Bittersweet)
Do you see it, friend? This is the list that can set us free to be the women God has dreamed us to be.
This is the list that can move us from exhaustion to exhilaration, from brokenness to beauty.
Forget bucket lists or grocery lists, to-do lists or to-remember lists. 
This is the list that could change everything.
So, go ahead. Grab a pencil and make your own don't-do list today!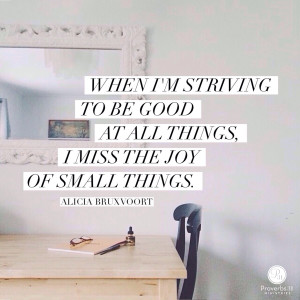 Pray about it. Celebrate it. And write it down.
Share it with your spouse.
Share it with a friend.
Share it with Jesus.
Then refuse to feel guilty for being you.
I first scribbled my list on a coffee-stained page of my journal, but today I'm posting it for all to see. Because sometimes it's just good to know that you're not the only one who lives with don'ts.
 Things I don't do…
I don't make bread from scratch (but I do shave off the burnt bottoms of the heat-and-eat dinner rolls I always manage to char)
I don't scrapbook (all my photos are either in a shoe box or are dangling out there somewhere in cyberspace)
I don't belong to a gym (I'd prefer to climb on the treadmill in my pajamas each morning)
I don't make fancy birthday cakes (a box is fine for me)
I don't spend more time working out than I spend in the Word. (I need a spiritually fit soul far more than I need a firm backside and rock-hard abs)
I don't watch TV  (I'm still a fan of good books and a comfy couch).
I don't grow things (besides children)—no plants, gardens, or gorgeous landscaping.
I don't sew or mend (Praise God for grandmas who do!)
I don't collect things (umm… except for all those books on my shelves and in baskets and cupboards….)
I don't do hair (My poor girls know I can barely pull up a pony tail without leaving large bubbles on their heads. Thank heavens for headbands and barrettes!)
I don't spend much time or effort decorating my house (although I will be quick to appreciate your gorgeous color scheme and darling decorations if I visit you).
I rarely clean my refrigerator (unless something STINKS in there!)
Now, don't you dare compare your list to mine. What I don't do might be the very thing you do best.
And that's what makes God's great big story so amazing.
Maggie scanned the disaster all around us and sighed sad and discouraged. She stood up and began picking up those baby dolls scattered about the room and she said, "Well, now I know what I'm not gonna do tomorrow."
"What's that? " I asked, gathering the wooden blocks from the couch.
"I'm not gonna do everything."
I laughed as I began wiping finger paint off the mantel, and, together, we began to dream about the one thing we wanted to do once we'd cleaned up our mess, beginning with finding the super glue and trying to fix that broken tea cup.
Photos from Can Stock Photo
You can start your list right here today. Leave a comment and let me know one thing that you don't do. And, together, we'll celebrate the freeing truth that we haven't been created to do it all!