Multitude Mondays: The Cure for an Empty Life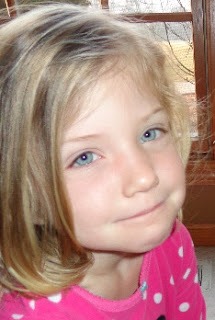 She refused to go to sleep on Easter night.

She'd announced it just after I'd pulled her fuzzy purple blanket to her chin, said it emphatically, so I'd understand her firm decision. 

"I'm not going to close my eyes!"

Her big sister on the top bunk giggled, and I tried not to do the same.

My four-year-old sat straight up in bed and propped open her baby blues with her index finger and thumb.

Then, peering at me through her fingers, she exhaled a theatric harrumph just to let me know that nothing could change her mind..

"You can just leave my lamp on," she suggested as she pointed to her bedside light, "Because I am not going to sleep tonight."

I studied my strong-willed girl and shrugged my shoulders to dilute the drama in the bottom bunk.

"Why don't you want to sleep?" I asked, careful not to sound alarmed. 

"Because I don't want Easter to be over," Maggie replied with a pout.

I nodded in empathy.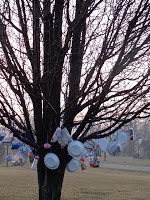 It had been a wonderful day.

We'd plucked breakfast from the tree in our front yard. (Before you call us crazy, read why)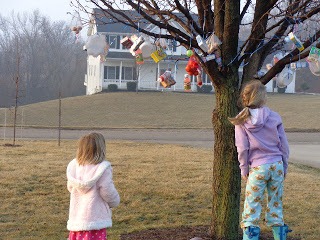 And had celebrated our risen Savior with our beloved church family and an hour of gleeful praise.

We'd gobbled apple pie after dinner and had raced happy through the park in search of  eggs tucked quiet in the grass.

We'd launched balloons to tell the Easter story and shared laughter around my sister's kitchen table.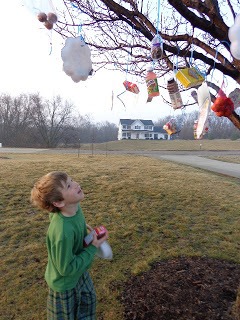 It was the kind of day that shouldn't end.

I hugged my littlest girl and then gently pushed her head toward her purple satin pillow.

I stroked her hair like I'd done when she was a baby, and slowly her taut muscles relaxed. 

Her chest heaved beneath my hand and she exhaled a long sigh of exasperation.

"I'm just afraid our garden will be gone in the morning," she murmured, her voice drooping with sleepiness despite her loud intentions to stay awake.

"Our garden?" I asked as I pictured the brown yard beyond her window.  "What garden?" 

"Jesus' garden," she answered. 
"The one with the empty tomb."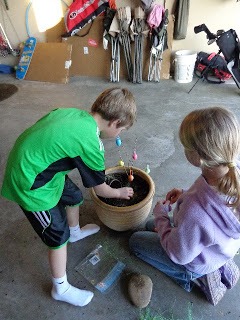 "Oh, our grace garden," I replied. 

"Yeah. Will it disappear when it isn't Easter anymore?"

I sat quiet on the edge of my young one's bed and smiled in the darkness.

Suddenly, I understood my daughter's qualms. 

The plastic Easter eggs and the pastel baskets had already been returned to the storage room; the jelly-bean baskets delivered to friends.  

To my four-year-old, it must have seemed as if Easter was being packed away, tidied up and shelved for another year.

"Maggie," I said leaning low so my little one would hear me. "The garden will still be in the pot by the window when you wake up tomorrow."

"We get to keep the empty tomb?" Maggie asked, her voice shrill with joy.

"We have to keep the empty tomb," I murmured as I kissed my girl's soft warm cheek.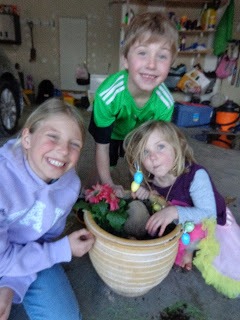 "Because Jesus might need it again?" Mags asked, her voice barely a whisper.

"No," I said softly,  "Because we need it……over and over again."

Her eyelids fluttered as she fought the heaviness of sleep; then she snuggled her head into her purple pillow and surrendered to the night.

I tiptoed out of her room and walked to the study where Jesus' garden sat. 

I stared at the miniature scene that the kids had created with care one night in our garage, and I marveled at the gift of that vacant grave.

Easter may come and go, but the grace of the empty tomb never changes.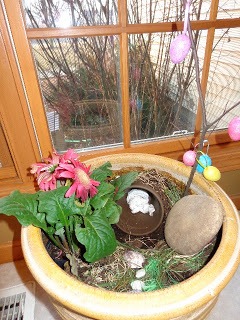 The empty tomb holds the cure for an empty life…  

On Easter Sunday. 
On Monday morning. 
And on every day after that.

A sliver of light slipped through the window and cast a yellow glow across the kids' simple potted garden. 

In the subtle sheen of the moon, I noticed a smattering of fingerprints that dotted the dirt around the tomb, proof that the garden had been scrutinized at daybreak.

And I remembered the way Maggie had raced to the flower pot that morning, much like her namesake had run to the garden on that first Easter dawn long ago.

When Maggie had discovered that the stone was rolled away, she'd clapped her hands with glee.

When she'd noticed that Jesus was gone; that the clothespin doll we'd wrapped in a strip of white cloth and stuffed in the tomb on Good-Friday was no longer there, she'd shouted the  good news for all to hear.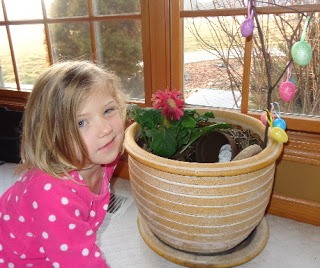 "Hey guys! Hey guys!" she'd hollered at her siblings in the kitchen, her daddy on the couch. 

"Jesus ISN'T IN THIS TOMB ANYMORE!  

Look! Look!" 

She'd hopped around the pot with giddy excitement.  

"I think He went to find His friends!"

She'd twirled happy at the thought and headed to the kitchen with a skip.

Maybe that's why my little girl can sleep easy on Easter night.

And so can her mommy.

Because in the morning, we'll be found again by the miracle of that empty tomb.

And we'll be greeted by the grace of the One who took our place behind that stone, the One who is and always will be the very Best Friend of all. 

 Greater love has no one than this: to lay down one's life for one's friends. -John 15:13

Counting gifts that won't be packed away…

1901. Maggie dancing in the kitchen to this song on Easter morning.1902. My husband joining me in the dew-dripped yard to hang breakfast on the tree as the sun rose.
1903. Laughing with my sister 'til I nearly cried.
1904. Lizzy's mound of mashed potatoes at Easter dinner- a celebration of a Lent sacrifice fulfilled
1905. Josh racing to the tree in his mud boots and pjs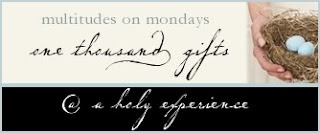 1906. A picnic basket full of Easter eggs to hide (thanks, Mom!)
1907. Worship infused with JOY
1908. The EMPTY TOMB
1909. Dollies lined up on the couch, dressed in Sunday best
1910. Cousins who say YES to Jesus.


Happily linking with Ann for multitude mondays,  laura for playdates with God,  Jen for soli deo gloria,  The Mom Initiative, and Jen at Rich Faith Rising