If the School Year has Left Your Arms a Little Empty…

I stood in the preschool parking lot feeling naked last week.
No wigglers dangling willy nilly from my limbs, no pudgy little fingers wrapping themselves around my neck, no wet pink lips accessorizing my ears with secrets. 
Just me and my empty hands.
I swatted those stray tears that refused to stay perched in place on the rim of my eyes, and nearly laughed out loud at the irony of it all– How a mom can feel utterly stripped by noon when the morning's musings had been all about what to wear…
My last-born had sounded a bit like the girl in her favorite book when she'd explained to her felt dolls why she needed to choose their wardrobes with care.  
"I have to find your best dresses," Maggie had murmured as she'd dug intently through her crate of cut-out felt clothes."'Cause it's the first day of preschool. And the first day of preschool is a really exquisite day.  And since exquisite is even fancier than fancy, we have to wear our most beautiful things..."
The felt dolls had agreed in smiling silence,and Maggie had jumped up and hopped around the room on one foot, unable to contain her expectant glee.
"My teacher says I have to wear blue today," she'd confided to those two-dimensional girls clinging to the green board. "But I wish I could wear purple. Because purple is the color for princesses and I really am a princess. But Mom says that blue is the color of the day at school and it's a good idea to wear the color of the day if the teacher asks me too, because that shows that I know how to follow 'structions and stuff."
My chatterbox paused and pressed her face right up to the felt board, in case those quiet cut-outs couldn't hear. "And Mom says that my teachers already know I'm a princess, 'cause they know I'm God's girl. So I guess I don't even need to wear purple to school today."
The conversation had continued while I'd stashed the breakfast dishes in the adjacent room and layered the lasagna we'd need at day's end and prayed over  the momentous afternoon to come.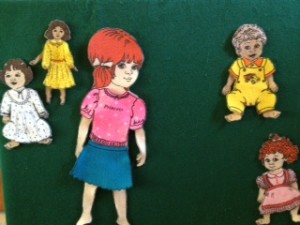 When the clock had struck eleven, I'd sent Maggie to her room to change into her blue dress, and then she'd insisted on picking wildflowers for her teachers. 
We'd grabbed our picnic basket and a scissors, and we'd spent our last hour before school traipsing through the waist-high prairie grass behind the swingset.
We'd snipped black-eyed-Susans and dainty Queen Ann's lace, and we'd talked about how God clothes the flowers with silky splendor, even the ones that grow among the briars and thorns.
Then, as we'd headed inside to find some jelly jars to hold those backyard beauties, my littlest girl had hugged my knees and declared, "I hope my teachers think I'm as a pretty as a flower, maybe even as beautiful as a bluebell!"
I'd swallowed my laughter and had assured Maggie with appropriate seriousness that her preschool teachers would have an eye for beauty, and as I crouched in the tall grass to look into my wistful one's eyes, I'd reminded her that the prettiest girls in the world are the ones with beautiful hearts. 
Before I knew it, we were pulling that Rapunzel backpack off of the coat hook where it had sat in silent wait all summer, and we were filling the mini-van with off-key song as we drove toward town and belted out the words to The Wheels on the Bus.
Bluebell had clung to my hand as we'd walked through the tall front doors of her new school, but as soon as she'd stepped into that brightly colored preschool room where everything was just her size, my bouquet-bearing baby had flashed me a smile and waved good-bye without a second glance.
When it was clear that my presence was unnecessary, I'd shuffled to the parking lot with a swarm of moms tugging little ones out the door.
I dug in my purse for my keys and took a wobbly breath as I listened to the baby squeal hungry in the mini van next to mine.
When did my babies all disappear?
 The young mom next to me flashed a weary smile as she wrestled her tetchy toddler into his car seat and looked over her shoulder to meet my gaze.
"I bet you're not missing this," she said with a feeble laugh, her voice rising over her son's cranky protests.
 I remembered all those years of watching women waltz out of the preschool room alone while babies kicked in my womb and toddlers stepped on my feet.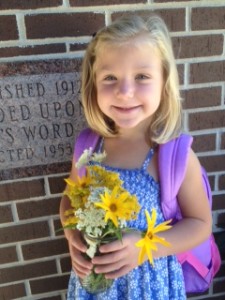 I remembered longing to trade places with those empty-handed mamas; wishing I could trade my diaper bag for their small cute purses and just slip away for a few hours. I remembered feeling like that dear mom next to me looked- worn out and empty.
And now as I stood fumbling with my keys, I wished I could tell that mama with the dark circles beneath her eyes that if she blinks just once, it will all be over- the midnight feedings and the terrible twos, the nap-time battles and the board-book read-a-thons. 
I wished I could tell her that, before she knows it, that baby will be crying about the mean girls on the playground or the Trigonometry homework that doesn't make any sense. And her prayers will morph from "Help me get through this day…" to "Lord, please slow down these days…"
But those words wouldn't change her exhaustion and that truth wouldn't quiet her crabby one.
So, I simply returned that sweet mom's smile, thankful for the sunglasses that hid my eyes, and I slipped into my empty van, keenly aware of what I was missing.
I drove three blocks with Party like a Preschooler songs blaring in the backseat before I realized that I could choose to listen to something besides The Wheels on the Bus. 
I turned off the kid tunes and listened to the silence.
No one to eyeball in the rearview mirror.
No one to pacify by singing the ABC's.
No one to tell me bad knock-knock jokes. 
Just me and the One who made me.
A praise song began to rise from my heart, lyrics that didn't involve itsy bitsy spiders or monkeys jumping on the bed.
And I began to sing, alone in my van. 
That's when I realized the truth about this new (and slightly uncomfortable) season of motherhood—-
It's not a bad thing for a mama to be alone.
After all, empty hands are free to receive what God wants to give. And empty hands can stretch heavenward in praise.
I slowed at the stoplight and listened, really listened, to the words of the song spilling from my lips.
And as the light turned green, I wondered how long it had been since I'd offered my Savior a song that was simply mine.
When was the last time I'd actually paid attention to the melody in my own soul rather than joining in my children's gleeful ditties?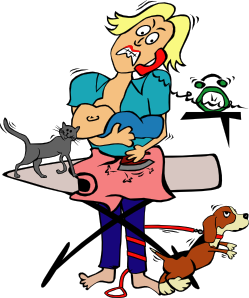 Whether I like to admit it or not, it's easy to ignore the Father's whispers when my ears are filled with my children's chatter; it's hard to anchor my heart when when my head is spinning with life's constant clutter.
My children may not define me, but they certainly distract me. 
In all the running after little feet that never slow, I can forget to chase hard after the feet that walked up Calvary's hill in my place.
In the daily blur of shoe-tying and zipper-zipping, of carpooling and homework helping, I can wrap the cloak of motherhood so tightly around my life that I don't know how to stand bare before the Lord anymore.
It's not that I haven't sought Him or walked with Him or begged for His help over the past fifteen years with preschoolers in my nest, it's just that I've had precious few moments of climbing on His lap without a child sitting on mine.
I believe that we can reach for Jesus while the kids are reaching for us, but I know, too, that my children can quickly become an excuse for not spending time with the One who loves me most.
There's always dishes to do and laundry to fold, tears to wipe and floors to mop.
And, sadly, when we get caught in the spin of motherhood, we can fix dinner and fix broken Barbie dolls and all along fail to fix the broken places deep within our run-ragged souls.
We can teach our daughters about beauty and instruct our sons in courage and all the while fail to cultivate a beautiful and bold faith of our own.
As I drove through town in that quiet van on that first day of preschool, I suddenly remembered the words of a wise mama who used to me meet at the park to dilute the loneliness of my kid-harnessed days.
"Go ahead and pour it out for your children," she'd said to me as we'd sat on a wooden bench, my tiny ones digging trenches in the sandbox nearby. "Hone their hearts and grow their minds. Feed their stomachs and nurture their souls, but not at the expense of yours."
She'd stared deep into my eyes and had spoken kindly, but firmly. "These kids won't be standing at your side when you face your Maker someday, Alicia. You'll stand before God as a child, not as a mother. And He won't ask you if you loved your children with all your heart and soul and mind. He'll ask you if you loved His Son."
I'd wiggled uncomfortable at the thought, but I'd nodded in understanding and had promised her that I'd keep first things first.
Then this sweet mentor of mine who had raised five children and buried a husband and had spent her life pouring into the hearts of young women like me, had wrapped her arm around my slender shoulders and said with the utmost tenderness, "Motherhood can either distract us from our First Love or drive us straight to His heart. Your children will be blessed if you let it do the latter."
There were a thousand things I could have done in those two empty-handed hours on my baby's first day of preschool.
There were dishes to clean and laundry to fold, errands to run and words to write.
But instead of running from the quiet, I chose to fall into it. 
So, halfway home, I turned my van around and drove to my church. I climbed the stairs of the prayer tower that stands tall above our town, and I slunk into a soft chair in that silent sacred space. 
Lord, I'm here. Alone. And I am all yours.
Then, as I murmured thanks and proffered praise, I recalled a moment from our morning's flower-finding blitz…
My hands had been filled with silky petals, and I'd beckoned Maggie to follow me to the house so we could arrange our hodge-podge of blossoms.
But my littlest girl had waded further into the weeds, her head fixed on a spot in the corner of the yard near the playhouse.
"Maggie, where are you going?" I'd asked as I tromped behind her, my sweaty t-shirt collecting unwanted thorns and briars.
"Mommy, I want to see that flower over there."
Maggie's slender finger had pointed to a solitary silky bloom looming above the grass, its golden face turned upward toward the cloudless sky.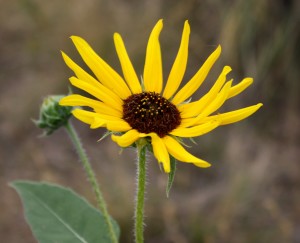 I'd reached for the scissors to add that final flower to our collection, but Maggie had held her hand up in a brisk motion to stop. 
"Oh, Mommy, we shouldn't cut this one," she'd said.
"It just looks so happy being right here, all alone with the sun"…
The light streaming through the windows of the prayer tower dripped with midday gleam, and I dropped to my knees in hushed reverence.
The tears that had burned my eyes in the parking lot had disappeared. My empty hands had unclenched.
So, I let the breath of my Savior wash over my empty arms, and I decided to take a lesson from that golden bloom in my backyard.
 I lifted my chin to heaven and turned my face, expectant, toward the Son.
Because maybe that's the best thing a mama can do when she finds herself all alone.
Linking with Laura for playdates with God,  Jen for soli deo gloria, The Better Mom, The Mom Initiative, and with Sarah for Mom Notes, and Jen at Rich Faith Rising.