How to Pray When You're Hanging By a Thread
Welcome to the Overflow!  Whether you're an old friend or a new one, I'm glad you're here. This is a place where faith is spilled and souls are filled. I hope you'll pull up a chair and stay awhile.
I'm over at Proverbs 31 today telling about a time I found myself dangling above a swirling sea and talking about how prayer is a bit like rock climbing. If you haven't had a chance to read it, you can find it here. But before you go, I'd love to tell you how I'm learning to pray even when I don't know what to say…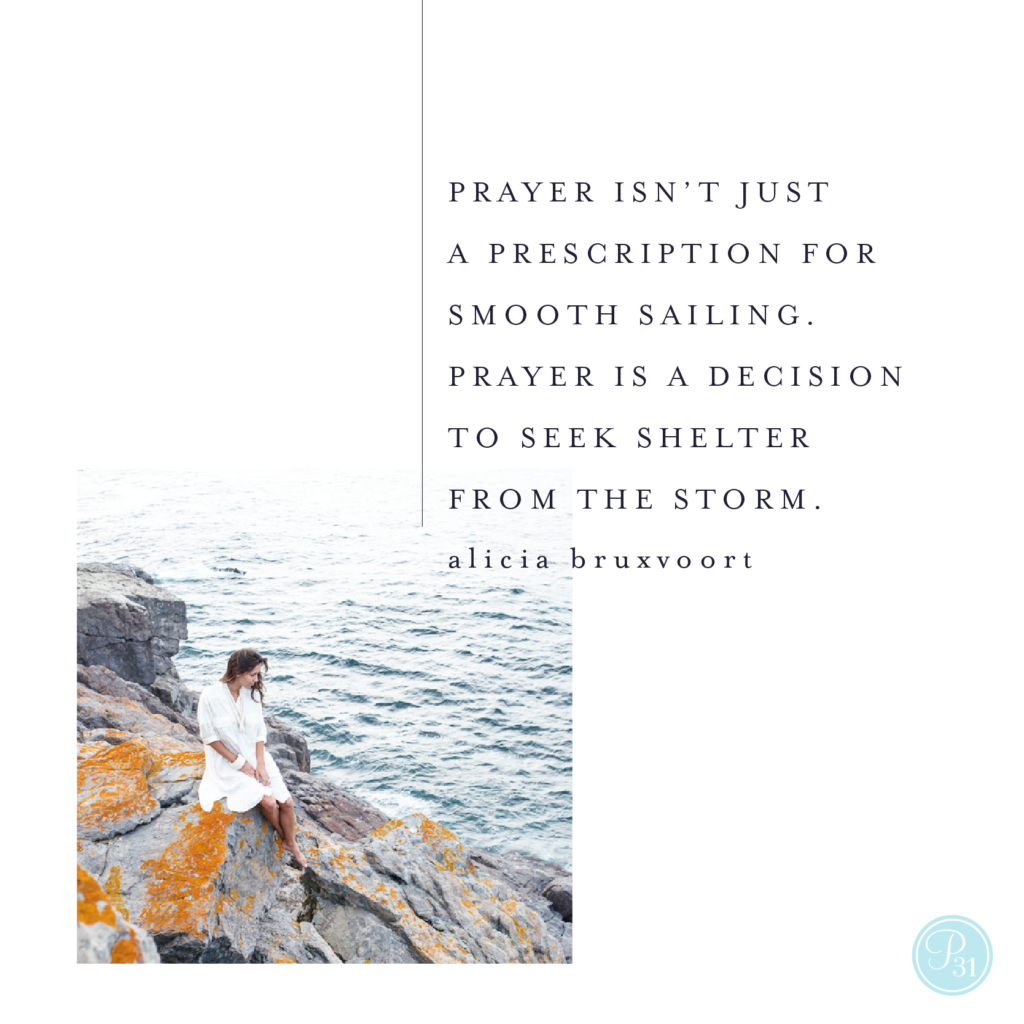 I should never have done the math.
I'm a word gal, after all, not a numbers guru.
And, really, what good does it do a desperate mama to calculate the number of days she's foregone a full night's sleep?
Blame it on a mind numbed by years of inconsolable infants or on the sheer monotony of wiping faces and bottoms and floors, but on that gray winter's day long ago, I tried to tally my exhaustion.
2,920 days. That's how long it had been since I'd slept through the night.
Four kids and forever  buried in diapers and wails, midnight feedings and midday meltdowns, I hadn't clocked a full night's sleep since we'd brought home our first wrinkled bundle of wrinkles and wiggles.
Never mind that the experts claimed babies should be sleeping through the night by six months old; mine preferred to embrace the moonlight hours with eyes open wide.
Never mind that my friends told tales of quiet nights and contented cuddles; my wee ones came wrapped in colic and wired with wails.
Never mind that everyone knows that sunrise signifies a fresh start, my toddlers woke in the dark of night and begged to start their day beneath the starlight.
We'd read parenting books and consulted experts. We'd monitored eating habits and routines, schedules and stimulus. We'd established consistent nighttime norms and expectant bedtime prayers, yet nothing seemed to change the fact that our children resisted sleep like a cat runs from the swimming hole.
"They'll sleep when they're teenagers," a well-meaning mom once told me with a wink.
But in the fog of exhaustion and exasperation, I'd stopped wondering if my offspring would ever sleep through the night, and I'd begun to wonder if I'd be alive to celebrate the momentous day.
"Can a woman die of sleep deprivation?" I asked my dear husband after I'd catalogued my fatigue with a senseless sum.
My husband was a doctor beyond the walls of our home, but once he walked through the door, he was just"daddy" beneath our roof. But for a rare moment, I needed my man to don his physician hat and assure me I wasn't losing my mind. Or my life.
So, I cornered him in the coat room and voiced what any woman who had just calculated eight years of sleep deprivation might be compelled to ask.
He  scanned my face to see if I was joking.
"What?" he replied, his green eyes clouding with confusion.
The wails of our fourth-born who was tucked safely in his bassinet in the room next door wafted through my words. "Can I die from lack of sleep?" I asked again, my voice laced with a mix of impatience and despair.
My husband looked for a moment like he might laugh, but then he noticed the hot hopeless tears seeping from my eyes. So, in the calmest doctor voice he could muster, he assured me that I was going to survive, and he'd be right by my side the whole tiresome way.
But, deep down, my angst wasn't stemming from sleepless nights; it was spilling from an empty soul.
It wasn't just my body that was exhausted; my heart was depleted, too.
I'd been hanging by a thread for so long that I couldn't even pray.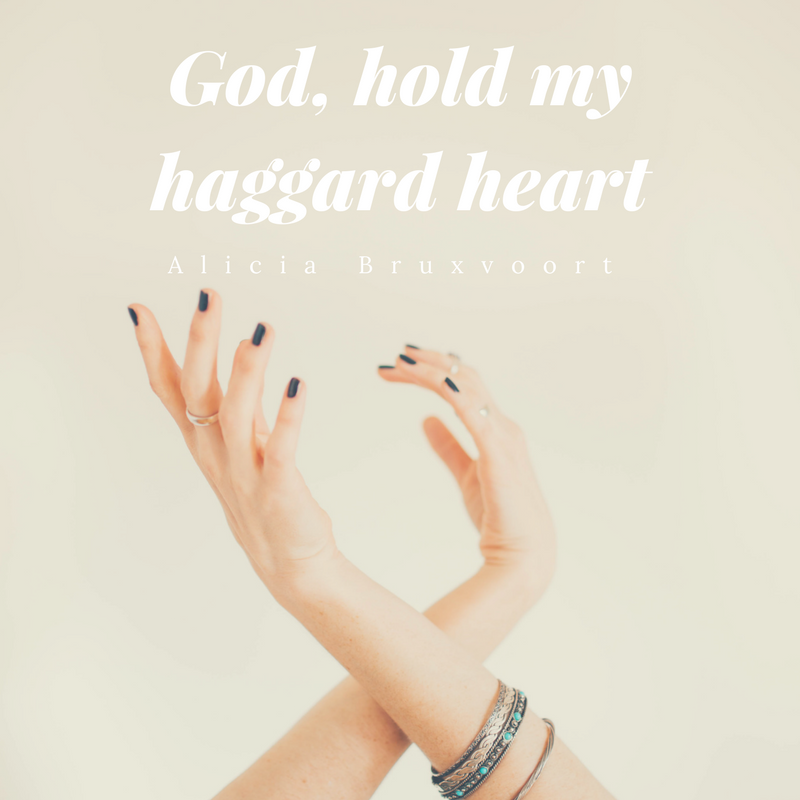 I knew God was with me, and I believed He was for me; but I wasn't sure I could even find the words to tell Him what I needed. Ok, let's be real–I didn't even know what to do with my wailing wee one; let alone with my own aching soul.
"God, I know you're here,"  I whispered into the dark later that night as I sat in the rocking chair with my fussy fourth born on one knee and my Bible on the other. "But I can't even find the words to talk to you."
Careful not to jostle the baby on my lap, I opened my Bible to Hebrews 4:12.
I peered at the page through bloodshot eyes and read– "For the word of God is living and active and full of power [making it operative, energizing, and effective]…" (Amplified Bible)
I felt dead, but the Words in my hand were alive and active.
I felt weak and weary, but the Words in my hand were full of power.
I felt like I could barely function, but the Words in my hand were operative and energizing.
I felt like I was missing the mark day after day, yet the Words in my hand were effective.
As I let the truth of Hebrews 4:12 sink into my soul, I knew what to do—
When I couldn't find the words, I could turn to the Living Word.
When I was too tired to talk to God; I could let His promises speak to me.
So, 2,920 days after my last full night of sleep, I began a  new moonlight ritual.
I didn't have the strength to reach out to God, but I could let His Word reach into the depths of my haggard heart.
So, when the house grew quiet and the baby whimpered loud, I sat in that rocking chair with my sleepless one, and I spoke the word of God aloud.
Slowly. Surely.
One gulp of grace at at time.
Because You, Lord are my Shepherd, I have everything I need! (Psalm 23:1)
God, I have faith in You… I know you will shelter me in your arms (Psalm 62:8)
You give strength to the weary, God, and increase the power of the weak. (Isaiah 40:29)
Night after night, I listened to God's word slipping from my own weary lips, and one moonlight hour at a time, a hushed hope began to rise.
I still felt stretched ,but I was no longer sinking.
I still felt tired, but I knew I wouldn't topple.
It's crazy but true– in the most sleepless season of my life, I learned to rest in the promises of God.
And one night as I sat in that rocking chair and whispered words of  truth above my baby's bellows, I realized this–
I was no longer just holding on to God's promises,
God's promises were holding me.
And they will hold you, too, dear friends, if you take hold of God's word even when you're hanging by a thread.
Especially when you're hanging by a thread.
********************************************************************************************************************
If you like what you've found here at the Overflow, I hope you'll subscribe to my blog and I'll send a splash of encouragement to your inbox now and then.  (You'll find a subscription box on the top right sidebar on my home page.) Or, if you'd rather, we can stay connected on Facebook or Twitter.
Of course, my favorite way to connect is the old fashioned way—face to face so I can see your smile.  I'm scheduling speaking engagements for the 2017/2018 school year, and I'd be delighted to bring a message of encouragement to a ministry event near you! (Contact me at overflow@aliciabruxvoort.net if you'd like to know more).
And finally, if you have a minute, could you tell us–What promise have you been holding on to lately? Share it in the comments and we'll join you in praying that truth today.