Family Faith and Fun: Get Ready to Spread Some Love!
Welcome to Family Faith and Fun (on Saturday)!

As February first looms near, we're getting ready to celebrate our family's fourth annual fourteen days of love.

Since one day just can't contain all the fun ways to celebrate Valentine's Day, we've developed a tradition that gets us spreading love long before February 14 arrives.

Everyone in our family makes a mailbox  (translation- a decorated shoe box) and then we spend the first fourteen days of February, filling those boxes with daily tokens of love.  Small gifts. Notes. Pictures. Homemade coupons. Nothing extravagant or expensive, just little ways of saying "I love you." 

Today, the kids designed their homemade mailboxes with duct tape, doilies, glitter and paint.
Next Friday, we'll start filling those cool boxes with little reminders of love.

Here are a few of my favorite mailbox stuffers from years past….

*I'm so glad wheel always be together! (a small toy car or a strip of car stickers)

*Stick with me, Valentine. I'll always love you! (a stick of gum or a sheet of stickers).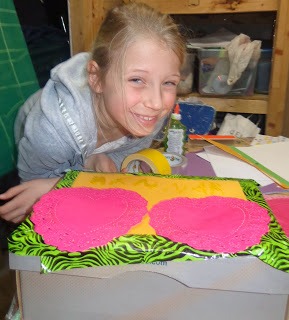 *You color my days with joy!(A crayon or marker)

*You are the highlight of my life(Highlights magazine or a highlighter pen) 

*You light up my life (small flashlight). 

*I chews you to be my Valentine! (gum or a chewy piece of candy)

*I'm glad you're in the story of my life (a book or magazine or a story you've written for your child.)

*I can't stop talking about it, here's what I love about you….(Conversation hearts or candy lips and be sure to include the list of all that you love about your child)

*I'm bananas for you, Valentine! (a banana)

*You'll always have a piece of my heart (a puzzle)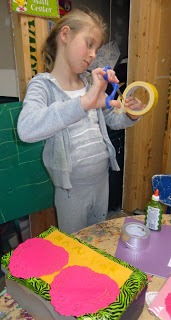 *You're just write for me! (pencil or pen or fun notebook)

*I'm never bored when I'm with you!(coupon that is good for playing a board game with Mom)

*You're the chocolate chip in the cookie of my life!(chocolate chip cookies)

*You've tied my heart in knots(rope licorice with a knot in it or a jump rope with a knot in it)

*I couldn't bear life without you(a small stuffed bear)

*You make my heart soar! (a paper airplane or small flying toy) 

*You make my heart spin (a top)

*Loving you is a ball! (a gumball or super ball)

*I'm nuts about you (peanuts- the orange candy ones or the real thing)

*You and I were mint to be together (Andes mint or Mentos)

*You make my heart sing (A plastic kazoo (think party favors), I-tunes card, music C.D.)

*I can't bottle all my love for you! (A bottle of soda, a bottle of lotion, a bottle of juice)

*My heart is bubbling over with love for you! (bath bubbles or bubblegum)


*I've got a kiss for you. (
Chapstick/lip gloss; a Hershey's Kiss) 
* I'm glad you've wormed your way into my heart.
(g
ummy worms)
* I love you beary much
(
gummy bears
)
* Nothing will defeet my love for you. 
Or… Let's keep walking together!
(
Fuzzy socks or Valentine's themed socks)
*
Your love warms my heart.
(
Hot Chocolate packets)
* 
I couldn't love you S'more. (
A package with a graham cracker, Hershey's chocolate bar and marshmallows) 
*
I'd be a nerd not to love you. (This one is catered to my teens 🙂  
Box of Nerds candy
*
 You're

priceless

!

(
A few coins)
* 
My love for you just keeps

growing!

(
Growing bath capsules)