And the winner is…
Thanks to all who joined me for a "Praise Party" in the comments of this pre-Thanksgiving post last week.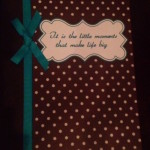 I'm excited to announce that Patti is the lucky winner of the gratitude give-away.   
Of course, even if you didn't win this cute journal, I hope you'll grab your own notebook and take time to notice the gifts you've already been given this Christmas season.
Maybe you'll want to give yourself a gift and hide some pennies around your house as you trim the tree and hang those stockings.
Then, during the craze and crunch of this holiday season, those gleams of copper can remind you of this amazing truth: 
Thanking God for the small stuff adds up to BIG joy!
I'm going to tie a bow around my gratitude journal and set it beneath my Christmas tree this month. Because in the midst of the loud holiday frenzy, I want to remember that some of God's best presents come quietly wrapped in grace.  And only those whose eyes have been opened by gratitude are able to clearly see His lavish gifts.
How about you, friends? What are you doing right now to foster the habit of Thanks-living? 
There's no better time to begin than now!
"Everyone sees it. God's work is the talk of the town.
Be glad, good people!
Fly to God!  
Good-hearted people, make praise your habit."  (Psalm 64:9,The Message)