Why Gravel Might be the Secret to Lasting Love
Tuesday, 14 October 2014 14:44
Alicia Bruxvoort
 Welcome, friends!I'm so glad you're here.
If this is your first visit, please make yourself at home and look around. Leave me a comment or connect with me on Facebook or Twitter. I'd love to get to know you better.  If you like what you find, I hope you'll sign up to have The Overflow trickle quietly into your in-box each week. Just subscribe on the sidebar before you leave and you won't miss a single post.
Also, I'm still scheduling speaking engagements for the 2014/2015 school year. I'd love to join you for a women's event, a weekend retreat, or a holiday celebration.  You can check out my speaking topics here and contact me at Overflow@aliciabruxvoort.net if you have any questions or want to learn more about my speaking ministry.
Today, over at Proverbs 31 Ministries, I'm talking about how easy it is to let the busy-ness of life invade our marriages and quench our intimacy.  If you haven't read my devotion, "When You Get Lost Without Ever Leaving Home" you can find it here.  
I've been married to my high-school sweetheart for twenty-one years, and I know first hand how hard it is keep a marriage aflame.  I'm no expert on this topic. In fact, on some days, I'm still fighting to find my way "home," but  I have a Heavenly Father who longs for my marriage to thrive. And He dreams the same for you.  So, by His grace, I'll keep learning and loving and celebrating the breath-taking gift of "ordinary life" along the way.
The good news is that we, as believers in Jesus, don't have to struggle through alone.  I'd love to pray for your marriage. Just leave me a comment at the end of this post and let me know how I can best cover your union in prayer.
And, finally, if you're looking for the date-night-give-away, keep reading. You'll find all the details and your chance to win at the end of this post!
*****************************************************************************************************************************************************************************************************************
We were perched on the rim of a red-rocked mountain when I remembered the gravel.
We'd taken a rare outing, just the two of us. We'd left all five kids behind with Grandma and Grandpa and had boarded a plane bound for far from home.  
And truth be told, I'd been reluctant to leave.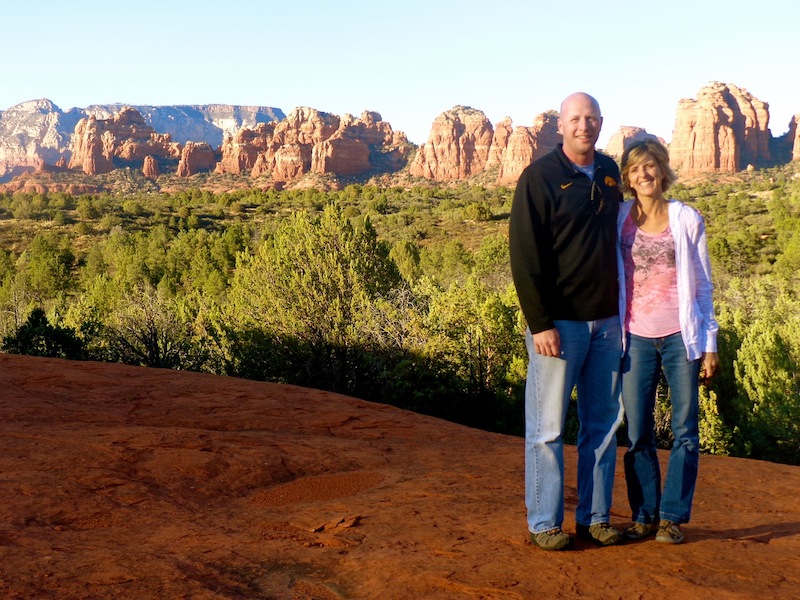 I hadn't been afraid to fly or anxious about relinquishing my children into another's hands.
I hadn't felt  uneasy about our destination or worried about what would happen on the home front while I was gone.
I'd just been numb. Too tired to feel. Too weary to dream. 
And despite the fact that the man carrying my luggage had tenderly carried my heart for twenty years, on the day we left for our get-away, I'd felt like I was boarding the plane with a stranger. 
Life had taken a toll on our love.
Industry had eroded our intimacy.
And the realization of just how disconnected my husband and I had become had left me feeling lost and lonely.
There were countless reasons for the growing gap between us—
Five kids in ten years and a thousand sleepless nights in between; a demanding medical practice that filled my husband's hours, the never-ending mountains of laundry and constant clamor of needs that filled mine.
The grueling task of shaping little hearts and guiding little hands; the late nights of homework-helping and baby-rocking; the noise of life, the monotony of life, the exhaustion of life…
I could rationalize the gulch between our souls; I just couldn't figure out how to bridge it.