The Prayer that Changed My Marriage
Thursday, 13 August 2015 08:40
Alicia Bruxvoort
Hi, friends. I'm so glad you're here.
If you're stopping by from Proverbs 31, WELCOME! 
I know there are many places you could be today, and I'm thankful you've chosen to spend a few minutes with me. Whether you're an old friend or a new one, I pray that you'll be blessed as you linger in this place where faith is spilled and souls are filled.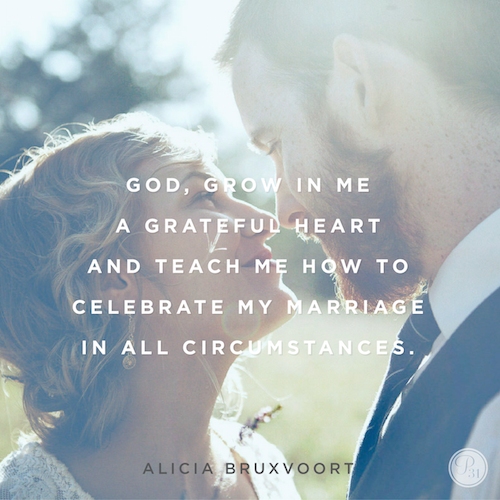 If you like what you find, feel free to subscribe to The Overflow so you won't miss a single post, or connect with me on Facebook or Twitter. I'd love to get to know you more. I'm also scheduling speaking engagements for the 2015-2016 school year. I'd love to meet you face to face at one of your favorite ministry events in the year to come. Feel free to contact me at overflow@aliciabruxvoort.net if you'd like to explore that possibility.
Tomorrow I'll celebrate twenty-two years of marriage to that cute boy who sat behind me in the fifth grade! And in honor of my anniversary, I'm over at "Encouragement for Today" sharing the best marriage advice I ever received.  If you haven't read it, be sure to check it out here. But before you go, may I tell you about the simple prayer that changed my marriage and altered my heart?  Maybe it will encourage you, too! *******************************************************************************************************************************************************************************
I was putting away laundry in the walk-in closet when four-year-old Lizzy meandered into my bedroom to find me.
She poked her curly-haired head through the open closet door and jumped over the laundry basket to wrap her slender hands around my knees.
I hugged her and invited her to help me stack her daddy's t-shirts on the shelf, but she took three steps back and assured me she was just leaving.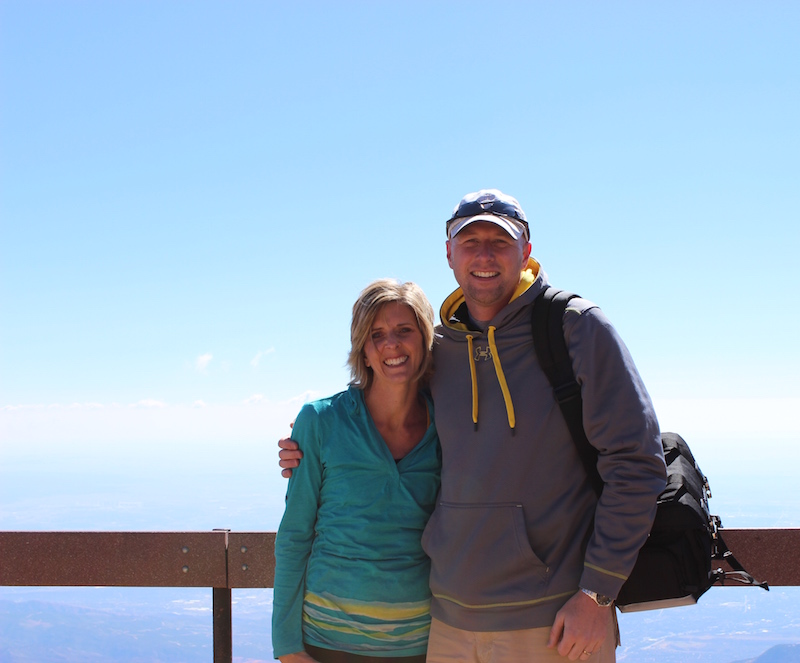 However, just as she began to take three giant steps backwards, her eyes landed on a long white box stashed on the top shelf above my hanging clothes.
Intrigued by the sight of the unmarked box, Lizzy stopped in her tracks and craned her neck to get a better look.  "Mommy, what's in that box?" she asked.  "Is it a present?"
"No," I replied as I emptied the laundry basket, "That's my wedding dress."
"Your wedding dress?" Lizzy repeated incredulously. "I didn't know you used to be a bride!"
I glanced at the spit-up-stained t-shirt and stretched-out sweatpants I was wearing and tried to decide whether I should laugh or cry. "Honey, I still am a bride," I replied with a subtle smile.
Lizzy took one last curious look at me; then shrugged her shoulders and skipped out of the closet.  As she disappeared down the hallway, I heard my confounded girl mumble under her breath. "I thought brides were fancy…"
I flipped over the empty laundry basket and sat down on my makeshift stool. Weary tears brimmed in my eyes, and I was surprised by the rush of emotions stirred by my daughter's innocent comment. My daughter's words unearthed a strange kind of grief deep inside of me.
I didn't look quite as fancy as the star-struck girl who had stood at her husband's side on a sultry Saturday in August and pledged to love him for a lifetime. But more devastating than that was the fact that I no longer felt like a beautiful bride, either.
Or maybe, more accurately,  I felt like a used-to-be-bride.