The Mom Initiative: The Paradox of Motherhood
I remember the day a newly-engaged young woman asked me a thought-provoking question.
"What do you love most about being a mom?"
Her eyes glittered, fresh with the hope of someday–after choosing wedding colors and the perfect white dress–embracing the season I was living.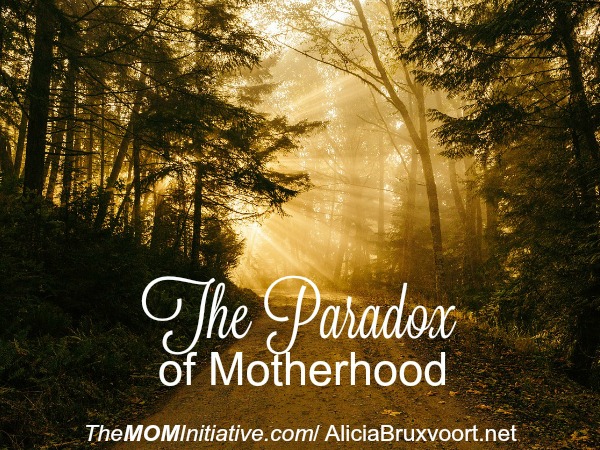 A mom of five kids under the age of ten, my life was a daily blur of diapers and dishes, homework helping and hand-holding. I couldn't remember the last time I'd slept through the night. Or gone to bathroom alone. Or curled up on the couch and read a book with a plot line more intricate than Green Eggs and Ham.
I eyed my young friend and responded rather flippantly,  "Little warm bodies curled up on my lap as the sun rises, dancing to toddler tunes in the middle of the kitchen, and the fact that a rainbow popsicle can make the whole day special."
The young woman nodded her head and shot me a sweet smile.
Then, after a long pause, she flipped the question. "So what do you dislike about being a mom?"
I pondered her question for a moment and wondered how to put words to the jumbled thoughts in my mind.
And, then, with a subtle smirk, I replied, "Little warm bodies curled up on my lap as the sun rises, dancing on a sticky kitchen floor to toddler tunes and the fact that the biggest highlight of our whole day may be a rainbow popsicle."
I'm over at The Mom Initiative today having an honest conversation about the paradox of motherhood.
Hope you'll grab a rainbow popsicle and join me there!