The M.O.M. Initiative: The One List That Could Set You Free Today
I was squashed between kindergarteners in the school cafeteria when my 6-year-old son, Joshua, made an announcement that gave me the giggles. I hid my mouth behind a napkin to cover my smirk and realized that at one point in my life, my son's innocent words would have spawned tears instead of chuckles.
It started when the little boy next to me lifted a sandwich out of his lunch box.
"That's huge!" Joshua exclaimed as he poked at the lukewarm carrots on his cafeteria tray and gazed longingly at his classmate's lunch.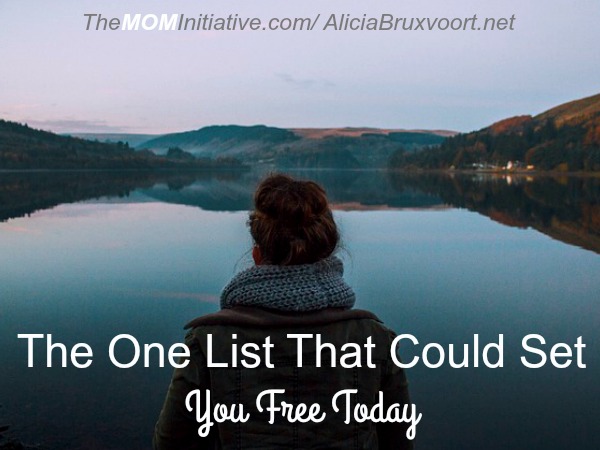 The sandwich was big. Oversized slabs of cheese and slicesof ham nestled between two thick slices of bread. I wondered how much cash it would take to talk a kindergartner into trading his mealtime masterpiece for my soggy sloppy joe.
"Can you even get that in your mouth?" I teased as my lunch companion freed his sandwich from plastic wrap and lifted the culinary sensation to his mouth.
"I'm used to big bread," he replied. "It's my mom's specialty."
Joshua raised an eyebrow and studied the specimen in his classmate's hands. "You mean your mom makes the bread you eat?"
The little fellow nodded happily.
My son looked at me with wide-eyed wonder, then shrugged his shoulders and replied, "Oh, my mom's specialty is burnt bread….
Yeah, my sweet brown-haired boy said that!
Kindergartners have no filter.  And they're honest to a fault.
And since we're being kindergarten-honest here today, I'm gonna admit something–
That little truth that my son shared with an innocent smile would have left me in tears when I first began this journey of motherhood.
But, by the grace of God, I didn't cry into my cooked carrots that day in the school cafeteria.
Wanna know what I did?
Join me over at The Mom Initiative today, and I'll tell you the rest of the story.
And I'll also tell you about the ONE LIST that has set this bread-burning mama free to stop trying to be good at EVERYTHING and just start seeking to be great at one thing—
Being the mom God has created me to be, charred bread and all!