The Best Balm for a Bad Day
Welcome! I'm glad you're here.  Whether you're an old friend or a new one, feel free to pull up a chair and stay a while. If you like what you find, I hope you'll sign up on the sidebar to receive my blog in your inbox now and then. Or find me on Facebook or Twitter and we'll stay connected as we chase after Jesus day by day. Better yet, I'd  love to meet you face to face! I'd be happy to speak at a special ministry event near you this year. Contact me at overflow@aliciabruxvoort.net for more information.
Over at Encouragement for Today, I'm talking about how those faulty and frazzled moments in our day can be one of our greatest gifts.  I hope you'll hop over to P31's website and be encouraged. But before you go, I'd love to share the best tonic I know for those no-good-very-bad days.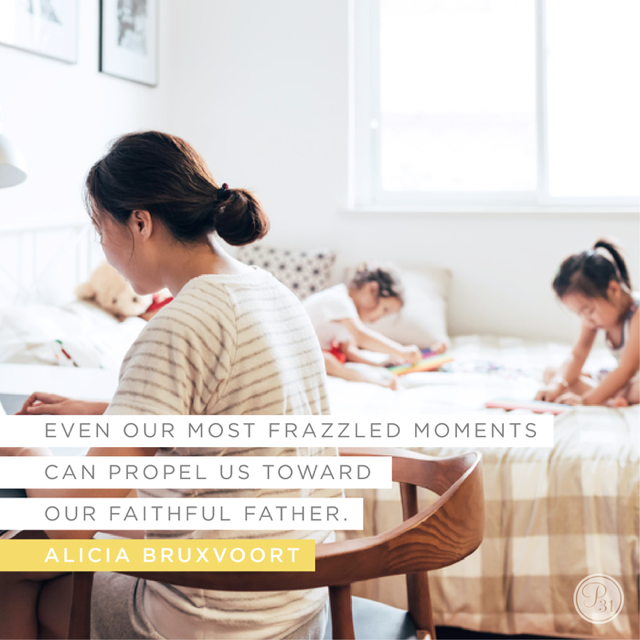 When my daughter, Hannah, was six-years-old, we lovingly called her "Little Nightingale."
It wasn't because she was a winged warbler or kindergarten crooner. It's because of her self-declared role as playground nurse.
You see, it didn't take Hannah long to realize that recess can be a bit rough and tough on little kids. Or that a playground filled with racing and chasing hoopla can quickly become a crowded canvas of boo-boos and tears.
So, one afternoon when our sensitive third-born came home from school, she took a little treasure box from her bedroom and filled it with Bandaids and cotton swabs, bandages and tissues. Then she slipped it into her backpack right beside her library books and her lunch box. Hannah carried her "emergency kit" out to recess each day and wandered the dusty playground in search of kindergarten quandaries.
There was the pig-tailed princess who had fallen from the monkey bars and the singing diva who had slipped from the swings. There was the bragging boy who had scabbed his knee on home base and the klutzy kid who had stumbled on the snarled root of the old oak tree.
There were skinned knees and stubbed toes, bloody elbows and bruised bottoms. Tears and pouts and all kinds of tattle tale-ing.  But Hannah never ran out of empathy for her wounded, whining classmates. And when she wrapped up those sad playground tales, she usually ended with this simple summary–
I think he was just having a bad day.
I think she was just  having a bad day.
We heard of Gracie's scrapes and Johnny's falls; Samantha's scabs and Ryan's bumps. And thanks to a treasure box filled with Bandaids and a little girl's heart filled with empathy, we heard, too, about the power of kindness and the tonic of mercy.
But then one afternoon, I opened Hannah's school bag, and I discovered a bright orange shoe box tucked in the pocket where that little treasure box had always been.
"What do you have in there?" I asked Hannah as I waved that heavy shoebox in the air.
"Oh, that's my new emergency kit," Hannah replied with a smile and a shrug.
"But why is it so heavy? Are you carrying Band Aids made of steel?" I asked with a playful wink.
My little Nightingale giggled and shook her head at my ludicrous words. "'That's just my Bible in there, Mom," she explained with a shake of her tawny blonde hair. Then she flashed me a toothless grin and held my gaze for a long serious moment. And with old-soul wisdom, she declared, "'Cause a Band Aid can't fix everything, ya know"
I stood there speechless, soaking in my daughter's words and nodding in quiet agreement.
Then as Hannah skipped down the hallway to go play Barbies with her sister, I opened that orange box and lifted out the well-worn children's Bible tucked carefully beneath the bandaids and cotton balls, the bandages and tissues.
I ran my fingers along the cover of that treasured book and watched the bright colors blur through my own haze of grateful tears.
Because sometimes the best balm for a bad day is a healing word of hope.

Sometimes the quickest way to fix our emergency is to fix our mind on His majesty.
Sometimes the surest salve for our aching soul is to reach for the One who can make us whole. 
Sometimes the greatest help after a painful fall is sacred truth on which to stand tall.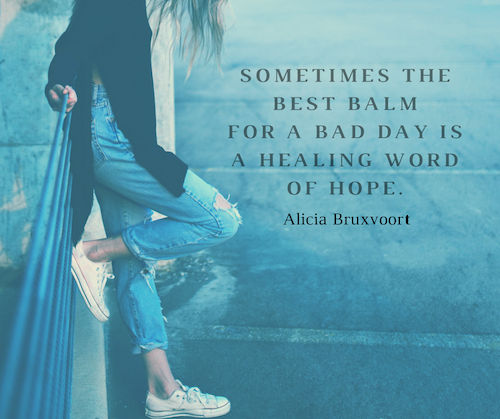 So, before I stuffed that little Bible back into Hannah's emergency kit, I thanked the Lord for the timeless tonic tucked between those pages of His holy writ.
And I vowed that the next time I find myself stuck in the middle of a bad day, I will grab my Bible before I whine or pout.
I'll linger on the pages of those priceless promises, and I'll follow the example of a wise little Nightingale I know.
Then, with a sincere prayer, I'll practice the undying art of first aid. 
I will reach first for the One who has promised to come to my aid.
For You, O Eternal One, have come to my aid and offered me relief. Psalm 86:17 (The Voice)
************************************************************************************************************************************************************************Today I'm giving away a trusted tonic for your next bad day.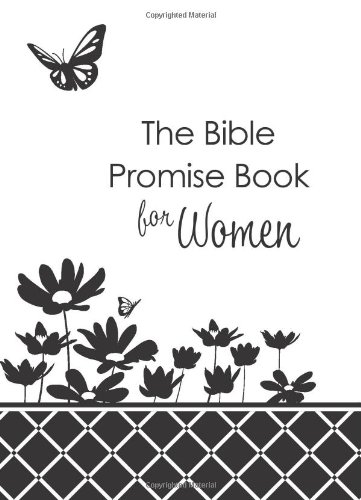 This Bible Promise Book for Women is packed with scripture that will root your feet on truth even when your world is quaking.
It is one of my favorite go-to's when I'm in need of a little first aid for my soul.
To win a copy of this book, just tell us how you like to chase away a bad day.