On Cracked Cups and Broken Hearts and A Moms who Dream Big for their Little Girls
Dear Magdalene Hope,
It's dark outside and the house is quiet.
And last I checked, you were tucked under your poke-a-dot comforter in the bottom bunk, your face warm and flushed with sleep.
I don't know the dreams that are dancing through your head on this moonlit night, but I'm well aware of the dreams that are waltzing through mine.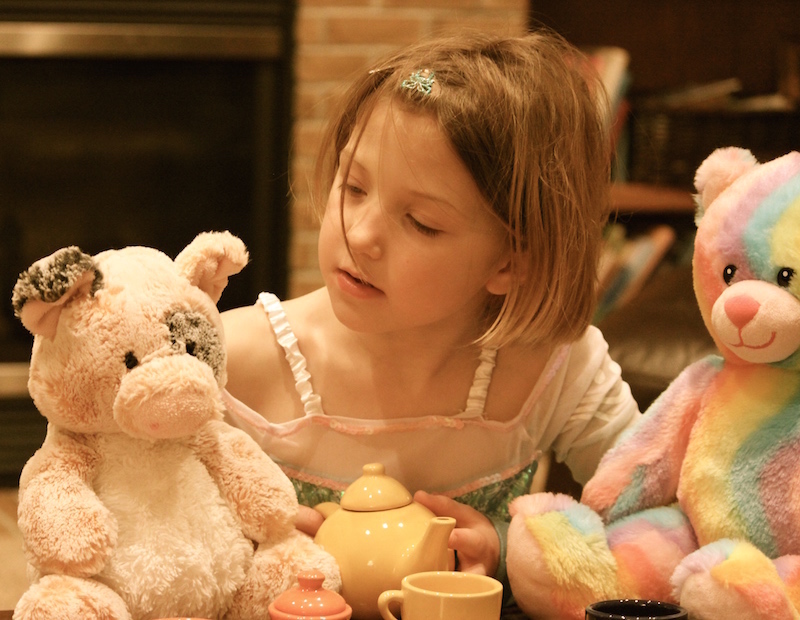 And as I scribble your name across that crisp white page in my prayer journal, I realize that it's impossible to tell where a mama's prayers for her girl end and where her dreams begin.
So, tonight, while you sleep, I will carry you to Jesus, wrapped in wistful prayer, and I'll trust that the One who never slumbers will hear my cries and understand my heart…
Those fancy Valentines you signed are tucked in your school bag, waiting to be shared.
And you've been singing love songs all day.
And yesterday, when we raced through the grocery store, you slowed your steps and stopped in front of the great big display of chocolate hearts and you picked up a box that was designed to look like it had split in two.
You stared at it and ask, "Why does this heart look broken?"
And I read the words printed in swirly white letters on the outside of the box, "Don't break my heart, Valentine…"
You cocked your head and digested the words, then you clutched your heart and batted your eyelids like a bonafide diva and you said, "I hope nobody ever breaks my heart."
I'd shook my head and patted yours and then steered you toward the toilet paper aisle.
But, tonight, as I'm praying, I realize that what I should have told you, precious one, is that your wish will never come true.
Because your heart is broken already.
And so is mine.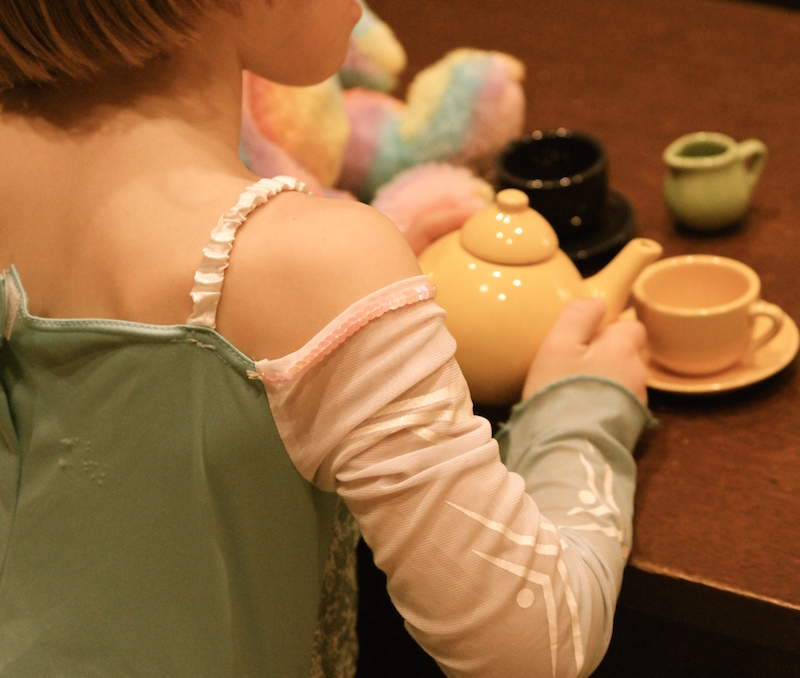 We're like that little yellow teacup you left sitting on the coffee table after your tea party in the living room this morning….
Remember?
You were sparkling from head to toe, dressed in that princess gown that always drips glitter across the floor like a leaky faucet.
And you had a pink clip stuck willy nilly in your tangled hair.
And bright red lip gloss smeared across your smiling lips.
You moved with a mix of shimmer and swag in those bangled plastic dress up heels, and you batted your eyelids with lofty six-year-old sophistication.
And as I watched you, I realized, once again, how much I love you, my bigger-than-life-little girl.
You had filled your tiny tea pot with a special razzle-dazzle love potion (the kind that drips from the bathroom tap), and you'd lifted your pinky high when you'd tipped the spout.
"How are you, Mr. Bear?" you'd asked with an elegant curtsey as you filled your teddy bear's shiny blue teacup to the brim.
You'd moved around the coffee table with a waggle and a waltz, playing the role of an elegant hostess.
You'd greeted brown dog and white kitten; the monkey with wisps of stuffing streaming from its side and the giraffe with the soft stretching neck.
And the potbellied pig with the gray ear and the silent smile.
And, then, right after you'd invited me to join your colorful crowd, you'd noticed a puddle of water pooling silent round Mr. Pig's tiny yellow teacup.
You'd bent low to wipe up the water with the sleeve of your shimmery dress. And you'd scurried to fill that yellow cup once more.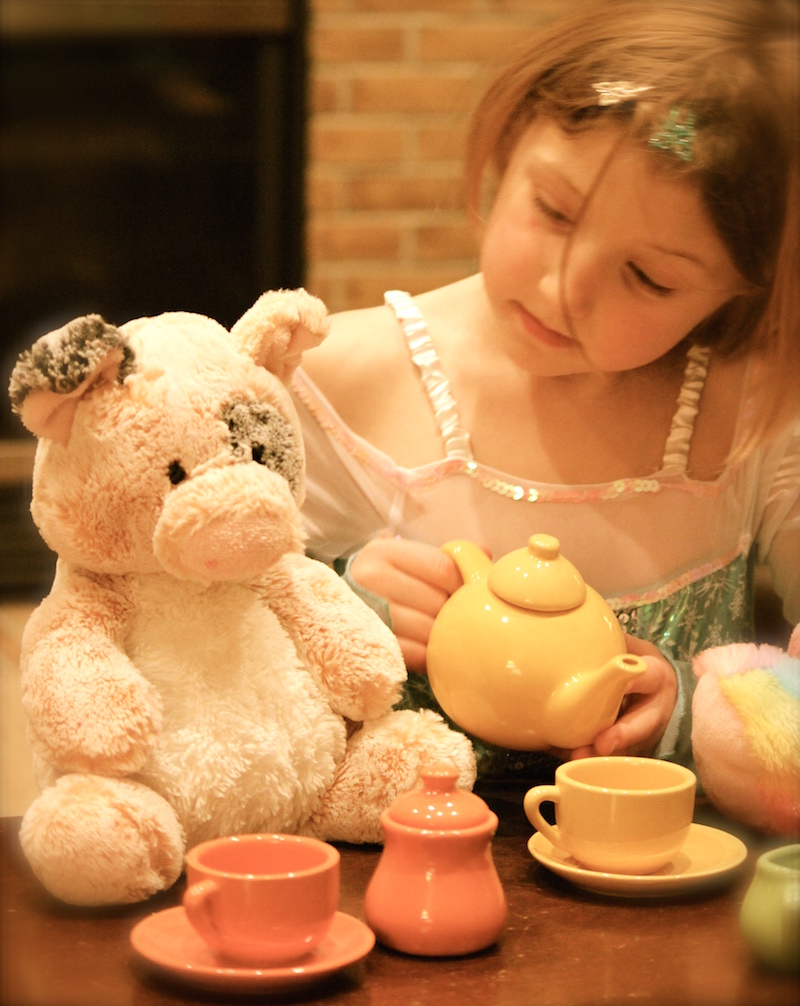 But Mr. Pig's cup just wouldn't stay full.
You'd poured.
And watched.
Wiped.
And poured.
And finally, you'd grown tired of soaking up those love-potion puddles with your bejeweled sleeve.
That's when you'd hollered for help.
I'd set down the underwear I was folding and joined you at the table, squatting low next to Mr. Pig. 
Carefully, I'd inspected the shiny surface of that little yellow cup. And sure enough, right there along the bottom of the mug was a  hairline crack.
"Honey, this is broken," I'd said as I set the cup back on the coffee table and patted the pink pig's head.
Your face had fallen and your brightly-glossed lips had protruded into a pout, and for a moment, I'd thought you might cry.
'Cause there's nothing that ruins a lavish tea party quicker than a leaky cup.
But then you'd studied that little cup for yourself and your blue eyes had grown bright with hope.
"Mommy," you'd exclaimed as you'd tugged me to my knees. "I have an idea!"
You'd cupped your own hands side-by-side in a bowl-shape.
"Put your hands together like this," you'd urged. And I'd copied your gesture with upturned palms.
"Okay," you'd said as you'd placed the flawed teacup in my hands. "Now, wrap your fingers around the whole cup, Mommy. Really tight."
I'd pressed my hands around the smooths curves of that dainty chalice and you'd leaned down to whisper in Mr. Pig's ear.
"Shall we try again?"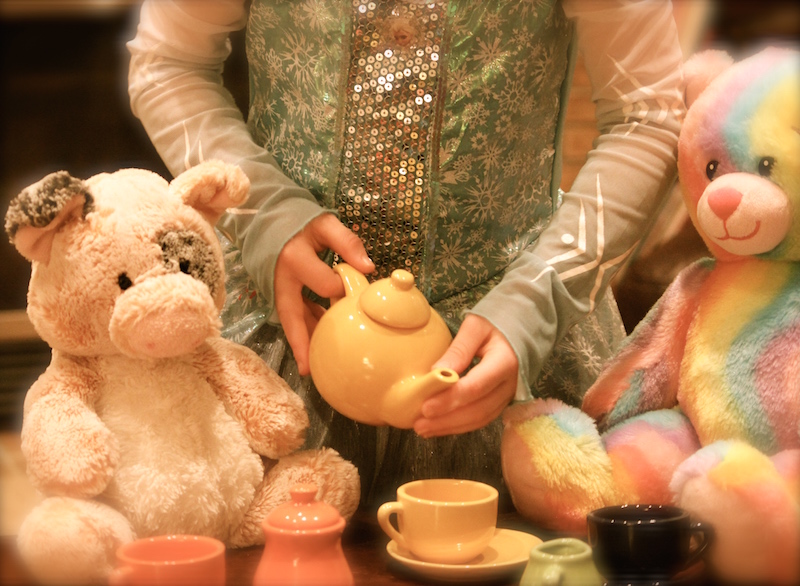 You'd grabbed the teapot once more and cast me an expectant wink. "I'm gonna fill up Mr. Pig's cup once more. And this time, he'll get to drink all of the love potion. Because his cup won't even seem broken if your hands are holding it tight."
You'd poured. And my fingers had sealed that hairline crack.
You'd clapped your hands in glee and proclaimed, "See? Mr. Pig! You won't go thirsty any more. 'Cause your cup is safe in those great big hands!"
And that's when I'd realized it, dear Maggie, how you and I and every other daughter of Eve, are like that sunny yellow tea cup waiting to be filled.
We are thirsty for love, sweet girl.
But there's no potion or program, no person or privilege that can fill our cup.
Because we were born with a broken heart.
We've got seeping souls.
Every one of us.
And if we don't acknowledge those cracks that come hand in hand with the dust of this broken world, we'll spend a lifetime trying to fill our hearts to the brim and wondering why we always feel empty when the day is done.
We can chase after romance and accolades, passion and purpose.
We can primp and parade, beautify and embellish, but our efforts will just slip into a paltry pool of disappointment until we give our broken hearts to Jesus.
'Cause, Maggie, listen to me…
He's the only one who can hold us tight enough to seal the cracks in our fissured souls.
Jesus is the only one who can wrap his nail scarred hands around our hearts and hold us so close that we'll never leak again.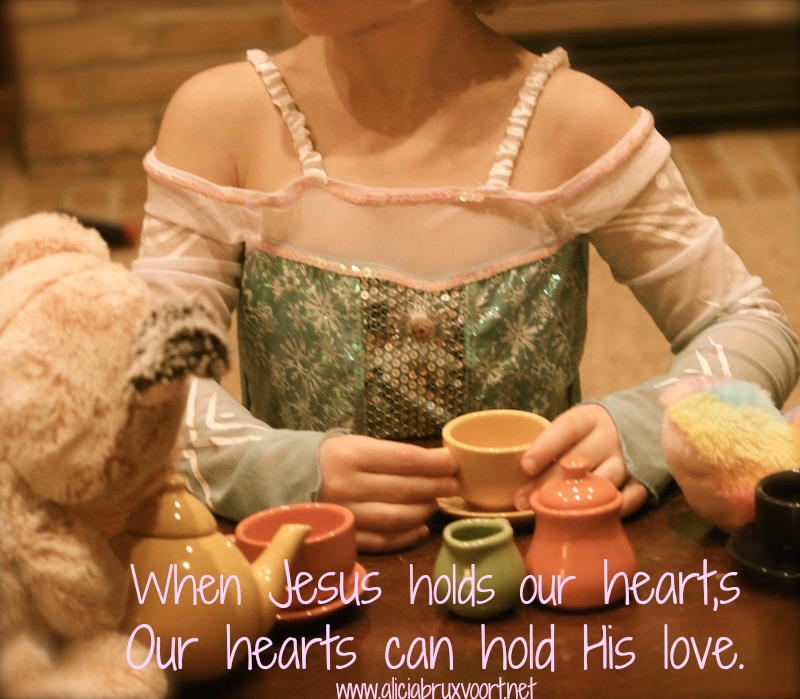 When Jesus holds our hearts, then our hearts can hold His love.
So, tonight,  as the moonbeams stream through the window and spotlight that little yellow teacup on the coffee table, I'm praying for you, my littlest girl.
And I'm praying for me, too.
I'm praying that one day, you'll choose to place that broken heart of yours safely in your Savior's hands, and your life will be filled with His razzle-dazzle love.
Filled and overflowing.
"Lord, I am overflowing with your blessings, just as you promised." -Psalm 119:65
**********************************************************************************************************************************************************************************************************
Oh, friends, we have big dreams for our daughters, don't we?
I'd love to join you in prayer. Just leave me a note in the comments and let me know what you're dream-praying for your daughter right now.
And if you're a mom of tweens or teens, be sure to check out this amazing line up of free resources offered by my dear friend, Lynn Cowell.
Lynn's created a fabulous cache of tools to equip moms and daughters–prayers, calendars, conversation starters and  so much more.
I especially love the video she's made called  "What are Guys Looking for in a Girl?" . It's a an easy way to create some meaningful conversations about love and dating this Valentine's Day!