Why We all Need Thanksgiving More than Black Friday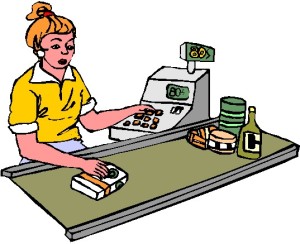 She's bagging my Monday morning groceries as Maggie hops up and down in front of the candy display, and she doesn't even chuckle at the sight of those princess pajamas sticking out from beneath my daughter's fuzzy pink coat. 
On any other Monday morning, she would have. 
On a different Monday morning, one that didn't happen to be three days before Thanksgiving, she'd have stopped scanning the loaf of bread and let loose a bubbly laugh as she  delighted in the antics of my big-personalitied daughter.  
"Mama! Mama! Look at me! I'm balancing on just one foot!" Maggie springs happy like a human pogo stick and adds a circular twirl to her jumping. "I'm a real live dancing girl, Mama.  Do you see me? Do you see me? Can you believe it? I'm just using one toe, Mama. Only one toe. Isn't it amazing? Don't you think I'm like a famous girl? A famous bouncing ballerina!" Maggie pauses her one-toed-bouncing to blow me some kisses, the dramatic swoop of her hand toppling a bag of Skittles right off candy row. 
The man in the wool overcoat behind us chuckles quietly. But the gray-haired cashier who normally beams at children doesn't slip a grin. Those eyes that usually sparkle don't even lift from the cash register to meet my gaze.
My girl bounds past me and plants herself within reach of her favorite cashier . "I'm gonna help you!" Maggie declares as she tries to transfer a towering sack of toilet tissue from the check-out station to the cart parked at the aisle's end. I take three steps toward the cart, and place three gallons of milk in the unused front seat before my daughter can drop them.  
Maggie pirouettes with a bag of cereal in her hands. "Look! The Cheerios are dancing with the Fruit Loops!" she bellows, the white sack spinning over her head like a slingshot. 
I poise myself to catch the sure-to-fly-away cereal boxes and wait for the ruddy-faced cashier to catch my eye and repeat her standard line—Honey, don't even blink; 'cause if ya close your pretty blue eyes for just a minute, that baby girl of yours'll just grow up. And before you know it, you'll  be an old grandma like me.
 She's been telling me that since Maggie was a baby, sharing her wisdom in the check-out lane of our small town Walmart for as long as I can remember. And I love her for that. I love the way she brightens my dreaded grocery-runs  with a sweet smile and a snippet of  grandmotherly advice. I love the way she casts a compassionate grin rather than a scornful gaze when my exuberant girl knocks over the bubblegum display while reaching for that pink-foiled package of Trident that is placed out of a four-year-old's reach. I love the way she chats with me like I'm the only one in the store even when the snaking line behind me is filled with cranky customers.  
But today, my best-loved checker keeps her eyes fixed on the cash register until she totals my charge. Then she finally looks at me and announces my due. I swipe my credit card and try to make conversation with her before she drops her head again. "How are you today?" I ask, holding her gaze
"Oh, I'm alright, I guess," she replies, solemn-faced and quiet.
"Are you getting ready for Thanksgiving?"  I beam her a grin in hopes that it might coax her weathered pink lips to curve upward, too.  
"No," she says slowly, "I don't get to celebrate Thanksgiving this year. I mean, I don't get to join my family for dinner.  I've gotta be here…." She sweeps her hand across the check-out lane and shakes her head in disbelief. 
I poise the gray stylus in my hand and squiggle my signature on the plastic screen of the credit card machine. "I'm so sorry," I say and reach to pat her hand so she knows that I mean it. 
"Yeah," she acknowledges my words with a sigh, "We never had to work on Thanksgiving day in the old store. It was actually a respected holiday back then." I nod, both of us remembering when our hometown Walmart didn't bear the name Super before it's title. Both of us remembering when Black Friday was a shopping day contained to Friday only.  
"I'm sorry," I say again, my response echoing hollow and trite.