The Mom Initiative: When Your Child's Path Looks Bumpy
On the night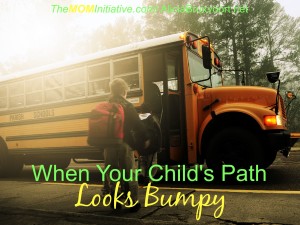 before he began kindergarten, my youngest son announced he'd "rather go to jail" than go to school.
His big brother chuckled and murmured something under his breath about school being a prison, and I tried to swallow my tears while flashing my eldest the evil eye.
To be honest, my little one's words made my stomach lurch. More than once, I'd wondered if confining my dirt-loving, butterfly-chasing  boy to a classroom and a carpet square would cage his tender, blue-sky spirit.
I'd done everything I could to prepare my son for school, but I  wasn't sure how he was going survive the first day, let alone make it through the entire year that stretched ahead.  Thankfully, God knew.
And that was the year He used a missing tooth, an anxious five-year-old, and His perfect Word to teach me a lesson on trust…
A lesson that I'll  be putting into practice once again next week as my kids step into yet another school year. (And, no, they won't be sitting behind bars!)
I'm over at The M.O.M. Initiative today talking about trusting God when our child's path looks bumpy.  
Hope you'll join me and be encouraged!