When Real Life is Hard to Swallow (A Tale About a Tired Toddler, a Cranky Preschooler, and a Roll of Toilet Paper)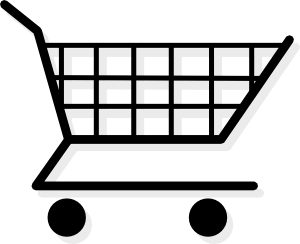 I should have known better than to make one last stop after a long morning of running errands. 
But Walmart was on my way home. And we were down to our last roll of toilet paper. And I didn't want to pack the kids up again after lunch, zip the winter coats, buckle the cars seats and endure another round of toddler tunes just to go back into town for a pack of Charmin.
So, I veered into the busy parking lot, sloshed through the ankle-deep winter slush, and plopped two wet-footed, over-tired and hungry preschoolers into a shopping cart for a quick run-through.
We might have made it, too, if it weren't for the fact that only one out of the twelve cash registers was open when we arrived at the check-out lanes. I took my place in the snaking line and pulled two lollipops from my purse for my impatient children.
Unfortunately, the gentlemen at the front of the line felt like arguing over the price of the snow shovel that wasn't ringing up on sale. And the elderly woman behind him couldn't find her checkbook in that huge polka-dot purse she was carrying. And the blue-vested cashier happened to be in training. 
I glanced anxiously at the clock, knowing that my kids were a ticking time bomb. And I looked longingly at the closed express lane beside me. 
Because every mom knows that a lollipop only lasts so long.
Sure enough, by the time I reached the cash register, my two-year-old's Dum-Dum was down to a nub.  And so was her goodwill. 
So, when her big brother stepped on her toe while trying to climb out of the cart to help the cashier bag the toilet paper, my toddler unraveled into all-out fury.
With a screech that could have alerted someone on Mars, she declared war on her four-year-old nemesis and unashamedly bit his arm.
My tender-hearted boy recoiled in shock and then sank onto the dirty floor, adding his own anguished cries to the melt-down medley.
In the meantime, the poor cashier was fighting her own battle with the tetchy credit-card machine that refused to work. She broke a sweat swiping my card a thousand times in a red-faced frenzy as if sheer willpower could complete the stalled-out transaction.I had only one dollar in my wallet, but I wanted desperately to rescue us both, the flushed mom and the scarlet-cheeked trainee.
So, I began digging for spare change in the trenches of the diaper bag and praying that somewhere beneath all those diapers and dried-out wipes was a forgotten wad of cash. If the currency for toilet paper had been smashed goldfish crackers and rock-hard fruit snacks, I could have paid my bill and someone else's.  
Unfortunately, the green stuff was more elusive.
While I dug for money, my disgruntled daughter tried to climb out of the shopping cart and managed to bonk her noggin on the edge of the metal shelf holding the candy display. A bright red bump promptly swelled up on her forehead and a fresh round of wails ensued. 
Since there wasn't already enough noise rocking the check-out line, the frazzled cashier hopped onto that static-spitting microphone and broadcast across the store-wide speaker system her need for a manager's assistance .  Although I knew the poor girl simply required help with the credit card machine, her voice sounded more like a desperate plea for a valiant rescue in check-out lane nine.
By the time the manager arrived, I'd found two dollars and forty-four cents in the diaper bag, and I'd seriously considered dropping to my knees and begging for permission to buy just one roll of toilet paper so I could leave the store and end everyone's misery (Including mine).