The Gift of Advent Ache
Seven stockings dangle from the mantle above our fireplace and a solitary star dangles quiet in the velvet sky.  And today, in the dark before dawn, I feel like I'm dangling, too.
My heart hovers somewhere between hurry and hope, between expectancy and exhaustion.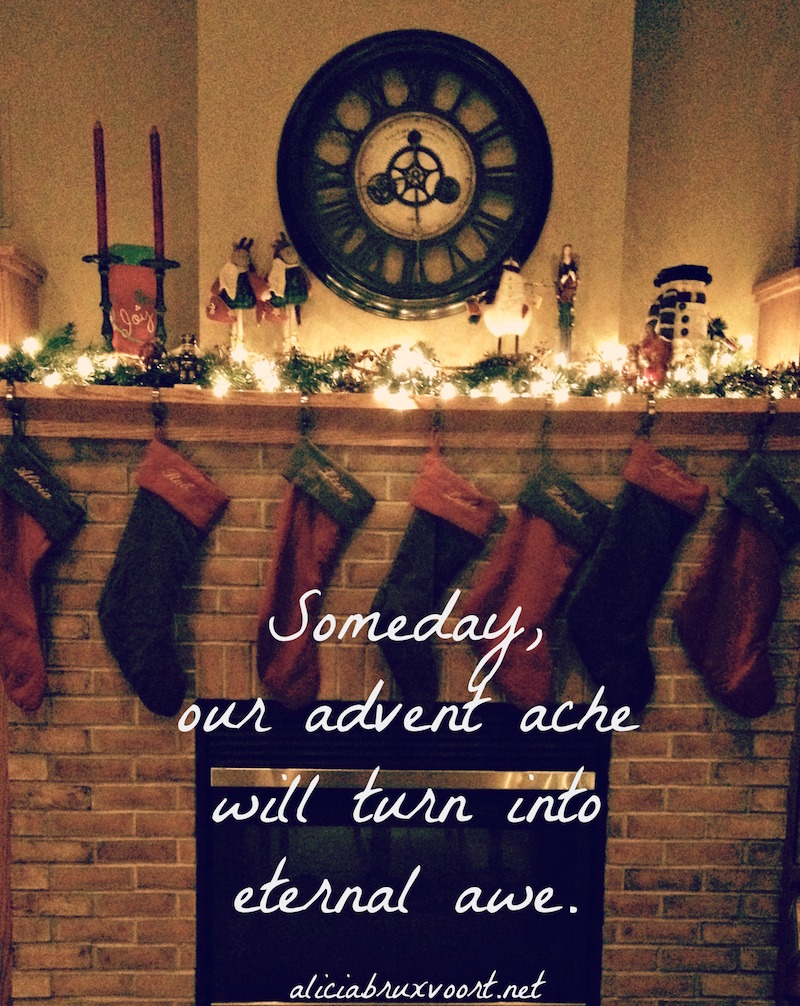 The sun has yet to rise and my list lingers long.
December days bulge with must-dos and don't forgets.
But before the kids wake and my day unravels, I fight to be still and know…..
And it's then that I notice the ache. 
When my Bible is open on my knee and the lights of the tree are glimmering glassy and bright, I feel it keen and sore- a subtle longing churning down deep.
Maybe you've felt it, too, that throbbing pang that doesn't seem to dance in sync with the season; the dissident chord in your joyous carol.
It's a yuletide yearning, an Advent ache.
It's a quiet reminder that we were made for more.
We are waiting for more.
Advent means coming, and the ache comes to remind us that Christmas isn't the end; it's the prelude.
The Word wrapped in wrinkles. Salvation draped in skin. This is where the hoopla begins.
But Bethlehem's story is just the overture to Heaven's glory.
For all of creation is waiting, yearning for the time when the children of God will be revealed. You see, all of creation has collapsed into emptiness, not by its own choosing, but by God's. Still He placed within it a deep and abiding hope  that creation would one day be liberated from its slavery to corruption and experience the glorious freedom of the children of God…Though we have already tasted the first fruits of the Spirit, we are longing for the total redemption of our bodies that comes when our adoption as children of God is complete—for we have been saved in this hope and for this future. But hope does not involve what we already have or see. For who goes around hoping for what he already has?  But if we wait expectantly for things we have never seen, then we hope with true perseverance and eager anticipation. (Romans 8:19-24)
Immanuel may have come first with a baby's cry, but He will return with a trumpet's peal.
And we are wise to prepare for the rest of this glorious tale…
 It will all happen so fast, in a blink, a mere flutter of the eye. The last trumpet will call, and the dead will be raised from their graves with a body that does not, cannot decay. All of us will be changed! (I Corinthians 15:52) 
So go ahead and embrace the Advent ache…