When You're in Love with a Ludicrous Savior (and the Googly-eyed Give-away Winner!)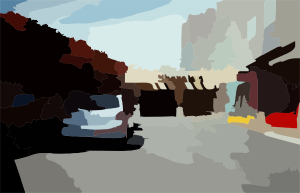 Earlier this week, I shared the story of Daisy, a desperate woman planted on a street corner in my middle-class town.
It's a humbling tale filled with embarrassing tears, floundering fears, and awkward hugs; a brief glimpse of what can happen despite us if we simply allow Christ to love through us. (If you haven't had a chance to read that story, you can find it here).
But that's not all. 
What I haven't told you yet, is that the story of Daisy is also the tale of another desperate woman. It's the story of a good Christian girl who is desperate for a glimpse of the real Jesus.  And I love the way that my very real Jesus used a young millennial to remind me that He doesn't just see the hunger in our stomachs, but He also sees the hunger in our souls.
So, if you have a minute, I'd love to tell you what happened in the parking lot after I prayed with Daisy on top of that dingy mound of melting snow.
You see, when I followed my Savior to the street corner on that first day of spring, I was well-aware that I was totally incapable of meeting the gaping needs of a homeless beggar. What  could a new-to-town-stay-at-home-mom with two dollars in her pocket do for a life-worn woman in need of work? 
To be honest, that's what made God's directive feel so ridiculous.
If I'd had a hundred dollar bill in my pocket, my Lord's command to go back and minister to His broken beloved on the street corner might have made more sense. 
But lately, I've been learning this plain and simple truth– I'm in love with a ludicrous Savior.
There's nothing sensible about the Perfect Son of God  hanging on a criminal's cross in my place, and there's nothing reasonable about His inviting me to lose my life so I might find it.
Quite honestly, the mysterious ways of an infinite God's don't always make sense to the finite minds of His dust-made children.
So, I'd followed Him  to that street corner, and I'd offered what I had- two dollars and a bumbling prayer.
Then I'd sloshed back through the snow-stacked parking lot and slid into the comfort of my own van, relieved that the story was over…
Until someone started rapping on the fogged-up window of my van.
Startled, I turned my head to see a young professionally-dressed woman. My stomach dropped while my mind raced. 
Was I parked illegally? Had I done something wrong? Was it against the law in this pristine town to give money to a beggar? 
I opened the van door and slid out of my warm leather seat.I'd barely planted my feet back on the murky wet pavement when the young woman blurted out, "I saw what you just did…"  
A piece of shiny brown hair had slipped out of her ponytail and dangled haphazardly in front of her big chocolate eyes, but I could see tears brimming behind that fly-away strand.