When You Wish You Could Build A Beautiful Life
Welcome! I'm glad you're here.  Whether you're an old friend or a new one, I hope you'll stay a while.
If you like what you find, please sign up on the sidebar to receive my blog in your inbox now and then. Or find me on Facebook or Twitter and we'll keep chasing Jesus together day by day.
Better yet, I'd love to connect with you in person. I'm scheduling speaking commitments for the remainder of 2016 and the beginning of 2017.  I'd  be delighted to join you at a special ministry event this year.
Over at Encouragement for Today, I'm telling a tale about a little girl, a butter knife and a mama who is learning to measure her days with a new ruler.  I hope you'll hop over to P31's website and be encouraged. 
But before you go, keep reading to learn what I've been learning about building a beautiful life.  (Oh, and don't forget to sign up for today's give-away at the end of this post!)
**********************************************************************************************************************************
Her angry howl reached my ears before she barged into the kitchen with a stomp and a wail; then my littlest girl plopped onto a chair with a storm-cloud scowl and a mighty harrumph. Once she was certain I was looking, she flopped her head into her hands and began to cry.
'What's wrong?' I asked as I sat down beside my disgruntled diva and ran my fingers through her hair.
"I'm never gonna be a great builder,"  Maggie complained, her clenched fists pounding the table in frustration.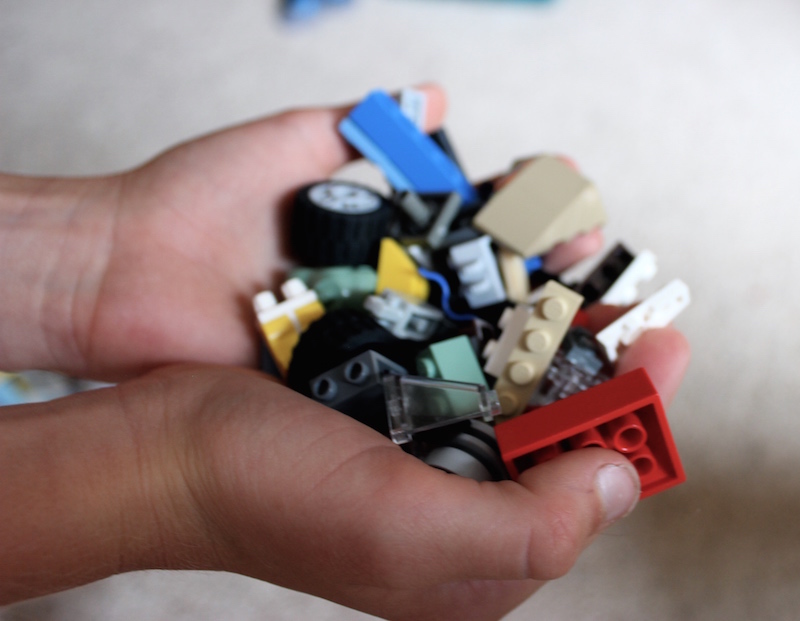 Earlier that day, I'd taken my youngest ones to the store to spend their long-saved allowance on new Lego sets.  Joshua had chosen a watchtower to complement his favorite castle, and Maggie had picked a carriage that could transport her tiny Lego princesses.
Of course, none of their grandiose plans for play could begin until they'd pieced together all those tiny bricks.  So as soon as we'd returned home, my builders had headed to their bedrooms to begin the assembly process. They'd spent much of the afternoon hunched over little instruction booklets, building their newly-purchased sets one brick at a time.
Last I'd checked, Maggie's stash of pastel bricks had been taking the shape of a fancy carriage with golden wheels.
"I'm almost done, Mom!" she'd said with a beaming smile when I'd peeked into her bedroom right before dinner.
She'd held up the work of her hands for me to see, and I'd oohed and ahhhed over the tiny pink seats and the latticed gold windows, the sky blue roof and the boxy white horses. Inwardly, I'd marveled at my seven-year-old's ability to construct something so intricate with just a tiny little instruction book filled with simple diagrams.
"It's beautiful, Maggie!" I'd said as I wrapped my girl in a one-armed hug and headed downstairs to finish dinner preparations.
Of course, now, the girl at my side wasn't beaming with pride; she was sagging with discouragement. And I wondered what had happened to cause the sudden change.
"Honey, did your carriage break?" I asked.
My mournful girl shook her head.
"Did the wheels fall off?"
"No…"
"Then what's wrong? I prodded.
Maggie hung her head and rehearsed what had happened once she'd finished building her small stagecoach.
Excited to show off her finished work, she'd wheeled that little carriage down the hallway to her brother's room and parked the boxy white horses right next to Joshua's freshly-made fortress.
Of course, that's when Maggie had noticed that Joshua's new creation was bigger than hers. And in my seven-year-old's mind, bigger means better.
"Mom," Maggie said with a defeated sigh, "I just want my carriage to be big like Joshua's tower so everyone will know that I'm a great builder, too!"
I almost laughed out loud at my daughter's ludicrous complaint. Everyone knows a carriage isn't supposed to be as big as a watch tower!
But then I felt a quiet glitch in my spirit, and I realized this humbling truth—
My daughter isn't the first female in our family to fall prey to the comparison game.
Sometimes her mama does, too.
Oh, I'm trying to lay down my faulty measuring sticks, but sometimes, I look at the big things the people around me are doing, and I feel discouraged with the small work I am doing.