For When You Feel Invisible
If you're stopping by from "Encouragement for Today," welcome!  I'm so glad you're here. I hope you'll take some time to look around. I'd love to stay connected on Facebook or Twitter. If you'd like The Overflow to trickle quietly into your in-box each week, please subscribe on the sidebar before you leave. 
Today, over at Proverbs 31 Ministries, I'm talking about that time my salsa jar sprouted eyes. If you haven't read my devotion, "That Sneaking Feeling You're Being Watched," I hope you'll take a moment to discover why I went on a googly-eyed campaign one morning last summer. If you want to be entered into the googly-eyed give-away, keep reading!
 **************************************************************************************************************************************************************
 I drove by her twice before I stopped to help.
 It's not that I didn't see her there, standing on the corner of a busy intersection just across the parking lot from my favorite bagel shop. 
 It's just that I didn't know what to do. 
 Me, the mom in the mini-van with three gallons of milk in the trunk and a five-year-old singing Frozen tunes in the back seat. 
 Me, with a measly two dollars in my wallet and a pack of pink bubble-gum on the dash.
 Me, still a stranger in my own town, reeling from our family's recent relocation.
 What could I do for a life-worn woman holding a card board sign that broadcast her desperation on the first day of spring?
 My stomach pitched as my van neared the corner where she stood, and I told myself I'd just read the scrawl on the cardboard and then figure out my next move.
 But there was a long line of cars beside me, and those hand-scratched letters were hard to decipher through a sheen of moving metal. 
 So I crossed the intersection when the light turned green, and I assuaged my guilt with rational self-talk.
I don't have much cash anyway. I'm new to town. I don't know who to call for help. I don't even have a church home in this community yet. No pastor to contact. No friends to consult.
 It's amazing how a Jesus-loving middle-class woman can convince herself that the gospel is situational.
And that it doesn't really apply to her. 
 I first heard the parable of the Good Samaritan when I was a little girl sitting on a baby bear chair in the basement of my small town church. 
And I earned a brand new Jesus-loves-me- pencil for memorizing the heart of that story and reciting it to my Sunday School teacher with pride: 
"'Love the Lord your God with all your heart and with all your soul and with all your strength and with all your mind'; and, 'Love your neighbor as yourself.'"
Over the years, I've taught that gospel truth to wee ones perched on my knees and to hundreds of Sunday School students sitting cross-legged in their shiny shoes. 
But there at a bustling intersection of a town graced with white sand beaches and white-collared wealth, I drove right by my hungry neighbor on the street corner to buy a Happy Meal for my well-fed child. 
When I emerged from the drive-thru lane, I secretly hoped that the sign-holder would be gone. 
But she was still there, her feet planted atop a mound of dingy snow.
I thought about trying to cross the traffic again and circle around to read her cardboard plea. But the car behind me was honking impatiently.
And my preschooler was whining about watching a movie for her afternoon rest time. And that milk in the trunk needed to be stashed in the fridge.
 So I eased into the home-bound lane and tried to ignore the quiet knot in my stomach. 
Go back and tell her I see her.
The words passed through my mind like a holy whisper.
I'm already on my way home, I argued. 
The steering wheel felt slippery beneath my fingers, my hands clammy and cold.
I don't even have enough money to help, I  contended as I dug two crumpled dollar bills from my wallet.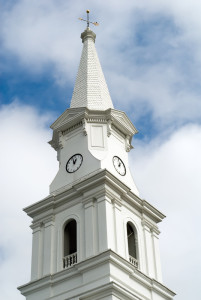 Just tell her I see her.
 The voice wasn't audible or noisy, it was just a pressing thought that refused to leave. 
I pulled into the parking lot of a regal white church, and sat there a moment, watching silver sunbeams dance with the spindly spire.
 Love your neighbor as yourself.
 I turned my van around and headed back from where I'd come.
Cars streamed through the intersection where the windblown woman stood. And I watched as  drivers subtly turned their heads away from that cardboard sign.
 As if the one holding it were invisible.
Or invaluable. 
Or both.
 What hurts worse-- I wondered, as I parked my van and began walking toward the busy street corner–the pain of desperation or the pang of disregard? 
 Tell her I see her. The words somersaulted over my musings and added a hustle to my step.
 What happened next wasn't like a script from a poignant Hallmark movie. Or a tidy Sunday School lesson. 
It was more like a snapshot from an awkward junior high dance. A picture framed with embarrassing tears and drippy snot and fumbling words.
 I started to cry as soon as I got close enough to see the woman's forlorn face and to read her simple sign.  
"Help! I'm Hungry. Need a Job." 
 I played with the money in my pocket and felt absolutely ridiculous for getting out of my minivan. 
 I was a stay-at-home-mom in a new town. I hadn't held a job myself for fifteen years, and I had no connections with anyone who might be able to offer a desperate woman an honest day's wages.
I couldn't solve this woman's problem or fix her woes.  
 But I could let her know she wasn't invisible.