Why that Mess of Yours May be the Start of Something Marvelous
Welcome! I'm glad you're here.  Whether you're an old friend or a new one, feel free to pull up a chair and stay a while. If you like what you find, I hope you'll sign up on the sidebar to receive my blog in your inbox now and then. Or find me on Facebook or Twitter and we'll stay connected as we chase after Jesus day by day. Better yet, I'd  love to meet you face to face!  I'm scheduling speaking events for 2017-2018 now and would be delighted to head your way. (Feel free to contact me at overflow@aliciabruxvoort.net if you'd like more information).
Over at Encouragement for Today, I'm telling a story about a great big mess and a creative little girl with eyes of possibility. If you haven't read it, you'll want to swing over here and check it out. But before you go, let me tell you what I learned from another mess right beneath my roof…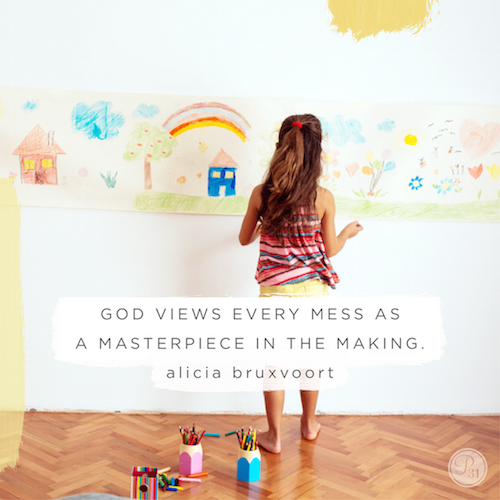 I heard the clank of the crash before the sound of her wail reached my ears.
The clamor of sad sobs led right to my daughter's bedroom door. And when I entered that little yellow room, I found her. Beside the tall white bunk bed, in the center of the floor, my sullen eight-year-old sat in a spray of scattered bricks and pummeled plans.
"This wasn't supposed to happened," she howled as she waved her hand over the motley mess of fallen Legos. 
I gazed at the jumbled pieces on the floor and squatted low to put my arm around her sagging shoulders.
"I was almost done building the most amazing castle, Mom," my girl explained. "I was just adding the very last tower over here-–" she said, her pointer finger hovering over the place where her grand creation had stood. "But when I reached for that pretty  purple Lego, I bumped my jewelry box off the dresser and it fell right on top of my castle and wrecked the whole thing…." She flopped face down on the floor in the middle of the scattered bricks and punctuated her story with a hiccup and a sigh.
Drizzles of disappointment seeped from my young builder's eyes, and I tried to think of something to say- something wise and maternal. But I too have watched some of my greatest plans topple and fall. And I know all too well the sting of disappointment when my best plans fail. So I just reached for my little one's hand and held it quietly right there in the middle of the mess.
My daughter held her face in her hands as I lingered at her side and gathered up the toppled pieces of her greatest plan
I sifted through the jumbled pieces of that great castle and plucked out pieces to use again–winsome pink windows and teeny arched doors, blue bricks and purple ones; white bricks and pink.
The sun streamed through the window like a beacon of hope and slowly I began rebuild.
In time, my daughter's wails waned and she lifted her tousled head to eye my efforts.
I reached for a sky-blue brick and offered her a subtle smile.
Her frown flipped with expectancy and she squared her shoulders with new resolve.
Then she reached across the pile of blocks and gave me a one-armed hug of gratitude. "Mommy, thanks for making something great again," my girl declared with inarguable confidence.
I stared at the blob of bricks taking shape in the center of that mess and I swallowed a giggle. The configuration between us didn't look like a fairytale fortress or a charming chalet; it didn't resemble a spindly-spired palace or a quaint little cottage. It just looked like an ordinary stack of Legos at the moment. But I saw it in her eyes– my daughter believed what she couldn't yet see.
"How do you know what I'm gonna do?" I asked my girl with a playful wink.
She cocked her head to one side and looked at me like I'd just asked her what color the sky was. "I don't know what you're going to do, but if I know you, it's gonna be great!" she said with a happy shrug of her no-longer sagging shoulders.